Judge Threatens to Jail North Carolina Town Officials for Seizing Man's Money, Refusing To Return It
A misdemeanor marijuana charge leads to an attempt to take $17,000.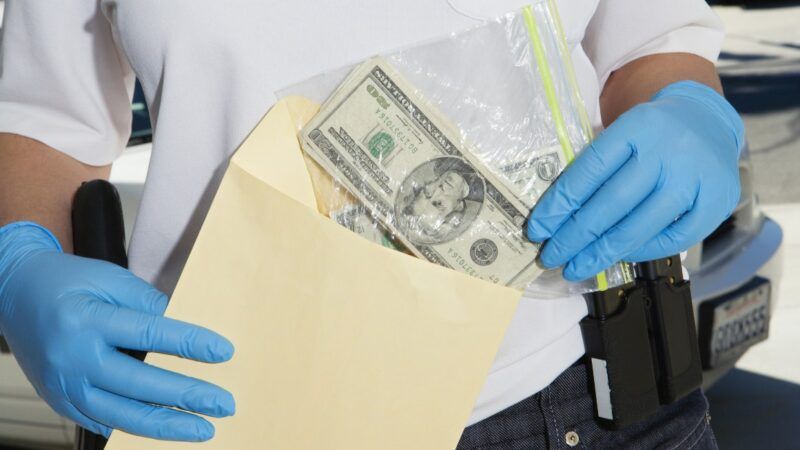 (Photographerlondon / Dreamstime.com)
A district court judge in North Carolina is threatening to jail one town's officials if they don't return nearly $17,000 in cash they seized out of a man's rental car during an investigation.
It looks as though an asset forfeiture attempt by police in Mooresville, North Carolina, has gone awry, and we should all cheer Iredell County District Court Judge Christine Underwood on as she tries to hold officials to account.
According to media reports from the Mooresville Tribune and news station WSOCTV, Jermaine Sanders was staying at a hotel in the town in November when he left his room and found police searching his car. Police say they found half an ounce of marijuana and $16,761 in cash. They seized both, charged Sanders with misdemeanor drug possession, but then sent the cash to U.S. Customs and Border Protection (CBP).
When Sanders lawyered up and attempted to fight to get the cash back, claiming that the money had no relationship to the crime involved, Mooresville responded that it was no longer in possession of the cash and therefore was not responsible for giving the money back.
This did not sit well with Underwood, and according to Sanders' lawyer, Ashley Cannon, Mooresville officials cut a cashier's check for the cash to send it to CBP just one day before the judge ruled against the town and ordered it to return the money.
But the city did not. And so, several months later, on Feb. 10, the case came back to Underwood, and she held up the previous ruling and ordered Mooresville to "give this man his money." She found the city in contempt of her order and is giving them seven business days to comply. She told the city's attorney at last week's hearing that she was not afraid to jail town commissioners, the police chief, or anybody else responsible for keeping Sanders from getting his money back.
Mooresville officials announced Monday they were appealing the decision and responded:
The Town of Mooresville is disappointed with the Court's recent decision in the Sanders case. We believe the seizure by our police department was lawfully executed and the funds rightfully turned over to the U.S. Department of Homeland Security at their directive, pursuant to established federal law. The Town did file an appeal yesterday, which by law stays enforcement of the order until the Court of Appeals reviews the merits of this case. The Town does not plan to further comment at this time while an active criminal case and this civil matter is ongoing.
It's great to see a judge taking a city or police department to task for rushing to try to seize a suspect's money or assets in a forfeiture scheme when there's no evidence that the cash was connected to a crime. It's not a crime to carry large amounts of cash in your car, but under civil asset forfeiture systems, law enforcement agencies claim that having this cash is evidence of drug smuggling or other illegal activities, and then they attempt to keep the money for themselves, even when they're unable to prove the underlying crime.
The involvement of the federal government here may seem strange for anybody unfamiliar with civil asset forfeiture, but there's an explanation. North Carolina actually has strict restrictions on the police's ability to make somebody forfeit cash and assets in criminal cases. Under state law, prosecutors have to convict somebody of a crime before being able to take their assets in most cases, and the police don't get the money. It all gets shunted over to the schools. Therefore, this should eliminate the incentive for police to exaggerate cases (or just lie) to create a reason to seize somebody's cash or property.
But, there's a big federal loophole, and that's why CBP is involved. The Department of Justice's (DOJ) "Equitable Sharing Program" allows local law enforcement agencies to "partner" with federal agencies for crime-fighting programs, funnel the seized assets through either the DOJ or the Department of the Treasury, and then send a share of the money back from the feds to towns, bypassing North Carolina's restrictions on asset forfeiture. Mooresville may not have Sanders' cash right now, but eventually, under the federal program, a chunk of that money would be returned to Mooresville Police Department.
And so, the Institute for Justice notes, even though police in North Carolina don't make money off of state-level forfeiture, law enforcement agencies across the state have nevertheless raked in an estimated $293 million in forfeiture revenue from federal programs over the past 19 years.
It's great that a judge has taken notice of this deliberate attempt to bypass state protections from unjustified asset seizure, but North Carolina has a systemic problem with its forfeiture protections that must be addressed.