Republicans Struggle To Find a Coherent Defense During Trump Impeachment Hearings
"The Trump administration has engaged in some pretty bad behavior. It's a little hard to defend it on the merits," says Keith Whittington.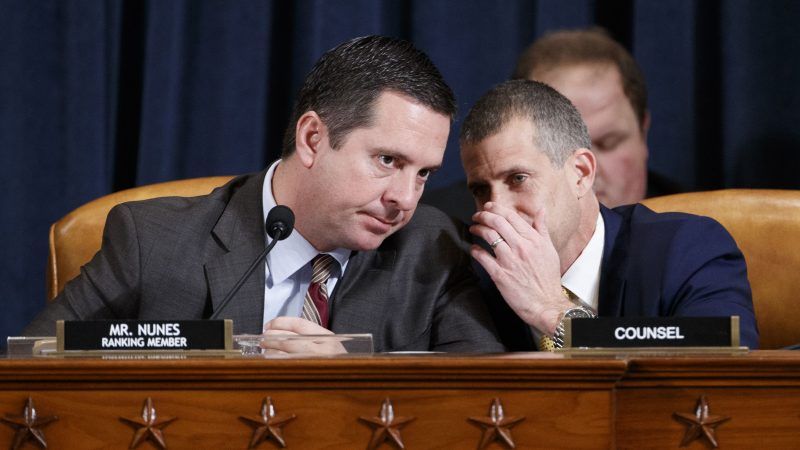 (Shawn Thew/CNP/AdMedia/SIPA/Newscom)
The public impeachment hearings in the House of Representatives reached their conclusion last Thursday, capping off a contentious two weeks during which Republicans defended President Donald Trump from allegations that he improperly pressured Ukraine into announcing corruption investigations that served to benefit him politically. For the most part, their defense strategy had three prongs:
• challenge witnesses' knowledge and credibility,
• hammer home the point that the Ukrainian investigations requested by Trump never actually took place, and
• engage in political theatre.
"They've just got a really bad case," says Keith Whittington, a political scientist at Princeton. "The Trump administration has engaged in some pretty bad behavior. It's a little hard to defend it on the merits." 
House Democrats are investigating whether Trump temporarily withheld congressionally authorized military aid and a scheduled White House meeting with Ukraine in order to strong-arm President Volodymyr Zelenskiy into publicly announcing probes into Trump's political rivals. Specifically, Trump wanted Ukraine to investigate Burisma Holdings (which counted former Vice President Joe Biden's son Hunter Biden as a board member), and allegations that parties in Ukraine interfered in the 2016 election to help Democratic presidential nominee Hillary Clinton.
Challenge the witnesses
At the center of the House GOP defense was an effort to cast the witnesses as unreliable. Sometimes this took odd forms, as when Rep. Chris Stewart (R–Utah) used his time to ask Lt. Col. Alexander Vindman, a top National Security Council aide, why he was wearing his military uniform "even though you wear a suit" to work. It isn't clear how Vindman's wardrobe should affect our evaluation of his testimony.
Steve Castor, counsel for the GOP, took a more direct route when he insinuated that Vindman, who immigrated to the U.S. from Ukraine when he was 3 years old, may be loyal to Ukrainian interests. Castor was referencing a job offer Vindman received from Oleksandr Danylyuk, the former head of the Ukrainian National Security and Defense Council. "When he made this offer to you initially, did you leave the door open?" Castor asked. "Was there a reason that he had to come back and ask a second or third time or was he just trying to convince you?"
Vindman replied that he had no interest in the position and no intention of sabotaging U.S. national security. "I'm an American," he said.
Whittington likens that approach to "throw[ing] sand in the air and try[ing] to distract people from what's going on."
Similarly, the first hearing saw Republicans attempt to dismiss testimony as hearsay. For example, William Taylor, the chargé d'affaires in Ukraine, testified that David Holmes, a career diplomat, told him he had overheard Trump ask Gordon Sondland, the U.S. ambassador to the European Union, about "the investigations." Because Taylor did not claim to have overheard Trump himself, House Republicans declared that the diplomat's comments would not stand in a court of law and were therefore not worth considering in the context of impeachment.
Yet an impeachment trial is not a criminal trial, and the standards of admissible evidence are thus not subject to the criminal code. More importantly, Holmes himself publicly appeared before the House Intelligence Committee on Thursday and confirmed Taylor's account.
Holmes "testified to things that [he himself] did actually see and hear," says Whittington. "But part of what the Republicans want to focus on is that [some witnesses] could not actually speak to whether or not they know themselves whether Trump ordered or directed some of these things. That part's fair enough."
Another instance of this came during Sondland's testimony, in which he declared that Trump saw the desired investigations as payment for a White House meeting with Ukraine. Sondland told congressional investigators that Rudy Giuliani, Trump's personal lawyer, "demanded that Ukraine make a public statement announcing investigations of the 2016 election, DNC server, and Burisma." What's more, "Mr. Giuliani was expressing the desires of the president of the United States," Sondland said, "and we knew these investigations were important to the president." He also testified he was "absolutely convinced" the military aid depended on the announcement of the probes.
But Castor tried to sow doubt that Giuliani's orders came at the discretion of the president. To draw that line, Castor painted a distinction between the phrase "Go talk to Rudy," and "Talk to Rudy," arguing that if Trump said the latter, he could not be implicated in the exchange.
"You testified that Mr. Giuliani was expressing the desires of the president, correct?" Castor asked.


"That's our understanding, yes," Sondland replied.

"But how did you know that?" Castor asked. "Who told you?"

"Well, when the president says talk to my personal attorney, and then Mr. Giuliani as his personal attorney makes certain requests or demands, we assume it's coming from the president." Sondland said. "I'm not testifying that Mr. Giuliani told the president to tell us, if that's your question."

"Right, but in your deposition, you said [that]…when the president said, 'Go talk to Rudy,' you responded 'He didn't even say go talk. He said talk to Rudy,'" Castor replied. "You subsequently said, 'It was sort of like, I don't want to talk about this.' So it wasn't an order or a direction to go talk to Mr. Giuliani, correct?"

"Our conclusion, and the conclusion of the three of us, was that if we did not talk to Rudy then nothing would move forward on Ukraine," Sondland said.
The investigations Trump requested didn't take place, so why does it matter that he asked for them?
"For the millions of Americans viewing today, the two most important facts are the following," Rep. Elise Stefanik (R–N.Y.) said on the initial day of public testimonies. "No. 1: Ukraine received the aid. No. 2: There was, in fact, no investigation into Biden." She would drive that home repeatedly over the course of the proceedings.
That may oversimplify things, says Whittington. "I think the tougher challenge is the question of what explains why the money eventually got delivered," he explains. "We may not want to give them a lot of credit for eventually coming to their senses and trying to release the funds, especially if we think that why they're doing it was because they got caught." The Trump administration disbursed the aid on September 11, after Congress received a whistleblower complaint and began its investigation. 
More political grandstanding
During Ambassador Marie Yovanovitch's testimony, Rep. Devin Nunes (R–Calif.) and Stefanik challenged the integrity of the hearings based solely on the fact that Chairman Rep. Adam Schiff (D–Calif.) would not let Nunes yield his time to Stefanik.
The implication was that the Democrats were trying to stonewall, but the law governing impeachment hearings clearly states that the first round of questioning—by both the majority and minority party—must come from the chairman, the ranking member, or their counsel. Stefanik would still get her time to speak. Indeed, it came less than an hour later.
Such instances of political theatre are in no way unique to Republicans, but in this case, the GOP is certainly making good use of the tactic. You could say the same about their complaints that the House's closed-door depositions violated Trump's "due process." Not only did House Democrats conduct those hearings in accordance with congressional rules, but it was also House Republicans themselves who enshrined those rules in law in 2015. 
What's more, those rules have reasonable justifications, Whittington notes. Foremost, it's necessary "to try to talk to witnesses in a controlled environment where, in part, other witnesses won't know exactly what they're saying, so they can't coordinate their stories as effectively." We saw the importance of that when Gordon Sondland, the ambassador to the European Union, and Kurt Volker, the former special envoy to Ukraine, both had to publicly walk back parts of their stories after they read what other witnesses said during private depositions. Had the first set of hearings been open, the two men could have molded their testimony accordingly.
"The whole performance was again another effort by the Republicans just to distract us from the key allegations," Whittington says.
What happens next?
While House Democrats have yet to draft actual articles of impeachment, the scattered nature of the GOP strategy might narrow if this moves to a Senate trial. In that case, Republicans would hypothetically be aware of what Trump's defense will settle on. As of now, that's still up in the air.
"I think the Republicans are in the awkward position of not really knowing what the truth is, and Trump keeps changing what the story is," Whittington tells me. "If they had a clearer understanding of what the White House's final position was going to be, it would be a little easier for them to focus and maybe actually even engage in some substantive arguments."