Kavanaugh Joins Gorsuch in Fight To Revive Nondelegation Doctrine
An important development in the legal wrangling over the separation of powers.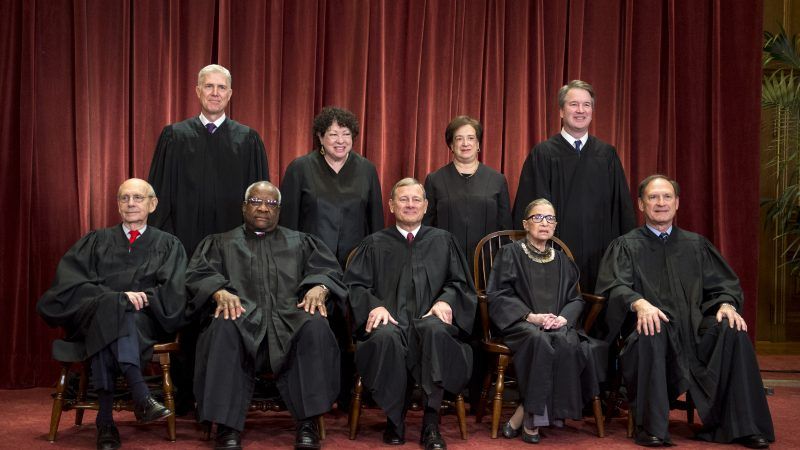 (Kevin Dietsch - Pool via CNP / MEGA / Newscom)
The U.S. Supreme Court narrowly upheld a law in June that, in the dissenting words of Justice Neil Gorsuch, "hand[ed] off to the nation's chief prosecutor the power to write his own criminal code." Today, Justice Brett Kavanaugh spoke up in support of Gorsuch.
The June ruling came in Gundy v. United States, a case that centered on a 2006 federal law known as the Sex Offender Registration and Notification Act (SORNA). Among other things, SORNA required convicted sex offenders to register, check in periodically in person, and share personal information with the authorities.
The law also contained this provision: "The Attorney General shall have the authority to specify the applicability of the requirements of this subchapter to sex offenders convicted before the enactment of this chapter." Translation: Congress gave the attorney general a blank check when it came to dealing with the estimated 500,000 individuals whose convictions predate SORNA's passage.
It was that delegation of legislative authority to the executive that sparked Gorsuch's ire. "The rule that prevents Congress from giving the executive carte blanche to write laws for sex offenders is the same rule that protects everyone else," the justice wrote in dissent. According to Gorsuch, SORNA combined the lawmaking powers of Congress with the law enforcement powers of the executive, and then gave those combined powers to a single federal official. For the Supreme Court to let that outcome stand, Gorsuch argued, marks "the end of any meaningful enforcement of our separation of powers."
Justice Brett Kavanaugh took no part in Gundy, leaving some court watchers to wonder about how he might have ruled. The Court's newest justice answered that question today. In a statement respecting the denial of certiorari in Paul v. United States—another separation of powers case, which the Court turned down this morning—Kavanaugh wrote in praise of "Justice Gorsuch's scholarly analysis of the Constitution's nondelegation doctrine" in Gundy, noting that this "thoughtful" dissent "raised important points that may warrant further consideration in future cases."
In other words, Kavanaugh seems to have joined Gorsuch's campaign to put some judicial teeth into the nondelegation doctrine. That's welcome news for those who think that the Constitution meant what it said when it placed federal lawmaking power in the hands of Congress, not in the hands of the executive branch.