Congress Will Vote Today on Continuing Resolution That Hikes Spending, Extends Patriot Act Surveillance
Rep. Justin Amash and some progressive lawmakers are trying to block it, but most Democrats seem happy to hand more spying powers to a president they are investigating for abusing his power.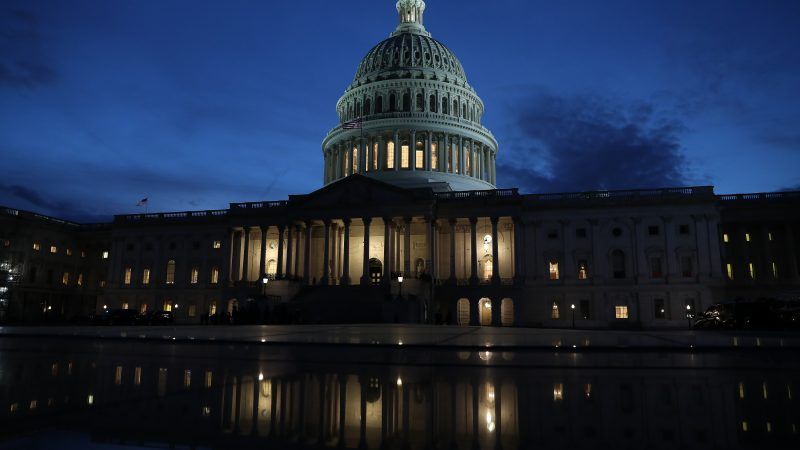 At the same time that Democrats are holding impeachment inquiries to determine if President Donald Trump abused his executive power, they apparently have no qualms about letting him continue to spy on Americans.
While impeachment hearings are getting most of the attention on Capitol Hill today, House Democrats will also hold a vote on a continuing resolution that will postpone a government shutdown—slated for this Thursday, if Congress can't agree on a budget deal—until December 20. Included in the short-term budget deal is a provision to fully re-authorize the Patriot Act for an additional three months beyond its current sunset at the end of the year, extending it through March 2020. That will postpone any effort to reform or abolish the 9/11-era law that grants the federal government broad surveillance powers including the ability to collect phone records and online data.
"Very cool way to resist Trump by ensuring he continues to have terrifying authoritarian surveillance powers," wrote Evan Greer, deputy director for Fight For The Future, a digital rights advocacy group, on Twitter.
Rep. Justin Amash (I–Mich.) introduced an amendment on Monday night that would have removed the Patriot Act reauthorization from the continuing resolution, but the amendment was blocked by Democratic leaders.
I introduced an amendment to strip the Patriot Act extension from the spending bill. It has no business being in there. Just like GOP leaders, Dem leaders ruled my amendment out of order. Neither party protects your rights, even though securing rights is why government exists! https://t.co/6kCKt5zisP

— Justin Amash (@justinamash) November 18, 2019
The continuing resolution will also boost pay for the military, fund next year's census, and hike overall spending by about $322 billion—a figure that was agreed to earlier this year, but still seems irresponsible given the rapidly rising deficit and $23 trillion national debt.
The four-week stopgap funding bill also punts on the question of paying for Trump's border wall. That shortcoming might be the best way to stop the reauthorization of the surveillance provisions, since Trump has demanded funding for the border wall in exchange for his signature on a continuing resolution. Senate Minority Leader Chuck Schumer (D–N.Y.) has suggested that Trump might veto the bill in an effort to hamstring the ongoing impeachment investigation.
The continuing resolution's passage in the House seems assured, but some Democrats are signaling their unwillingness to support the bill because of the surveillance issues. Reps. Alexandria Ocasio-Cortez (D–N.Y.) and Ilhan Omar (D–Minn.) tweeted that they opposed the Patriot Act's reauthorization.
Yeah that's gonna be a no from me dog https://t.co/O6t8h6zkgs

— Alexandria Ocasio-Cortez (@AOC) November 18, 2019
Yeah…no. Count me out. https://t.co/3MsfgzdVsc

— Ilhan Omar (@IlhanMN) November 19, 2019
Progressive groups including Demand Progress have also highlighted the Patriot Act reauthorization in tweets and emails encouraging opposition to the continuing resolution. But while Democrats may face a small revolt from their left flank, there is little reason to think the passage of the continuing resolution will be in doubt when it is brought to the floor later on Tuesday.
Asked about the possible progressive opposition to the spending bill Tuesday, House Majority Leader Steny Hoyer (D–Md.) told CNN's Haley Byrd that the three-month extension will allow time for lawmakers to "deal with the issue legislatively," rather than simply letting the Patriot Act lapse.
If there is a silver lining in today's likely reauthorization of mass surveillance of Americans, it could be that Democratic leaders commit to at least considering the possibility of maybe reforming an 18-year-old law that's eroded civil liberties without making Americans much safer.
"Every representative in Congress should oppose this legislation," Amash tweeted on Monday. It would be a huge surprise if more than a handful of lawmakers do.