Election Day 2019 Was Bad for Republicans. But Is It Really All Trump's Fault?
Plus: A ranked-choice voting win, a scheduled execution in Georgia, Twitter wavers on political issue ad ban, and more...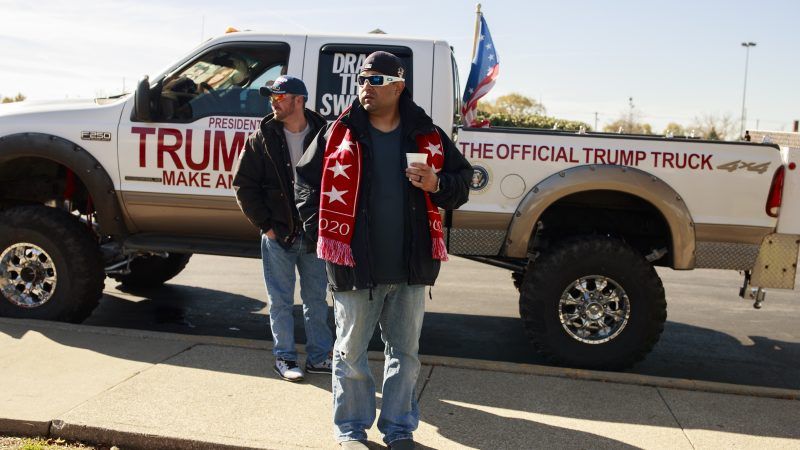 (Jeremy Hogan/Polaris/Newscom)
Libertarians "happy to split the vote" in Kentucky governor race. "We are always happy to split the vote in a way that causes delicious tears," the Libertarian Party (L.P.) of Kentucky posted to Facebook on Tuesday. "Tonight there are plenty of delicious tears from [Republican Gov. Matt] Bevin supporters."
While off-year elections are always a bit underwhelming, there was still some drama—and a little good news—to come out of Election Day 2019. The biggest story has been from Kentucky, where Democratic gubernatorial candidate Andy Beshear appears to have unseated incumbent Gov. Bevin.
The loss may not stick—Bevin was just 5,189 votes shy of Beshear with all precincts reporting, and is currently refusing to concede the race even after Beshear declared victory.
The Libertarian Party candidate for governor, John Hicks, received 28,426 votes—far exceeding the margin of difference between the other two candidates.
Bevin was enthusiastically backed by the national GOP and President Donald Trump (who held a big rally in Lexington, Kentucky, on Monday). That he lost anyway has been greeted by many in national news and punditry as an ominous sign for Trump and Trump-style Republicans.
But Gov. Bevin was strongly disliked by Kentuckians, as many from the area have pointed out. (Read, for instance, the Kentucky L.P.'s thoughts on Bevin here.) And polls showed a pretty even split for Bevin and Beshear before the impeachment investigation into Trump even began.
"The Kentucky gov results are almost entirely self-inflicted," suggests the Cato Institute's Caleb Brown, who lives in Kentucky. "That Trump couldn't fix it (despite his popularity in Kentucky) is the (mostly local) story."
Despite the spin from national Republicans and Democrats alike, Kentucky's gubernatorial race results can likely be explained by a controversial and disliked local leader, rather than some sort of downstream referendum on Trump, his administration, or the House impeachment inquiry.
Twitter rn:

Kentuckians: We don't like Matt Bevin

National folks: WHAT DOES THIS MEAN FOR TRUMP?!!??

KY: We REALLY don't like Bevin

Natl: THIS IS SO BAD FOR TRUMP

KY: Look at the rest of the races we voted on

Natl: YOU CAN'T WRITE THIS OFF. TRUMP CAN FIND KENTUCKY ON A MAP

— Tessa "Professional Buzzkill" Duvall (@TessaDuvall) November 6, 2019
Across the state, Kentucky Republicans did OK: Daniel Cameron won the race for attorney general, Michael Adams was elected secretary of state, and Ryan Quarles was elected state agriculture commissioner.
A few more notable results from yesterday's voting:
New York City residents approve ranked-choice voting. "The new system, which passed with overwhelming support, will let people rank up to five candidates in order of preference, rather than picking just one to support," reports the Associated Press. "Other places, including Maine and San Francisco, already use ranked-choice voting systems, but New York City would be employing the system on a far larger scale, with millions more votes to count." The new system is supposed to start in select races in 2021.
Virginia goes (even more) blue. With yesterday's wins, Democrats will now control both houses of Virginia's General Assembly. "Democrats flipped at least two seats in the state Senate and at least five in the House of Delegates to take majorities in both," reports The Washington Post. Currently, the governor, lieutenant governor, and attorney general of Virginia—a reliably red state from midcentury until the Obama era—are all Democrats, as are both U.S. senators from Virginia and a majority of Virginians in the U.S. House of Representatives.
Philadelphia City Council gets its first third-party member:
BREAKING: @kendraforPhilly WINS City Council At-Large seat, becoming the first third party — WORKING FAMILIES PARTY — candidate to win a seat on Philadelphia City Council! #WFPnotGOP pic.twitter.com/2lkcOJSzHT

— Working Families Party (@WorkingFamilies) November 6, 2019
In Seattle, left-leaning candidates lost out to more markets-friendly folks:
Yikes. Results are not good for the progressives in Seattle.

District 4: Shaun Scott is down 42-58 to his Amazon-backed opponent.

Dist 3: Incumbent socialist Kshama Sawant is down 46-54 to the Amazon candidate.

Dist 1: Incumbent Lisa Herbold tied 51-48 with Amazon opponent

— The Purity Tester ???? (@WAProgressive) November 6, 2019
Danica Roem (D–13th District) was reelected to the Virginia House of Delegates: 
Two years later, the nation's first trans lawmaker becomes the nation's first trans lawmaker to be re-elected to office. https://t.co/Ao7vBtQy3Q

— Chris Geidner (@chrisgeidner) November 6, 2019
Airbnb screwed over again. New Jersey approved increasing restrictions on Airbnb and other short-term rentals.
Sports betting ballot measure outcome unclear. The final vote tally is still too close to call on a Colorado measure to legalize sports betting. Colorado voters rejected a measure that would have let the state keep leftover tax revenue.

---
FREE MINDS
Twitter wavers on political issue ad ban. Following complaints from Sen. Elizabeth Warren (D–Mass.) and other politicians about Facebook's decision on political videos, Twitter CEO Jack Dorsey announced last week that his company would ban both paid advertising by political candidates and ads addressing political issues. A lot of progressives cheered. But now, Warren and some of her acolytes have realized that this crackdown would also ensnare ads about issues they like. And just like that, Dorsey suggested that actually, the issue ad ban wasn't a done deal at all.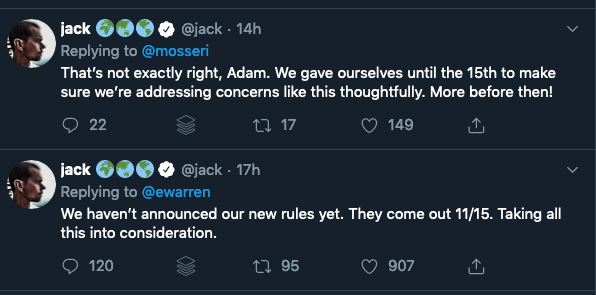 If Dorsey's comment signals hesitation about the issue ad ban altogether, good. But the fact that his comments come in direct response to Warren's complaints (and those echoing her) isn't the most reassuring sign.
In any event, it will be interesting to see how Dorsey's team deals with defining political issues. Doing it in a way that somehow gives progressive causes a pass is obviously no solution, but anything short of that seems unlikely to appease certain Democratic contingents, who—like their counterparts on the right, but with different threats—wield the specter of regulation and criminal investigation against social media platforms that fail to do their bidding.
Twitter's new ad policy will allow fossil fuel companies to buy ads defending themselves and spreading misleading info—but won't allow organizations fighting the climate crisis to buy ads holding those companies accountable. We need accountability. https://t.co/B9RtX7hC5g

— Elizabeth Warren (@ewarren) November 5, 2019
---
FOLLOW UP
No, the president's constitutional rights aren't being denied. Julian Sanchez of the Cato Institute throws some reality on the Trump talking point about how the president's lawyers should be able to confront the whistleblower directly and be present during House impeachment inquiry interviews or else the proceedings are unfair and unconstitutional.
So, the obvious reason this is dumb is that the 6th Amendment only applies at criminal trials. But also: it's extremely common at criminal trials for the prosecution not to call witnesses whose testimony is not necessary as evidence. https://t.co/Le8xKmhmCO

— Julian Sanchez (@normative) November 5, 2019
If we want to continue humoring the analogy, the "right to confront" Trumpsters are demanding would be the equivalent of insisting that police provide criminal suspects with the identity of every informant police are speaking to, while the investigation is still ongoing.

— Julian Sanchez (@normative) November 5, 2019
Meanwhile, Gordon D. Sondland, U.S. ambassador to the European Union, has updated his testimony about President Donald Trump's discussions with Ukrainian President Volodymyr Zelenskiy. In the additional four pages of testimony, released Tuesday, Sondland recalled that, in fact, he did directly tell a high-level Ukrainian official that U.S. aid could be contingent on public commitment to the investigation sought by Trump.
Helluva thing for Sondland to have forgotten in his first appearance. pic.twitter.com/iVX8AcZ1aI

— Matthew Miller (@matthewamiller) November 5, 2019
And former Trump lackey Kurt Volker apparently texted this script for Zelenskiy to read:

---
JUSTICE FOR ALL?
Execution date set for Ray Cromartie. A new execution warrant was issued last Friday for Georgia death row prisoner Ray Cromartie. Cromartie was convicted in the 1994 shooting death of store clerk Richard Slysz, but maintains that he did not fire the fatal shots. Physical evidence that could absolve him of the crime has never been DNA tested. His new execution date is Wednesday, November 13, 2019.

Cromartie's lawyers, Slysz's own daughter, and members of their community have released separate statements asking that the state test the evidence before Cromartie is killed. Shawn Nolan, Cromartie's lawyer, provided Reason with the following statement after the new execution date was set:
The fact is, no one actually knows who the shooter was in the tragic crime for which Ray Cromartie has been sentenced to die. And the identity of the shooter matters; the jury sentenced him to death on the belief that he shot the victims. The state has abundant, viable DNA evidence that could be tested tomorrow to resolve who shot the victims. Among other items, the state has a knit cap and hooded sweatshirt that prosecutors argued at trial were worn by the shooter. The public always has a strong interest in finding the truth, and they do in Mr. Cromartie's case. DNA testing is essential to ensure that an innocent man is not executed for a murder he did not commit. The State's rush to execute Mr. Cromartie without DNA testing is tragic for him, and should be troubling for us all.
This section of today's Reason Roundup comes from Zuri Davis, who has been covering Cromartie's case. Read more about it here.
---
QUICK HITS
Good reading on Hong Kong protests: https://t.co/er3F9spjL0

— Liz Wolfe (@lizzywol) November 5, 2019
The new HuffPost will be less centered on political news and more focused on service journalism.
Ugh: Folks are trying to do to "religious liberty" what they've been trying to "free speech" (that is, portray any concern for it as a racist right-wing plot).