Tulsi Gabbard Rising in New Hampshire Polls, Thanks to Republican Support
People who voted for Donald Trump have far more favorable views of Gabbard than those who voted for Hillary Clinton. And because the state has an open primary, that could be significant.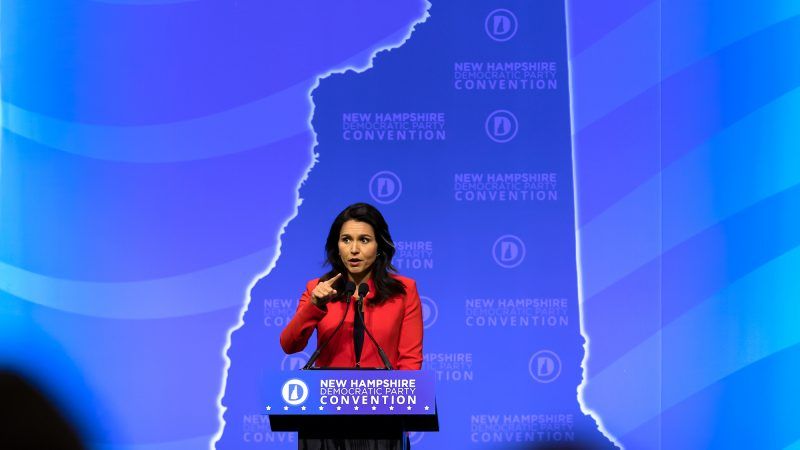 (Nikolas Hample/Sipa USA/Newscom)
Maybe the Russians have infiltrated New Hampshire.
A new CNN poll conducted by the University of New Hampshire and released this week shows Rep. Tulsi Gabbard (D–Hawaii) with 5 percent support from likely voters in the state, which is scheduled to hold the nation's first Democratic primary on February 11. That level of support is good enough to put Gabbard in fifth place, trailing only Sen. Bernie Sanders (21 percent) of Vermont, Sen. Elizabeth Warren (18 percent) of Massachusetts, former vice president Joe Biden (15 percent) and Pete Buttigieg (10 percent), the mayor of South Bend, Indiana. Tied with Gabbard at 5 percent are Sen. Amy Klobuchar of Minnesota and entrepreneur Andrew Yang.
The CNN poll is perhaps the best signal yet that Gabbard—whom Hillary Clinton nonsensically smeared as a "Russian asset" two weeks ago—is experiencing a bit of a polling bounce, especially in New Hampshire. She's risen by 4 percentage points since the same pollsters' July survey while Biden has fallen by 6 points and Sen. Kamala Harris of California has fallen by 9 points. Nationally, Gabbard has experienced a small but noticeable bump in her poll numbers in recent weeks too, though she continues to sit in the third tier of Democratic hopefuls.
Importantly, the CNN poll moves Gabbard one step closer to qualifying for the November 20 debate. She needs two more polls showing support above 3 percent in order to make the stage (nine others have already qualified).
But the most interesting thing about the new CNN poll in New Hampshire is not so much the level of Gabbard's support, but rather who is supporting her.
No, it's not the Russians—it's actually mostly Republicans.
When you dig into the crosstabs of the poll, it shows that 59 percent of New Hampshire Republicans have a favorable view of Gabbard, while only 23 percent of the state's Democrats do. The Hawaiian congresswoman is far more likely to attract support from someone who voted for President Donald Trump in 2016 (55 percent of whom view her favorably) than from someone who backed Clinton (20 percent).
Gabbard's unorthodox constituency is a significant impediment to her campaign gaining traction in the Democratic field. It's difficult to become your party's pick when the other party's voters like you more.
But in New Hampshire, Gabbard's crossover appeal could be a boon. The state has open primaries that allow independent and unaffiliated voters* to participate in either the Republican event or the Democratic one (and the GOP primary is probably not going to be very interesting).
Unlike some other states, New Hampshire has not canceled its Republican primary to protect Trump from potential embarrassment, but there is little doubt he will win the contest easily. In the new poll, Trump's three primary opponents—former Reps. Mark Sanford of South Carolina and Joe Walsh of Illinois, along with former governor Bill Weld—get a mere 7 percent of the vote, combined.
That means plenty of independent voters in New Hampshire who might otherwise vote in the GOP primary could see that contest as a waste of time and decide to vote in the Democratic primary instead.* Gabbard is a likely beneficiary if that happens.
But why, you might be wondering, should voters from a different party get to play a role in determining who Democrats nominate for president? That might seem unfair, and the Democratic Party certainly would be right to exclude whomever they want from the party's private business. But primaries aren't private affairs; they are paid for by taxpayers and run by state-level election officials. By allowing everyone to participate, New Hampshire is actually doing the right thing—and all those other states with closed primaries should change their rules, or stop asking non-party members to foot the bill.
Politically, too, an open primary seems like the better way to choose a candidate. After all, the winner of the Democratic primary will have to face all voters—even Republicans—in November 2020. Given that reality, open primaries can act as a check on runaway extremism within one political party.
Democrats should think twice before smearing Gabbard as a Republican mole. Trump's victory in 2016 was largely the result of voters who refused to abide by tribal lines. If the key to a Democratic victory in 2020 is re-swinging the Obama/Trump voters towards Team Blue, nominating a candidate who appeals to some Republicans seems fundamental.
That being said, Gabbard is almost certainly not going to be the Democratic nominee for president in 2020. But, as I've written before, that's not really her goal. She's trying to resurrect whatever is left of the anti-war left, and to carve out space for an alternative to the bipartisan, largely neoconservative consensus on foreign policy. That is a worthwhile project. The longer Gabbard can stay in the race, the more time she'll have to make that case. And the better she does in New Hampshire, the longer she'll stay in the race.
How long until Gabbard has to deal with being labeled a Republican asset? That probably depends on whether she keeps rising in the polls—and whether mainstream Democrats like Clinton are foolish enough to ignore her crossover appeal.
*CORRECTION: An earlier version of this story incorrectly said that Republican and Democratic voters could vote in either of the state's primary elections. Only independent and unaffiliated voters are allowed to do that. As a result of those rules, New Hampshire has a huge number of independent voters—40 percent of the state's electorate are not registered with either party.