The GOP Deals With Trump Competition by Canceling Elections
President with 90% approval ratings among Republicans will be shielded from Bill Weld and Joe Walsh in four states, reports Politico.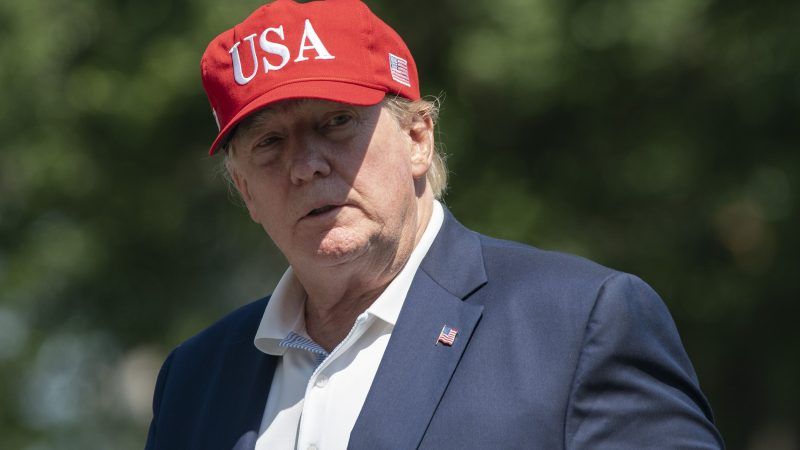 (Chris Kleponis/CNP/AdMedi/SIPA/Newscom)
In a move that has been foreshadowed for a year, the Republican Party this weekend will cancel presidential primary elections in four states, Politico reports.
Quoting "three GOP officials who are familiar with the plans," the paper said that South Carolina, Nevada, Arizona and Kansas, which between them comprise around 7 percent of the overall delegate haul, will simply wave away political competition rather than let the likes of Bill Weld, Joe Walsh, and perhaps Mark Sanford take a David vs. Goliath swing at an incumbent president whose Gallup approval ratings among Republicans has been between 87 percent and 91 percent all year.
The cancellations, which grow out of the unprecedented collusion between the Republican National Committee and President Donald Trump's reelection campaign, demonstrates strikingly less confidence than that of his predecessor.
State Democratic parties generally held primaries and caucuses in 2012 unless no competitors qualified for the ballot. This led to such amusemens as attorney and perennial candidate John Wolfe winning 42 percent in the Arkansas primary. But Obama, whose approval rating among Democrats in the first half of 2011 bobbed between 75 percent and 85 percent, waltzed to the nomination.
South Carolina—Sanford's home state—and Nevada are third and fourth, respectively, on the Republican primary/caucus calendar, giving them outsized influence on the electoral process. The last time an incumbent president acted in such a heavy-handed way toward an early-state primary was George H.W. Bush, whose apparatus eliminated the competition in the 1992 Iowa caucus and the just-after-New-Hampshire South Dakota primary. That focused the attention of Bush's upstart challenger, Pat Buchanan, on New Hampshire, where his 37 percent of the vote shook up the whole election.
Trump and his team are reportedly very aware of the historical parallels (as are his competitors—Weld is focused on the "Buchanan benchmark" in Granite State polling), and they want to eliminate the element of surprise. "We don't elect presidents by acclamation in America," Weld said in a statement reacting to the news. "Donald Trump is doing his best to make the Republican Party his own personal club. Republicans deserve better."
Walsh, too, is unamused.
So to protect their King, the Republican Party is actually going to eliminate elections.

Defend this Trump supporters. I dare ya. https://t.co/T3JXr6gIYJ

— Joe Walsh (@WalshFreedom) September 6, 2019
Programming note: I will be appearing tonight with Joe Walsh (and also Christina Hoff-Summers, Maria Teresa Kumar, and Democratic presidential candidate John Delaney) on HBO's Real Time with Bill Maher, live at 10 p.m. ET.