Is Juul Evil Now? Lawsuit Says Company Knowingly Sold Contaminated Pods
Plus: Reno versus strip clubs, the Constitution on polyamory, an Alabama abortion ruling, and more...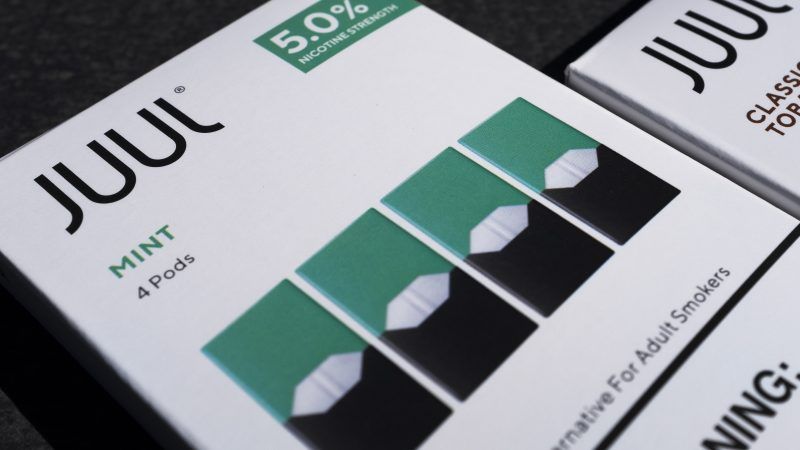 (Yichuan Cao/Sipa USA/Newscom)
The popular vaping company Juul "shipped at least a million contaminated pods," according to a Buzzfeed headline yesterday and a new lawsuit from a former employee. The suit—filed by Juul's former senior vice president of global finance, Siddharth Breja—alleges some pretty damning things.
From Buzzfeed:
Breja alleges that on March 12, 2019, in an executive team meeting, he learned that some batches of mint e-liquid had been found to be contaminated. Approximately 250,000 mint refill kits, the equivalent of one million pods, were manufactured with the contaminated e-liquid, shipped to retailers, and sold to customers.
Breja's lawsuit claims that Juul's then-CEO Kevin Burns said: "Half our customers are drunk and vaping like mo-fos, who the fuck is going to notice the quality of our pods."
Breja alleges that he protested this decision and was quickly fired. Juul said his firing was because Breja had misrepresented his resume when he got hired. Breja's lawsuit calls Juul's claim "preposterous."
So basically, we have no idea what's going on. Breja could be telling the truth and Juul executives could be horrid sociopaths who don't care about consumer safety at all. He could be salty over being fired and making this up entirely. Or he could be telling the truth about "contaminated pods" but not the whole truth.
The lawsuit provides little detail about what the pods were supposedly contaminated with and why or how Juul came to the decision to sell them. (Instead, it pads the claim with a lot of unrelated statistics about youth vaping and recent political efforts around it.) The company could have known about some "contamination" but ultimately determined that the mint pods were still safe.
Breja's lawsuit against Juul was filed (in the U.S. District Court for the Northern District of California) on the same day the company announced it would be cutting around 500 jobs. You can read the whole lawsuit here.
---
FREE MINDS
Is limiting marriage to two people constitutional? Polyamory is having a bit of a moment, in part due to recent allegations about U.S. Rep. Katie Hill (D–Calif.), who announced her resignation this week. National Review wades into the legal situation when it comes to polyamorous relationships and state-sanctioned marriage:
In his Obergefell dissent, Chief Justice John Roberts noted "how much of the majority's reasoning would apply with equal force to the claim of a fundamental right to plural marriage."

And while it was verboten to say so at the time, the reasoning of Obergefell's majority—that the due-process clause of the 14th Amendment guarantees two adults of either sex the right to enter into state-recognized matrimony—readily lends itself to abolishing other components of the definition of marriage. If sexual difference is not a meaningful feature of marriage, why should the union be restricted to two—and only two—people?
More here. Meanwhile, Quillette makes the case for…trad polyamory?
---
FREE MARKETS
What happened when city officials tried to rid Reno of strip clubs? USA Today takes a look at Reno's attempts to boot strip clubs in order to woo Tesla and other big tech companies to the area (seems counterproductive?). This included undercover cops sent to pose as strip club patrons, "as part of a crackdown on Reno's strip clubs that has more to do with local politics—and economic progress—than vice," says the paper. More here. USA Today plans to unfold the story over the course of season two of its The City podcast.
---
ELECTION 2020
Some surprising results out of the latest New Hampshire Democratic voter poll:  
New CNN poll of NH (trend since July):

Sanders: 21% (+2)
Warren: 18% (-1)
Biden: 15% (-9)
Buttigieg: 10% (+0)
Gabbard: 5% (+4)
Klobuchar: 5% (+5)
Yang: 5% (+4)
Harris: 3% (-6)
Steyer: 3% (+3)

Gets Gabbard one step closer to November debate.https://t.co/5qP1pcvg0T

— Dave Weigel (@daveweigel) October 29, 2019
It seems people like Sen. Cory Booker (D–N.J.) but don't want to vote for him, while they want to vote for Rep. Tulsi Gabbard (D–Hawaii) but don't really like her.
Favorable ratings in that CNN poll are especially interesting.

Sanders +43
Buttigieg +40
Warren +38
Booker +29
Biden +25
Klobuchar +24
Harris +19
Yang +12

And… nobody else with net positive numbers. Gabbard stands out; despite her trial heat spike she's at -2 favorables.

— Dave Weigel (@daveweigel) October 29, 2019
---
QUICK HITS
A federal judge in Alabama has blocked a near-total abortion ban passed by state lawmakers earlier this year. The law criminalizes performing abortions, except in the case of serious health conditions. Doctors could face decades in prison. Opinion here: https://t.co/mwnPKjmEa9

— Sarah McCammon ???????? (@sarahmccammon) October 29, 2019