The NYPD Officer Fired for Choking Eric Garner Is Suing To Get His Job Back
Pantaleo's lawyer says it's "arbitrary and capricious" to fire a cop for choking a guy over black market cigarettes.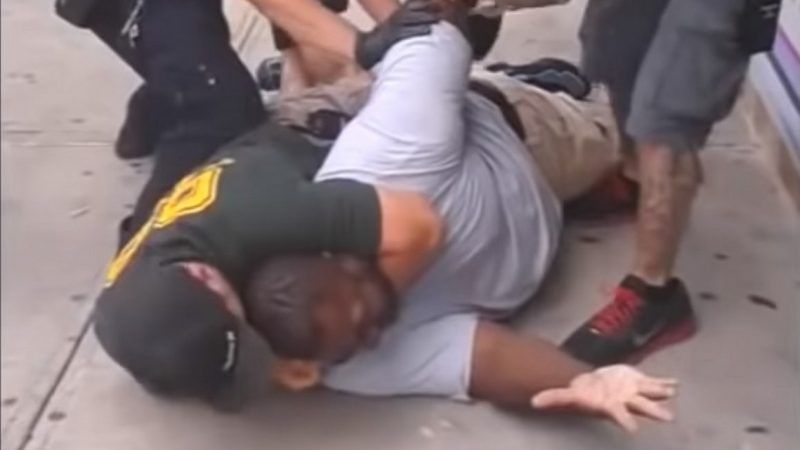 (Footage of arrest via YouTube)
The New York Police Department officer fired in August for the chokehold that led to the death of Eric Garner is now suing to get his job back.
Former NYPD officer Daniel Pantaleo was captured on video five years ago confronting Garner on Staten Island. Pantaleo and his fellow officers approached Garner, who they suspected of selling "loosies," or individual, untaxed cigarettes. Garner was uncooperative when Pantaleo tried to arrest and handcuff him, and in the ensuing struggle, officers pulled Garner to the ground, and Pantaleo put him in a chokehold. Garner said multiple times "I can't breathe" before losing consciousness. After being transported to a hospital, he was pronounced dead.
The New York Office of Chief Medical Examiner ruled Garner's death a homicide, a result of the compression of his neck and chest in the confrontation. The district attorney's office for Richmond County turned to a grand jury for possible charges against Pantaleo, but the grand jury declined to indict him.
New York waited to see if the Department of Justice wanted to file federal civil rights charges against Pantaleo. Ultimately, the Justice Department declined to act. Earlier this year Pantaleo, finally faced an administrative trial to determine what discipline, if any, he should face as a cop. The administrative judge found Pantaleo guilty in August of "recklessly causing physical injury" and recommended Pantaleo's dismissal. NYPD Commissioner James P. O'Neill agreed with the recommendation and terminated him.
But even after five years and outrage from people across the political spectrum, nearly all whom saw Garner's death as a wholly unnecessary overreaction by law enforcement, the saga is not over. Pantaleo has hired attorney Stuart London of Worth, Longworth, and London, a Manhattan firm specializing in representing police officers, and is now suing to get his job back.
I contacted London's office to request a copy of the lawsuit, but have not yet received a response. According to the New York Post, the lawsuit, which was filed in Manhattan civil court on Wednesday, argues that Pantaleo's firing was "arbitrary and capricious." London told the Post that he thinks the recommendation to fire Pantaleo was "reckless." Was that decision as reckless as Pantaleo's decision to choke a man for selling loose cigarettes?
It's hard to imagine the NYPD putting Pantaleo back on patrol even if they were forced to rehire him. Every arrest or physical altercation between Pantaleo and any suspect is another lawsuit waiting to happen, and New York spent $230 million last year settling police lawsuits.
But getting back on a patrol route might not be the point of the lawsuit. The New York Post notes that the circumstances of Pantaleo's firing mean he won't get a full pension, but he will be able to recoup any money he paid into the fund during his time there. Getting put back on the force, even in a desk job, would put him back on track for a publicly-funded retirement plan were he to eventually retire on his own terms. The Post notes Pantaleo was making $85,292 a year as a cop before getting fired.
The citizens of New York have no obligation to bankroll officers who have abused their power. Pantaleo had his chance to be a good cop and retire on the taxpayer dime.