Trial (Sort of) Begins Over Police Officer's Conduct in Eric Garner's Death
Five years later, Daniel Pantaleo faces administrative justice.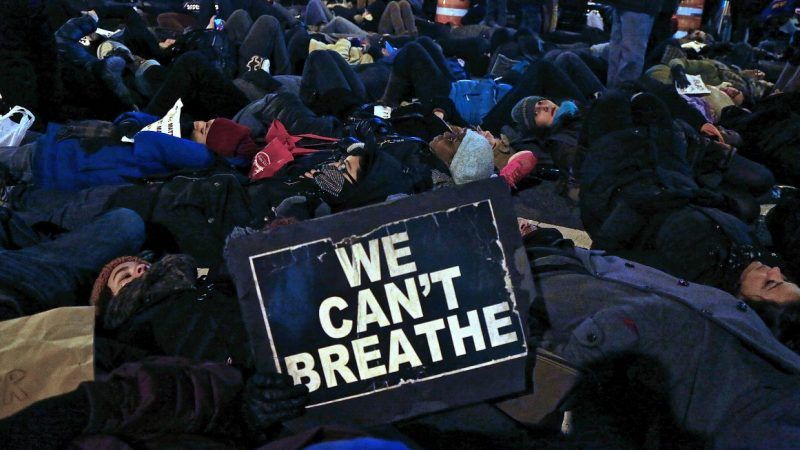 (Michael Nigro/ZUMA Press/Newscom)
It's been five years since Americans saw a cellphone video of Eric Garner wheezing "I can't breathe" as a police officer appeared to put him in a choke hold. Garner would later die, and the officer's actions would get part of the blame.
That officer, Daniel Pantaleo, is now finally facing some sort of accountability for his actions. A departmental trial is supposed to determine whether Pantaleo violated the law, or even just violated police procedures, on that day. He could be fired. Or he could lose some vacation days. Or nothing might happen at all.
The police who confronted Garner suspected he was illegally selling "loosies," single cigarettes, to people who want to get around New York City's incredibly high cigarette taxes. Garner refused to cooperate with the cops, and the cops responded with the violent and ultimately fatal takedown.
It has taken years for the New York Police Department to take any sort of action here, in part because they were waiting to see if the Department of Justice was going to get involved. The district attorney for the Staten Island area sent a case to a grand jury in 2014, but the jurors declined to indict.
Of the police slayings that have sparked protests over the last few years, Garner's was particularly egregious, given he was not himself accused of any violent activity. He had a long history of getting in trouble with police, but only for low-level offenses like selling loose cigarettes and possessing marijuana.
This trial is supposed to determine what sorts of consequences Pantaleo will face. But it's unclear whether we'll actually learn the officer's fate. The New York Times explains:
The courtroom is in the Police Department's headquarters in Lower Manhattan. The trial is open to the public, but no court transcripts will be available, and lists of testifying witnesses will not be provided.

Even the judge's decision will be not necessarily be disclosed. It will be sent to the police commissioner, James P. O'Neill, who has the authority to uphold, modify or even vacate the ruling.

There is no mechanism for compelling Mr. O'Neill to announce his conclusion, though it is expected to be revealed by people with knowledge of the decision.
New York state law includes incredibly thorough demands that records of police conduct be kept secret, with the open goal of protecting officers from public embarrassment. The fact that Pantaleo had a history of misconduct before the confrontation with Garner only become public because somebody leaked it to the press.
California has finally changed its laws to improve access to records of police misbehavior. New York State has not followed suit. New York City passed an ordinance in 2016 that simply requires the NYPD to provide some statistical data on the number of officers who have engaged in misconduct in a given year—and the police aren't even complying with that demand. New York desperately needs reforms to force more transparency about police conduct.