Facebook's Plans To Spend $1 Billion on Housing Development Is a Drop in the Bucket
The source of the state's housing affordability problems are onerous government regulations and fees that artificially drive up the costs of housing.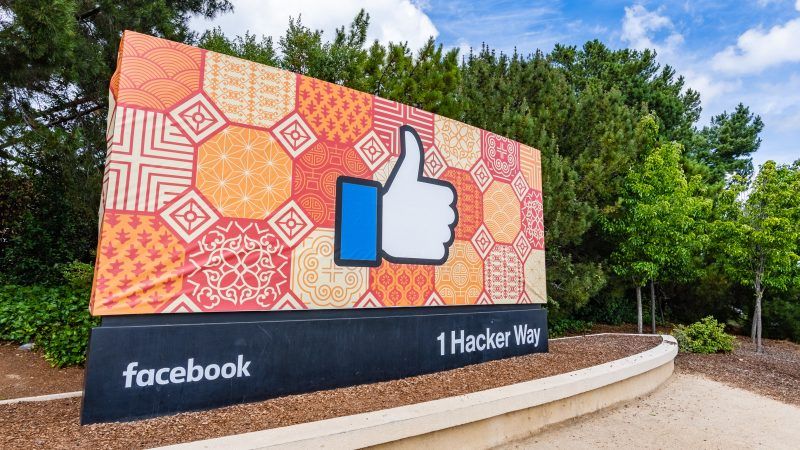 (Andrei Gabriel Stanescu/Dreamstime.com)
Facebook is the latest tech company to try to fix California's housing woes. On Tuesday, the social media giant announced that it would invest $1 billion to spur the construction of 20,000 new housing units in Silicon Valley and the San Francisco Bay Area.
"In San Francisco, a family of four making over $100,000 per year is considered low-income," wrote Facebook CFO David Wehner in a blog post, saying that developing new affordable housing required a partnership of "companies, communities, non-profit organizations, and policymakers statewide."
The announcement received a glowing endorsement from California Gov. Gavin Newsom (D), who said in a statement that "state government cannot solve housing affordability alone, we need others to join Facebook in stepping up." Google announced its own $1 billion housing initiative in June, which also promises to deliver 20,000 new units.
As with Google's plan, however, Facebook's investment will require a lot more money from other groups in order to make its 20,000-unit goal a reality. That's because the state and local regulations that have created California's housing crisis could stymie both companies' efforts.
Of the $1 billion Facebook is planning to spend, $250 million of it will go toward developing mixed-income housing on excess public land. Another $150 million will be given to the Partnership for the Bay's Future, a group made up of companies and non-profits that currently invests in low-income housing developments. The company also has a pre-existing commitment to spend $25 million building up to 120 units of teacher housing on public land in San Mateo and Santa Clara counties. Facebook's $1 billion promise also includes $225 million in company land near its Menlo Park headquarters, where the San Francisco Chronicle reports it plans to build 1,735 homes.
Facebook told the Chronicle that its Menlo Park project—first proposed two years ago—would not be limited to employees. However, it is still unclear if Facebook will donate the land, lease it to other developers, or develop the site itself.
A huge portion of Google's $1 billion housing proposal, roughly  $750 million, was also company land, which it plans to lease to housing developers.
Facebook will hold $350 million in reserve, which the company says it will allocate later "based on the rollout and effectiveness" of its other housing commitments.
All told, the company is promising to spend $50,000 for every unit of housing it wants to create, which will likely necessitate more financing given current construction costs.
According to the University of California Berkeley's Terner Center, the average 100-unit multifamily affordable housing project in the state cost $425,000 per unit to build in 2016. It's likely higher today. Per-unit costs above $700,000 are not unheard of.
Indeed, a huge chunk of Facebook's $50,000 per-unit investment will end up being eaten by city development fees.
In the Bay Area city of Fremont, for instance, city fees total $75,158 per unit in a 100-unit multifamily development, according to the Terner Center. That's an outlier for sure, but even Oakland is charging $34,000 per unit in city fees.
And all of this assumes the projects Facebook invests in will sail easily through the planning process. Objections from neighbors could mean the company, or its development partners, will have to spend hundreds of thousands of dollars, not to mention years of delays, responding to environmental appeals and lawsuits.
That means $1 billion might not add up to all that much housing, something state Sen. Scott Wiener (D–San Francisco) pointed out on Twitter.
1/2 It's terrific Facebook is giving $1B for housing. Now, let's do our part & ensure housing gets approved faster: "The region's lengthy, complex and expensive approvals process will continue to make housing hard to build, even with additional funding." https://t.co/KM1QpIbFYl

— Scott Wiener (@Scott_Wiener) October 23, 2019
A pro-development bill written by Weiner stalled in the legislature this year. Weiner's bill would have rezoned land near transit lines and employment centers to allow for more, denser housing and made building four-unit homes by-right (meaning government planners couldn't use their desertion to deny permits) statewide.
There's also obviously a PR element to Facebook's announcement. The day after Facebook rolled out its housing initiative, its CEO, Mark Zuckerberg, was dragged before the House's Financial Services Committee where he was grilled about the company selling discriminatory housing ads.
None of this means that Facebook's investment isn't substantial, but it is obviously self-interested. Absent wider reforms, it will still be a drop in the bucket when it comes to addressing California's affordability problems.