Dick's CEO Becomes Latest Anti-Gun Billionaire To Dream of a Third-Party Presidential Run
Well, at least they have the name!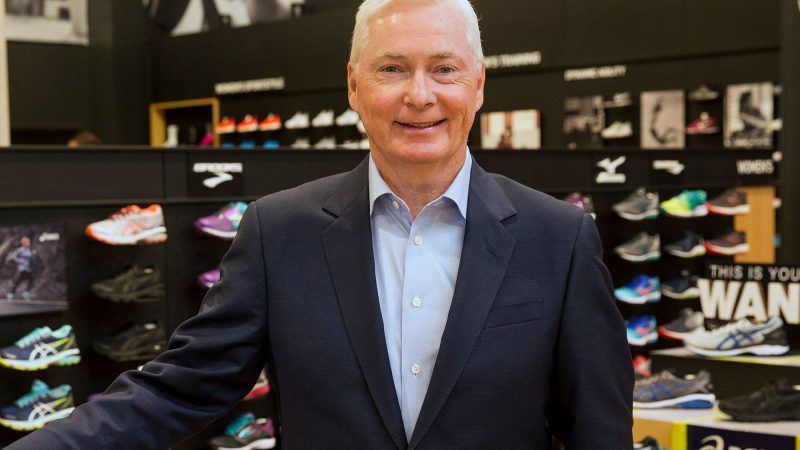 Ed Stack, CEO of Dick's Sporting Goods, has reportedly become the latest in a long line of frustrated centrist billionaires willing to spend his money pursuing the fantasy that you can conjure up a third political party from scratch to elect some relative no-name president.
According to Politico, focus groups were convened in the swing state of Wisconsin this week to consider the 64-year-old Stack in a three-way race against President Donald Trump and either Joe Biden or Sen. Elizabeth Warren (D–Mass.). Front and center in the pro-Stack messaging was his "leadership" on gun control policies, such as universal background checks. Dick's made big splashes by ending the sale of "assault-style rifles" in February 2018, and destroying $5 million worth of its gun inventory this month.
Right on time for a round of earned media, Stack, a longtime Republican voter and donor, has a new memoir out titled, It's How We Play the Game: Build a Business. Take a Stand. Make a Difference. "For readers of Phil Knight's Shoe Dog and Howard Schultz's Onward," goes the promotional text, "an inspiring memoir…about building a multibillion-dollar business, coming to the defense of embattled youth sports programs, and taking a principled—and highly controversial—stand against the types of guns that are too often used in mass shootings and other tragedies."
Hmmm, Howard Schultz…where have I heard that name before?
Like the former Starbucks CEO, who pulled the plug on his centrist third party run in July (and also favored background checks and assault-weapons limitations!), Stack appears to be laboring under the delusion that third parties are easy enough to assemble with a little self-financing. In the Politico article, two-time Gary Johnson spokesman Joe Hunter, who these days is working for Johnson's 2016 running mate Bill Weld in his longshot GOP primary bid against President Donald Trump, throws some cold water on that idea.
"It's massive; all the structural, institutional barriers are really, really difficult," Hunter said. "Absent having extraordinary resources, it would be difficult to put it together."
Last December, third-party specialist Richard Winger of the indispensable Ballot Access News told me that "Ballot access for such a ticket is not nearly as bad a problem as it has been in the past….Since the 2016 election, ballot access for president in the two worst states, North Carolina and Oklahoma, has become much easier. And in 2016 it became much easier in Georgia."
But in a highly charged, highly polarized electoral climate, billionaire centrist campaigns are a brutally efficient way to become hated.
Stack's politics, such as they are, have not produced a deep public footprint. As recently as 2011 he was considering a GOP run against Sen. Bob Casey (D–Pa.); the following year, he donated $100,000 to a pro-Mitt Romney super PAC. Whereas Schultz, like Trump challenger and former South Carolina congressman and governor Mark Sanford, made unsustainable federal debt/deficits his signature issue, the Dick's CEO seems to be talking primarily about gun control, with maybe some youth sports thrown in.
In this matter, he has more in common with perennial presidential trial balloonist Michael Bloomberg, the journalism titan and former mayor of New York who also enjoys a bit of idiotic anti-vaping on the side. Which leads to an obvious follow-up question: If gun control is your issue, why wouldn't just back whoever wins the super gun-controlly Democratic primary?
Preliminary answer: Because faced with the prospect of a Trump vs. Warren, populist vs. populist presidential race, the billionaire CEO class (minus the Tom Steyers of the world) suspects that there may be a huge center lane with their name on it. Schultz frequently hinted that he may be an insurance policy against Democrats failing to rally around comparative centrist Joe Biden; the apparently undeterrable Blomberg has reportedly made the subtext text, with his fellow Gotham super-richies giving out recent quotes like "Bloomberg is in if Biden is out."
As ever, there is one actually existing third party with the ballot access Stack craves, the anti-socialist bonafides that Bloomberg professes, and the dedication to individual rights that both billionaires (and indeed most politicians) find confusing if not abhorrent. I will be moderating a presidential candidates forum for said Libertarian Party on Nov. 2 in Florence, South Carolina. You can watch a debate I moderated in July at this link.