At the Most Expensive Affordable Housing Project in America, Every Apartment Cost $739,000 To Build
How a heavily subsidized Culver City development became the nation's most expensive affordable housing project.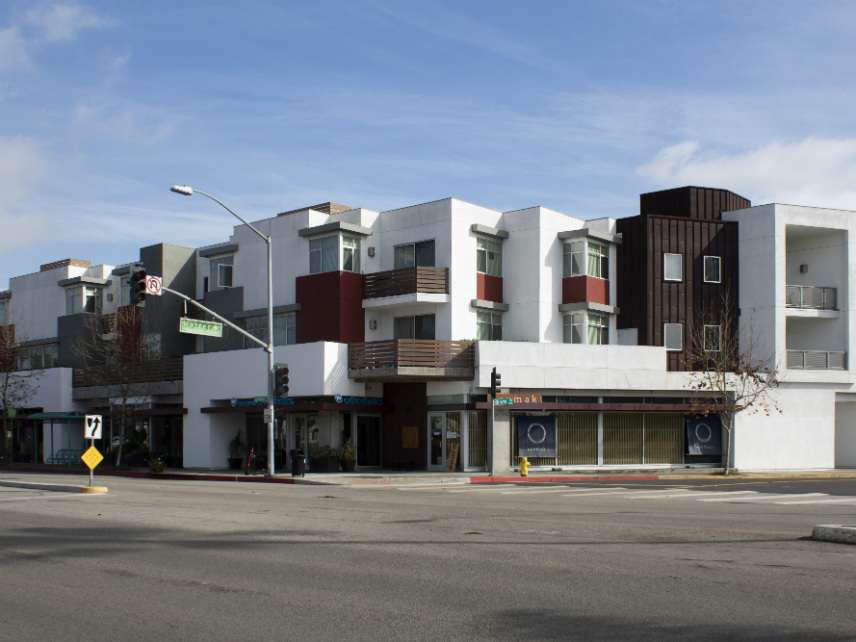 In September, the Government Accountability Office (GAO) released a report on the costs of affordable housing projects funded by the federal government's Low-Income Housing Tax Credit (LIHTC) program. In a footnote, the report noted that one California development had costs as high as $739,000 per unit.
The report didn't name the development, but GAO provided Reason with a data file listing individual projects, as well as information on their final costs and total number of units. After adjusting for costs-per-unit, the 33-unit, $24.4 million Tilden Terrace, a collection of shops and apartments in the wealthy Los Angeles suburb of Culver City, ended up as the top of the pile.
Tilden Terrace might not look the way you expect from an affordable housing development. The building boasts a yoga studio that advertises itself as the first yoga studio for children in the Los Angeles area, as well as an orthodontist's office, and a Japanese restaurant where you can order a $34 sushi plate with Halibut, Blue Fin, and Kurodai. It's a contemporary building with a colorful façade that won an architectural award in 2014. And taxpayers are paying dearly for it.
The $739,000 per-unit price tag is not only higher than in Texas, where affordable housing units cost $126,000 on average, it's nearly double the median cost of $326,000 in California. And it's $100,000 higher than the median price of buying an unsubsidized, market-rate home in nearby Los Angeles, one of the most expensive cities in the nation.
Tilden's record-setting per-unit price tag was the result of a confluence of factors that shed light on what's driving up housing costs nationwide. Those include: Culver City's status as a fast-growing, tightly-zoned city, where local politicians have shown a preference for attracting commercial development over new housing construction; state requirements that developers pay construction workers high union wages; and a philosophy among affordable housing developers that high-cost neighborhoods are where publicly subsidized housing is needed the most.
The irony is that the factors raising the costs for Tilden Terrace are the same factors that drive demand for projects like it in the first place.
High development costs breed rising rents and home prices, pushing low- and even moderate-income people out of market-rate housing and leaving publicly subsidized affordable developments as the only option. The more projects like Tilden Terrace cost, the more necessary they become.
Raising Revenue
Affordable housing projects often attract skepticism from neighbors and local governments, partly because they tend to involve bland, blocky buildings, and partly because their occupants are disproportionately poor. Somewhat unusually, however, Tilden Terrace attracted little resistance.
In fact, the city welcomed the project with open arms, seeing it as a way of increasing local tax revenues—and was made a partner in the development's corporate profits. Yet the same part of the deal that attracted city officials was, in the end, a significant driver of the project's extraordinary price tag.
What won over city officials was not so much the prospect of new affordable housing units, or changing the income mix of the area, where the median income is almost $80,000 a year, but the inclusion of 10,000 square feet of commercial retail space in the building. That idea was proposed by the developer, the Los Angeles Housing Partnership (LAHP), a nonprofit that has been building and rehabilitating multi-family housing developments since 1989.
"It was really just walking into the city and negotiating this deal," says David Grunwald, LAHP's CEO. "They get the business tax, they get their share of the tax when the county assessor divides up the sales tax and the property tax."
In addition, LAHP agreed to split the profits from Tilden Terrace's commercial space—projected to be about $120,000 per year—with the city, giving the local government a clear stake in the project.
In return, the city agreed to support the project with a total of $15.2 million in loans—$3.4 million for the retail portion, and $11.8 million for the residential portion of the building. Essentially, the city was playing the bank.
LAHP secured another $4.9 million private loan for the construction of Tilden Terrace, and also agreed to sink another $3.8 million in equity and deferred development fees (these are fees LAHP would normally charge for its services) into the project—with most of this being repaid with $7 million in federal tax credits from the LIHTC program.
Altogether, Tilden Terrace cost $24.4 million to complete, all of which—save a $1.7 million private loan used to help pay back the private construction loan—was ultimately taxpayer funded.
The addition of $3.4 million in purely commercial space is what ensured that the development got built. It's also arguably what pushed Tilden Terrace to the top of GAO's list of most expensive per-unit affordable housing projects.
By comparison, an affordable housing project built in the same year just four miles away on Santa Monica's Pico Boulevard managed to add the same number of housing units—which, like Tilden Terrace, were mostly a mix of two- and three-bedroom apartments—for a pricey $20 million (or $100,000 less per unit). One key difference was only a paltry 582 square feet of retail was included.
Big Corporations, Small Town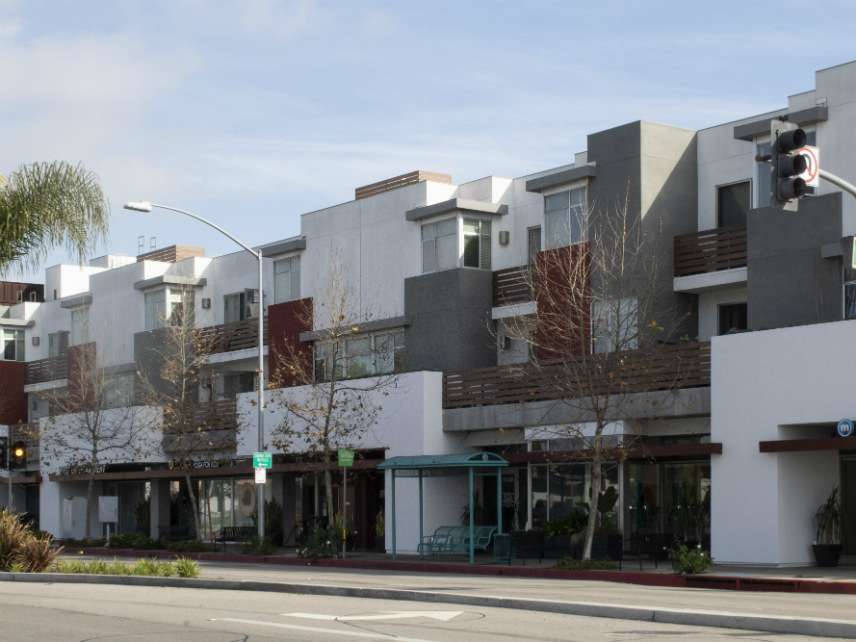 One reason the retail component of the development secured support from Culver City officials was that the city has become deeply invested in attracting amenities designed to lure large corporations looking to set up shop in the Los Angeles area. Yet that same push has come at the expense of housing, and helped contribute to the area's sky-high rents.
Once a relatively sleepy West Los Angeles suburb, Culver City has been undergoing something of a boom in recent years as more and more technology and entertainment companies establish or expand their corporate campuses in the city. Culver City officials have aggressively pitched the city as the perfect place for companies to relocate, with one major selling point being the city's retail-rich environment.
The city's 2018 economic development profile describes Culver City as a "modern and progressive community with exceptional shopping, dining and entertainment," while touting the numerous retail and office space developments currently being built in the city.
In many ways, those efforts have been successful. Sony Pictures—the city's largest employer—maintains some 500,000 square feet of office space, and is entitled to develop another 500,000 square feet. Software company Symantec employs 700 people in the city and owns another $122 million in taxable real estate. Just a few blocks up from Tilden Terrace is the headquarters for the NFL Network, which employees another 525 people in Culver City.
Amazon Studios has announced plans to lease hundreds of thousands of square feet of studio and production space currently under construction, while Apple is adding 1,000 jobs to its current 450-person strong Culver City workforce.
But in the process of attracting large employers, Culver City has prioritized office and retail development over new residential housing construction in an attempt to balance a desire for "big city amenities" with the city's enduring "small town charm."
In an introduction to the city's economic development profile, Culver City Mayor Thomas Aujero Small wrote that "despite the onslaught of 21st century change, we plan to maintain our traditional small-town atmosphere. We are not a tabula rasa for this change; we are not Abu-Dhabi or Shenzen." In practice, that has meant keeping new construction away from most of the city's existing residential neighborhoods.
A quick look at a zoning map of Culver City shows that most of its residential land is reserved for either single-family housing, or duplexes, a policy which is known to drive up the costs of housing. Even in those areas where "high-density" residential development is allowed, the city's height limit prohibits buildings taller than 56 feet (or four stories). Nearly half of all housing units in the city are single-family homes.
The result is that even as the city adds office space and jobs at a breakneck pace, housing production is barely limping along.
According to 2017 U.S. Census Bureau data, only 3 percent of Culver City's 17,373 housing units were built in this century, and only 6 percent were constructed after 1990. A 2013 report found that the city had 2.67 jobs for every unit of housing.
Recent years have seen a surge in housing construction, with several larger residential developments—including the 200-unit Ivy Station and the 97-unit Pennylane developments—beginning construction. Both come with substantial retail components, particularly the Ivy Station project, which includes a 148-room hotel, 185,000 square feet of office space, and another 50,000 square feet of retail and restaurant space.
Most residential developments in Culver City involve small-scale conversions of single-family homes into two- or three-unit condominiums. A look at the city's development pipeline shows a large majority of projects are of a commercial nature.
A predictable result of growing demand and stagnating supply is that rents and home prices have skyrocketed. The median home price in Culver City was $1.1 million in 2018, a 12.7 percent spike from the year before. Real estate company Zillow predicts home prices will rise by another 7 percent over the next year. Website Rentcafe estimates that the average monthly rent for a two-bedroom apartment in Culver City runs some $2,933, while an average three-bedroom unit rents for over $4,500.
The city's high housing costs are a major reason why projects like Tilden Terrace exist. Yet the same policies that are driving up the cost of market rents also contributed to Tilden Terrace's inordinate costs. Zoning larger residential developments out of most of the city's neighborhoods forces these projects to compete for scarce, developable plots along Culver City's bustling commercial corridors, where land prices are at their highest.
According to GAO's September LIHTC report, land costs usually eat up about 5 percent of a typical LIHTC-funded project's costs. In California, land costs were significantly higher, making up about 12 percent of an average project's costs.
Tilden Terrace was even more of an outlier. LAHP spent $5 million to acquire the land needed for the project, or about 21 percent of the project's total costs. (The median land costs for a LIHTC-funded project in California were around $1 million.)
Indeed, this is a problem for nonprofit developers across the west side of Los Angeles, says Becky Dennison, the executive director for Venice Community Housing and a board member of the Southern California Association of Nonprofit Housing, an affordable housing advocacy group.
It's "certainly difficult in Venice where we are, and throughout the west side, to find pieces of land that are zoned appropriately," Dennison tells Reason. "You can't get to the number of units you need to do a multi-family, viable project." This she says, leaves nonprofits like hers forced to buy what land they can get their hands on, which often means more expensive plots with lots of interested buyers.
The city's emphasis on expanding tax-friendly retail services aimed at businesses has thus created a pernicious cycle in which housing scarcity drives up rents, which creates demand (both political and market) for cheaper housing—which, in the case of Tilden Terrace, only got built because it included more retail.
Union Wages Make Labor More Expensive
The inclusion of a politician-pleasing retail component, a white-hot real estate market in Culver City, and the city's restrictive land use regulations all helped to push project costs for Tilden Terrace toward that $739,000 per unit price tag.
Getting it all the way are California's prevailing wage laws.
Established in 2001 as a requirement for all publicly funded projects—which would include affordable housing projects like Tilden Terrace—the state's prevailing wage law mandates that developers pay construction laborers the most common or "prevailing" wage rate earned by other workers performing the same task in a single locality.
Because construction labor is heavily unionized, and because union contracts with developers secure the same pay rate for all those working the same job, an area's prevailing wage rate generally works out to be a union wage.
The goal of prevailing wage laws is to increase pay for construction workers, and, in this respect, they are a clear success. According to a Los Angeles Times article from May 2017, the median pay for a plumber in Los Angeles county was a bit over $23 an hour. That compares to the $45 an hour earned by a plumber receiving the county's prevailing wage.
A more open question is how much prevailing wage requirements raise the final costs of affordable housing projects. One UC Berkeley study from 2005 found prevailing wage requirements increased costs from as little as 9 percent to 37 percent. A 2014 state government study on the costs of affordable housing estimated that prevailing wage increased affordable housing costs by 11 percent.
Grunwald told Reason he believed prevailing wage requirements increased construction costs by 20 to 30 percent. On a project like Tilden Terrace, where construction costs accounted for $13 million of the building's final costs, union wages added millions even by a conservative estimate.
New Housing, Old Problems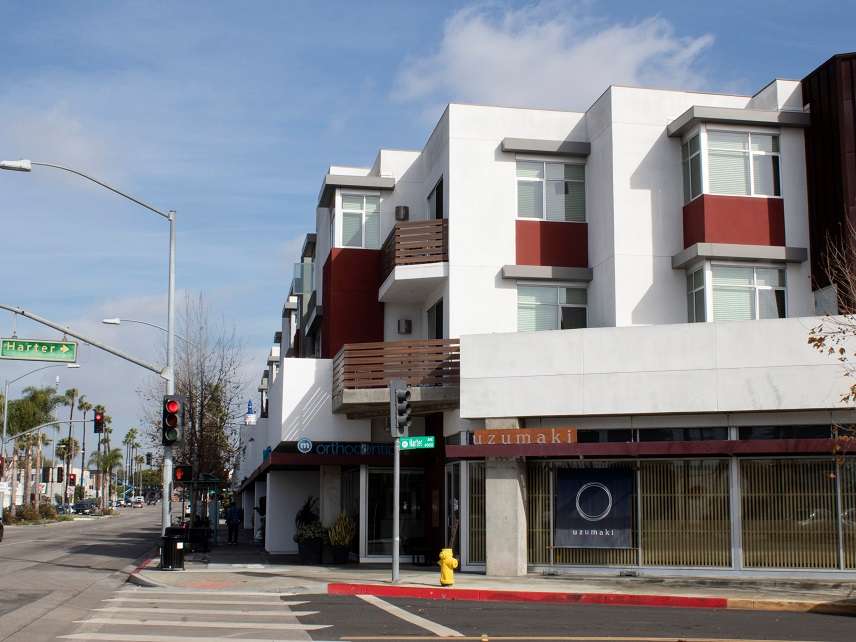 For many in the affordable housing world, the fact that these projects cost so much all but necessitates that more of them are built. New market-rate construction, they argue, faces many the of the same cost drivers, plus one affordable housing developers don't have to worry about: making a return on their investment. That means charging higher rents that only well-off renters can afford.
"The housing market just does not work for low income people. Particularly in a growing market, it doesn't work for moderate income people," says Dennison, arguing only through subsidizing the development of affordable units can housing be brought within the reach of poorer renters.
But Michael Lewyn, a property law professor at New York's Touro College, says that gauging the private market's ability to provide affordable housing by looking at the cost of new, market-rate developments is misplaced.
"The truth is that only a small percentage of housing is ever new. So the rents for new housing matter a lot less than the rents for old housing," says Lewyn.
According to Lewyn, new market-rate housing is always going to be the most expensive form of housing. Over time, however, these market-rate developments will become more affordable as the value of the buildings depreciate and housing supply expands with the construction of even newer units.
This process is known as filtering, and in a healthy housing market—where new supply can be added to meet growing demand—it should be enough to make the pricey new developments of today the affordable homes of tomorrow.
"The positive effects of new housing, if there's enough of it, is that it will bring down the rent of older housing," Lewyn tells Reason.
California, and particularly the Los Angeles area, however, lack many of the features of a healthy housing market.
Zoning in the state's major cities—and particularly in wealthy suburbs of cities like Culver City—puts an artificial cap on how much new housing can be built in the first place. Prevailing wage laws raise the costs of new construction, which both raises rents of new developments and ensures that some projects don't pencil out and are therefore never built at all.
On top of all this is a lengthy permitting process that gives opponents of a new development the opportunity to hold up construction projects for years, stopping some completely, which gives developers even greater incentives to push forward with only the most profitable possible buildings. Keeping such a tight lid on new supply effectively suspends this filtering by reducing the supply of new housing, and ensuring that even rents in older buildings continue to rise.
As long as market-rate housing development remains heavily restricted, adding publicly funded affordable housing will always be a band-aid on the wound.
For Lewyn, the answer to California's housing woes is pretty straight-forward: deregulate land use. "For bringing down the average rent, really, free markets are the best thing," he says. "That is to say, normally only the market is going to be able build enough housing to keep rents fairly low."
Yet in California, even deregulation comes with strings attached. In 2017, the state legislature passed a bill in 2017 that lets developers opt into a streamlined approval process in exchange for including a minimum number of affordable units, and paying workers a prevailing wage.
A more ambitious bill introduced last year, SB 827, would have preempted local zoning codes to allow for construction of new apartment buildings near transit, effectively upzoning huge swaths of the state's urban areas. But the bill died in committee in April thanks to the stiff opposition from California's construction trade unions, who're angered by the fact that it did not include a prevailing wage mandate, and local governments, including Culver City's, who argued that they were doing just fine at permitting enough housing to be built.
2019 brings with it a new legislative session, and already a number of housing proposals, from upzoning and increased affordable housing funding to rent control, are already being floated. Gavin Newsom, the incoming governor, has also promised to make housing his top priority.
Unless and until roadblocks to development are eliminated, the status quo in Culver City and other cities across the country will continue unabated.
In the absence of reforms to cities' restrictive zoning codes and other regulations that delay, restrict, or otherwise increase the costs of new housing, developers will continue to pay extraordinary prices for land and labor, raising rents, and reducing the number of units they can feasibly bring to market.
This affordability picture is only made worse by the fact that the populations of America's major metropolitan areas are surging, as more and more people move to cities and their surrounding suburbs in pursuit of jobs and opportunity.
When a region's population grows faster than new housing, prices inevitably rise as higher income renters compete for older units that were once mostly occupied by low- and moderate- income tenants.
Daniel McCue, a research associate with Harvard University's Joint Center on Housing Studies, summarized this nationwide phenomenon in an October 2018 report, writing that "new supply is clearly not coming online at these low rent levels. Moreover, not enough existing units are filtering down to counter those lost to abandonment, higher rent levels, or conversion to higher-end condominiums." Affordable housing projects like Tilden Terrace thus exist as an attempt at reconciling two conflictual policies: a commitment to affordable housing on the one hand, and restrictions on new housing development on the other.
Indeed, as cities become more unaffordable across the country, demands that the federal government increase its funding of public housing construction have only grown louder.
In September 2018, Sen. Elizabeth Warren (D–Mass.) proposed a bill that would increase federal housing funding by some $50 billion a year, one of the few major spending increases the senator has proposed. A few months earlier, Sen. Bernie Sanders (I–Vt.) called for "significantly expanding" programs like the National Housing Trust Fund and HUD's HOME program, which in previous years has struggled with accounting errors.
Absent local and state reforms that make development easier, this federal money will likely meet the same fate as the dollars that went to Tilden Terrace, eaten up by those same high development costs that made the project necessary in the first place.
An analysis of Warren's bill estimated that it would produce 3 million new housing units over ten years at $175,000 per unit. That's a national average, but it's also a wild underestimate of how much it will cost to build new housing units in places like Culver City where they are needed the most. Which means that the cycle of restriction, shortage, and subsidization is likely to continue, and America's most expensive cities can expect to see a lot more Tilden Terraces.