The FBI's Infamous List of 'Known Terrorists' Is Ruled Unconstitutional
Plus: millennials are buying homes after all, protecting Pinterest from anti-vaxxers, and more...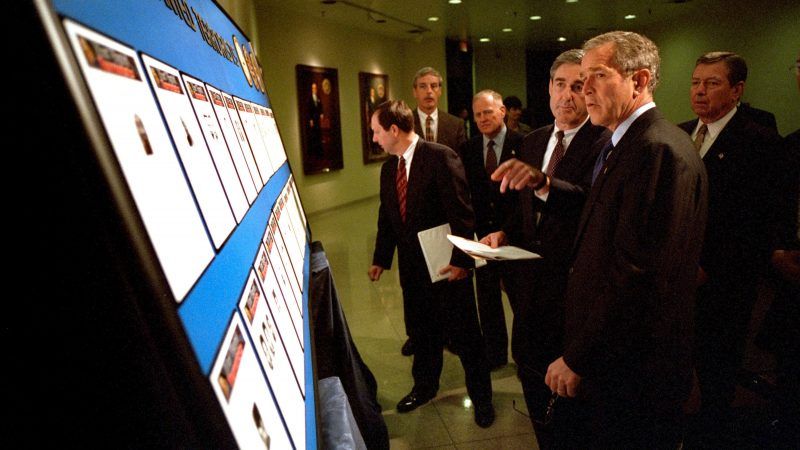 (Eric Draper - White House via CNP/Newscom)
Due process prevails? We may finally be seeing an end to George W. Bush-era security theater embodied in the FBI's abysmally flawed terrorist watchlist. On Wednesday, a federal judge ruled that the official Terrorist Screening Database—a list that has grown to more than 1 million "known or suspected terrorists," including thousands of American citizens—was unconstitutional.
"There is no evidence, or contention, that any of these plaintiffs satisfy the definition of a 'known terrorist,'" wrote Judge Anthony J. Trenga of the U.S. District Court for the Eastern District of Virginia. His decision echoes what civil liberties groups, Muslim Americans, libertarians, and others have been saying for nearly two decades. 
"An individual's placement into the [database] does not require any evidence that the person engaged in criminal activity, committed a crime, or will commit a crime in the future," the judge pointed out. 
The ruling is in response to a lawsuit brought by 23 American citizens, all Muslim, who had been included on the list. "Trenga noted that the list restricts their ability to fly and engage in everyday activities and backed the plaintiffs' concerns that they were flagged secretly and without a clear methodology," reports The Washington Post.
Read the judge's full decision here.
The plaintiffs were represented by the Council on American-Islamic Relations (CAIR), whose executive director, Nihad Awad, said the "secretive watchlist" has effectively been "a Muslim registry created in the wake of the widespread Islamophobia of the early 2000s."
"CAIR has a half-dozen other watchlist cases pending in federal courts across the country, and this opinion will pave the wave for our continued victories," CAIR National Litigation Director Lena Masri said in a statement.
Gadeir Abbas, a senior litigation attorney for CAIR, said that "every step of this case revealed new layers of government secrets, including that the government shares the watchlist with private companies and more than sixty foreign countries. CAIR will continue its fight until the full scope of the government's shadowy watchlist activities is disclosed to the American public."
---
FREE MINDS
Section 230 makes it possible for Pinterest to weed out anti-vaccine content. Mike Masnick of Techdirt explains:
A key argument by many who are advocating for getting rid of Section 230 is that various internet platforms need to "take more responsibility" or have some sort of "duty of care," to rid their platforms of malicious content (however that's defined). I even heard one staunch anti-Section 230 advocate complain vocally that internet services "aren't experimenting enough" with policing their platforms. The argument that there's not enough experimentation struck me as quite odd—because if you look around, there's actually a ton of experimentation going on in platform moderation methods and techniques. And, even more weird, is that most of this experimentation is only possible because of Section 230.

Take the case of Pinterest. While Facebook, Twitter, YouTube, and Amazon have all struggled with ways to deal with the influx of utter nonsense—much of which is actively dangerous—Pinterest earlier this year announced that it was taking a hardline stance against anti-vax nonsense, banning it from the site, as best it could.
More here.
---
FREE MARKETS
Millennials aren't that different after all. For years, we've had to endure media and marketing-consultant driven concern about millennials "killing" various industries and abandoning traditional trappings of adulthood. Non-hysterics pointed out that many of these things could be explained by generational timeline differences—more millennials attend college and graduate school, choices that lead them to delay marriage and childbearing; while the recession ruined early job prospects for older and middle millennials, making major investments difficult. Given time, they said, these stunted millennials would like their older counterparts. Lately, we've seen signs that the cool heads were indeed right.
The latest: It turns out millennials aren't over homeownership, after all. "They may have waited longer than previous generations, but millennials are now showing a strong desire to become homeowners, especially older millennials," reports CNBC.
---
FOLLOW UP
In case you had better things to do last night… This thread from Vox energy reporter David Roberts offers a great recap of the highlights and lowlights from the six-hour climate-change town hall on CNN.:
ALL RIGHT! I have found a stream of CNN that works -- speaking of which, screw CNN for making this a pay-to-watch event -- and will now begin what is likely to be the longest, most boring tweet thread in all of history. CNN CLIMATE TOWN HALL HERE WE GO.

— David Roberts (@drvox) September 4, 2019
---
QUICK HITS
Kamala Harris said she is in favor of a nationwide ban on plastic straws but—in a rare moment of truth-telling—admitted that the paper ones are awful. "Look, I'm going to be honest… It's really difficult to drink out of a paper straw… so we kinda have to perfect that a little bit more."
MAGA grifter Jacob Wohl is facing felony charges in California for allegedly selling "unqualified securities in violation of California [law]."
The more things change:
When I was a child, milkmen seemed like quaint storybook characters of the past. Now my son thinks the milkmen in old books work for Amazon……like of course someone brings milk to your door

— Adrienne Porter Felt (@__apf__) September 5, 2019