Michigan Governor's Reckless E-Cigarette Ban Relies on a Breathtakingly Broad Reading of Her Authority To Protect 'Public Health'
Gretchen Whitmer has unilaterally decided that Michigan smokers should not be allowed to buy flavored e-cigarettes.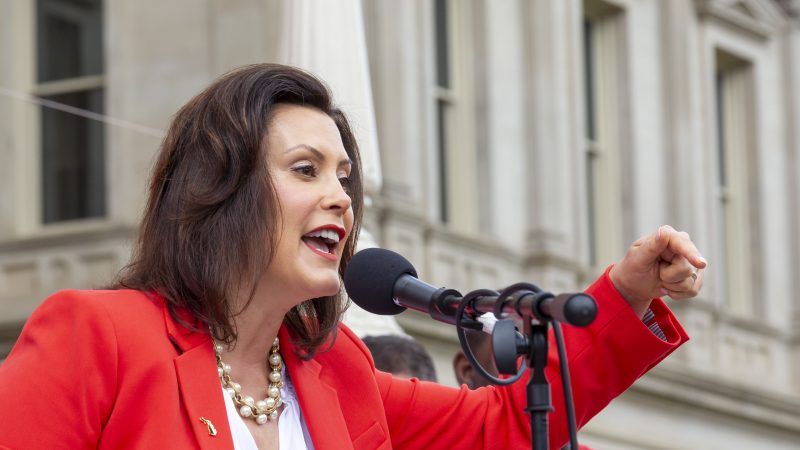 Today Michigan Gov. Gretchen Whitmer, a Democrat, announced that she is unilaterally imposing a statewide ban on the sale of flavored e-cigarettes, based on the public health "emergency" allegedly posed by the "vaping crisis among youth." Whitmer's order, which will make Michigan the first state to impose such a ban, raises two obvious questions: Can she do that, and does it make sense? The answers are maybe and definitely not.
"We are not contesting the governor's authority," Amber McCann, a spokeswoman for Senate Majority Leader Mike Shirkey (R–Clarklake) told The Detroit News. At the same time, McCann called the ban, which takes effect as soon as the rules are formally issued and lasts up to a year, "very premature," noting that "no discussion on that topic has taken place."
State Rep. Matt Maddock (R–Milford), chairman of the Joint Committee on Administrative Rules, described the ban, which applies to online as well as in-person sales, as an "Orwellian" edict aimed at "dismantling a legal industry." He added that Whitmer is "essentially usurping the rulemaking process defined by the state Constitution," since "there is no state emergency," and "the governor can't just outlaw bad habits just because she doesn't like them."
Benjamin Wetmore, Maddock's legislative aide, tells me his boss has not seen the text of Whitmer's order and is as puzzled as anyone else about the legal basis for it. "He has not seen the authority for the governor's proposed order either," Wetmore says.
When she announced her order on Twitter and Facebook, Whitmer did not say what statute gives her the authority to ban flavored e-cigarettes. "My number one priority is keeping our kids safe," she said. "Right now, companies selling vaping products are using candy flavors to hook children on nicotine and misleading claims to promote the belief that these products are safe. That ends today."
Lynn Sutfin, a spokeswoman for the Michigan Department of Health and Human Services, says the governor's order "has not been finalized yet," but she referred me to Section 333.2226(d) of the Michigan Public Health Code, which says the department may "exercise authority and promulgate rules to safeguard properly the public health." The code does not define "public health," and it says, "This code shall be liberally construed for the protection of the health, safety, and welfare of the people of this state." Last Friday, the department made a "finding of emergency" that says "a vaping crisis among youth" justifies "the promulgation of emergency rules."
That finding does not cite any specific statutory authority for such "emergency rules." But according to Chelsea Lewis, the governor's deputy press secretary, the health department is relying on its general authority under Section 333.2226(d), combined with Section 24.248 of the Administrative Procedures Act, which says an agency may issue an emergency rule "without following the notice and participation procedures" that would otherwise apply when it "finds that preservation of the public health, safety, or welfare" requires it and the governor agrees.
In short, Whitmer's e-cigarette ban rests on a breathtakingly broad reading of her authority to make emergency rules in the name of "public health," however she defines it. "The rules will be filed in the next few weeks," Lewis says. "They will take immediate effect once filed."
Last year the New York Department of Health, whose powers include writing regulations that "deal with any matters affecting the security of life or health or the preservation and improvement of public health in the state of New York," rescinded regulations that would have banned flavored e-cigarettes. Critics, who noted that similar bans have been introduced in the state legislature but have not gone anywhere, said the regulations were an improper usurpation of legislative authority.
The emergency that supposedly requires Whitmer's ban is the recent surge in e-cigarette use by teenagers. Yet selling e-cigarettes to minors is already illegal in Michigan, and Whitmer, notwithstanding her avowed interest in protecting "public health," is giving no weight to the interests of adult smokers who have switched to vaping, a much less hazardous source of nicotine, or are thinking about doing so. The e-cigarette flavors that she thinks are enticing "children" are indisputably popular among adults, many of whom say flavor variety is important in the process of replacing cigarettes with a far less dangerous alternative that delivers nicotine without tobacco combustion products.
"This shameless attempt at backdoor prohibition will close down several hundred Michigan small businesses and could send tens of thousands of ex-smokers back to deadly combustible cigarettes," says Gregory Conley, president of the American Vaping Association, a nonprofit organization that promotes e-cigarettes as a harm-reducing alternative to the conventional kind. "These businesses and their customers will not go down without a fight. We look forward to supporting the lawsuits that now appear necessary to protect the right of adults to access these harm reduction products."