Summer Television Serves Up Some Femmes Fatale
Reviews of campy Why Women Kill and documentary Manson: the Women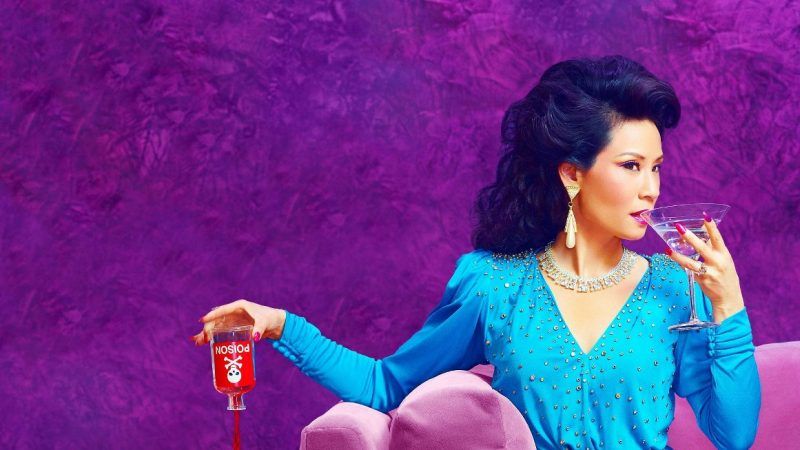 Manson: the Women. Oxygen. Saturday, August 10, 7 p.m.
Why Women Kill. Available August 15 on CBS All Access.
"Say what you will about Charles Manson," observed Caitlin Flanagan in an Atlantic piece on Once Upon a Time in Hollywood, "he really empowered women to pursue excellence in traditionally male-dominated fields." No doubt Oberlin and Antioch, this time next year, will be offering such courses as Transgressive Feminist Theory 101: Homicide as Resistance to Intersectionality. In the meantime, television is doing its best this week to fill the gaps with a couple of shows about female bloodlust.
Why Women Kill, airing on the streaming service CBS All Access, is mostly for grins. Creator Marc Cherry is the past master of wickedly sly, campy comedies of female duplicity like Desperate Housewives and Devious Maids.
And from literally the first frame, with gaudy pop-art posters of women sighting hunting rifles, throwing electric fans in bathtubs and committing various other uncongenial acts, it's apparent that Why Women Kill is treading the same goofy path.
The series is built around three different women, archetypes all, in three different epochs, who share nothing but occupancy of a Pasadena mansion and a growing irascibility toward their unfaithful mates.
Ginnifer Goodwin (Big Love) plays Beth Ann, a fluffy June Cleaver-type housewife of 1963 whose main concern, initially, is her husband's potty mouth. (Though her apology to the neighbors is brushed off: "We're from Brooklyn, we don't give a fuck.")
But she also has a nagging, Feminine Mystique-ish sense that her only identity is that of a wife. "If you're not here anymore, who will I be?" she asks her husband, and the reply is not reassuring: "My widow." The possibility of his disappearance grows more than theoretical with the disclosure that he's got a blonde trophy waitress on the side.
Lucy Liu, whose seven seasons as Sherlock Holmes' sidekick Watson on Elementary are drawing to an end later this month, plays Simone, a 1984 diva whose diamond jewelry, floppy hats and shoulder pads look like they came in a CARE package from Joan Collins.
Her marriage to some oh-so-glam Brit aristocrat seems like a Eurotrash dream. (Her: "You're the best husband I ever had!" Him: "I was just hoping to be in the top three!") Until she notices what's glaringly obvious to all her friends, relatives and viewers: He's gay, and not in a celibate way.
The final member of this triumvirate of grievance queens is Taylor, a current-day power lawyer, feminist activist, and bisexual anti-monogamist. (If that sounds like an awful lot of socio-political multitasking, consider the real life of the British actress who plays her, Kirby Howell-Baptist. She's also a regular on NBC's The Good Place, Hulu's Veronica Mars, BBC's Killing Eve, and HBO's Barry. I'm sure she runs a lemonade stand during her spare time.)
Taylor's marriage to a burned-out screenwriter named Eli (the only male in the series with any real definition, he's played by Reid Scott of Veep) is supposedly open, though it's not clear that the penniless and essentially washed-up Eli is actually getting any side action.
The gorgeous Taylor, on the other hand, has a full dance card of female hookups—and now she's violated the rules of the relationship by bringing one home. Jade (Alexandra Daddario) is a lingerie saleswoman and fully looks the part, and when Eli sees her he immediately proposes a three-way.
It happens, but to his regret; as he watches the two women together, it's obvious that Jade and Taylor are entangled in something much more than a hook-up. Who exactly is the wronged partner here is far from clear, and it may be worth remembering that the series is called Why Women Kill, not Why Wives Kill, and victim genders are not specified.
Cherry's previous shows had serious themes beneath their carapace of wisecracks and japery—in Desperate Housewives, the strength of female companionship; in Devious Maids, the intimate class struggle between servers and served. If Why Women Kill is trying to discuss anything beyond the merits of poison versus knives or that, as one character notes, "death is cheaper than divorce," it's not apparent from the pilot. It may not matter; the dialogue is funny, the plots interesting. Sit back, enjoy, and remember never to turn your back to your wife.
More serious contemplation can be reserved for Oxygen's documentary Manson: the Women, which is pretty much what it sounds like. Films and TV shows about the homicidal hippie and his harem number in the dozens, and you can hardly be blamed if you wonder if there's any need for another, much less two.
But this one has something the others don't: interviews with four female former members of Charles Manson's "Family." None of them participated in the gruesome, heartless slaughter of actress Sharon Tate or the other seven people who died at the hands of the Manson family during a ghastly weekend almost 50 years ago to the day. But one—Squeaky Fromme, who functioned as something like Manson's executive assistant—did later unsuccessfully try to take a shot at President Gerald Ford.
The other three are Dianne Lake (better known as Snake), who was just 13 when she joined the cult; Catherine Share (Gypsy), who once carved an X in her forehead in support of Manson; and Sandra Good (Blue), who spent 10 years in prison for sending death threats to nearly 200 corporate executives she accused of killing trees.
None of them reveal much that isn't fairly well known to anybody who has followed the reams of literature on the case. Lake, who left the group right after the murders ("I want my mommy!" she sobbed to a cop), describes being won over at the tender way Manson made love to her the first time (he was 44, she 14) and feeling someone less smitten when he sodomized her. ("That's the way we do it in prison," he explained.) Fromme argues that the Family members who stabbed the pregnant Tate 16 times have been misunderstood. "They weren't bloodthirsty," she clarifies. "They were doing whatever they had to do."
Much of the documentary is devoted to understanding how relatively normal young women (they ranged from 13 to 24 when they joined) could follow the obviously sociopathic Manson in trekking through deserts, eating dumpster food, and taking beatings when he was mad. The answers—they came from broken homes, somebody killed Bobby Kennedy and Martin Luther King—are neither novel nor sufficient. Though Lake perhaps gets close to the heart of the matter when she notes that "it's how pimps control their women."
The most riveting footage is when the women talk about their feelings about Family life five decades later. Share, who broke with Manson after serving five years for armed robbery in the same California prison where the female murderers were confined, says old news footage makes her shudder: "I just can't even watch myself talking about it."
Fromme, on the other hand, has no apologies. "I have never regretted any of those experiences," she declares calmly. And Good seems positively regretful that she was in jail for possession of stolen credit cards and didn't get to go along on the nights of the murder.
"You want to talk about immoral and evil, go to Hollywood," she bellows. "We touched it. It needed to be touched … I'd say meeting Manson saved my life, my health, my brain. My emotional health. My mental health. My physical health. I'm thankful." Of course, your mileage may vary. Ask Sharon Tate.