Veronica Mars Is Back and as Scrappy as Ever
Fourth season of iconic murder mystery show is on Hulu.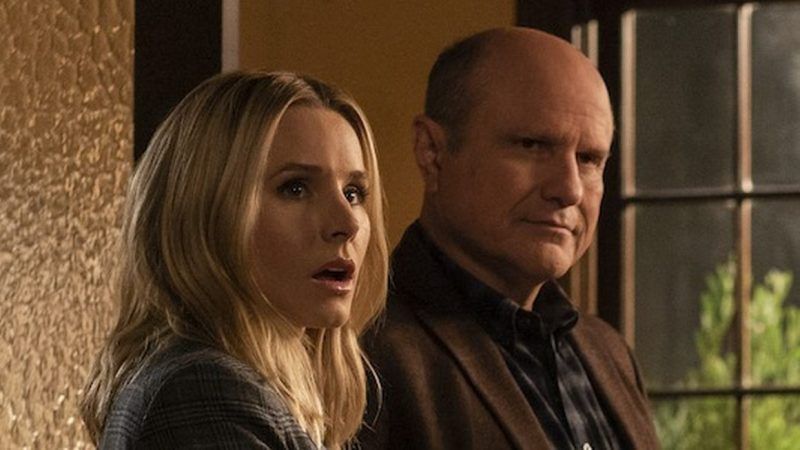 Veronica Mars. Available now on Hulu.
Fifteen years and three networks ago, the Veronica Mars theme song—the Dandy Warhols' "We Used To Be Friends"—referred to the show's running class-warfare story of a Nancy Drew-ish girl exiled from her high school's in-group. Now, as the show enters its long-delayed fourth season, the new version (the Warhols have been dumped for Chrissie Hynde) feels more like a greeting to an old pal. Veronica is back, as prickly, vengeful and noirish as ever, and television—or at least streaming services—is a more wonderfully crime-ridden place for it.
In many ways, the now-30ish Veronica (Kristen Bell, these days better known as the slatternly lost soul of NBC's The Good Place) hasn't changed. She's still working at the private detective agency owned by her dad Keith (Enrico Colantoni). Her boyfriend is still the volcanic Logan (Jason Dohring).
And many of Veronica's cases are still generated by the perpetual warfare between avaricious developers and a grimy underclass that, together, seem to comprise the entire population of Neptune, the little Southern California beach town where she lives. (The first line of the first season of Veronica Mars was her narration: "Welcome to Neptune, California. A town without a middle class.")
But looking more closely, things are fraying around the edges. Keith Mars has increasingly common memory failures that may be the result of a car crash or, worse yet, the onset of dementia. Logan is now a naval intelligence officer frequently called off on clandestine missions whose long absences dismay him but, worrisomely, not Veronica, whose work on divorce cases has soured her on marriage.
That's not the only hard spot in her heart. The cynicism Veronica developed at her expulsion from (and ultimately drugging and rape by) her old A-list pals back in high-school has developed into an intense bitterness toward everything and everybody in town. "Neptune didn't need another private investigator," she reflects. "It needed an enema."
Her attitude is hardly helped when the town is wracked by a series of lethal bombings at the height of spring break, the apex of its tourist season. Her firm is immediately hired by an Arab-American congressman who suspects he may have been the chief intended target—and not for reasons of bigotry or politics, but sexual blackmail.
The Mars pursuit of the killer is complicated, though, by other investigators. Among them are a group of true-crime groupies who call themselves Murderheads, led by a bughouse pizza deliveryman (Patton Oswalt, The King Of Queens), who seem interested in altering the evidence to validate their own conspiracy theories.
Even more troublesome: A Mexican cartel godfather whose nephew was killed has dispatched a dreamily ontological buttonman (Clifton Collins Jr., Westworld) to identify the killer and bring back his head, a mission made more circuitous by the gangbanger's recurrent musing about the undercurrent of determinism in old Elvis Presley records. "There's no such thing as free will," he argues to a fellow assassin as "In the Ghetto" echoes from the car radio. "Why are we here? You? Me? The asshole in the trunk?" It's unclear whether the screams of the kidnap victim on his way to a desert grave suggest agreement or dissent.
The collision of the three investigations amid the continuing wave of bombs produces a satisfying number of plot twists and a startling degree of gory violence—though, as in the original series, Veronica Mars includes a few too many characters and subplots for its own good. (I once attended a press event for the original series where a TV critic began his question by saying, "Veronica Mars is my favorite show where I never know what's going on…")
But the plotting has always been secondary in this show. The wit and affection between Veronica and her father, contrasting with their jagged suspicion of the rest of the world, is an arresting experience, particularly with Bell's singular ability to flash between bleak despair and sunburst joy.
And the writers (led by series creator Rob Thomas and including former basketball star Kareem Abdul Jabbar, better known for his work on the other side of the camera) have taken full advantage of the fact that Veronica is not 17 but 30, and more importantly is no longer working on a teenybopper network like The CW. Watching Veronica Mars practically requires one device set to the Urban Dictionary, to decipher expressions like WTC or LSC (that one, short for "long swinging cock," seems to be an invention of the writers' room) and another to a scatological bartender's guide for recipes to drinks like Sex on My Face, Cocksucking Cowboy, and Bend Over Shirley.
Even the soundtrack is stuffed with ironic jokes—when's the last time you heard a Captain and Tennille record on a TV show? And not the one about rodent sex, either.