Killing Eve Offers Up an Exciting, Hilarious James Bond Gender Bend
Also, the Smithsonian Channel presents another Waco siege documentary.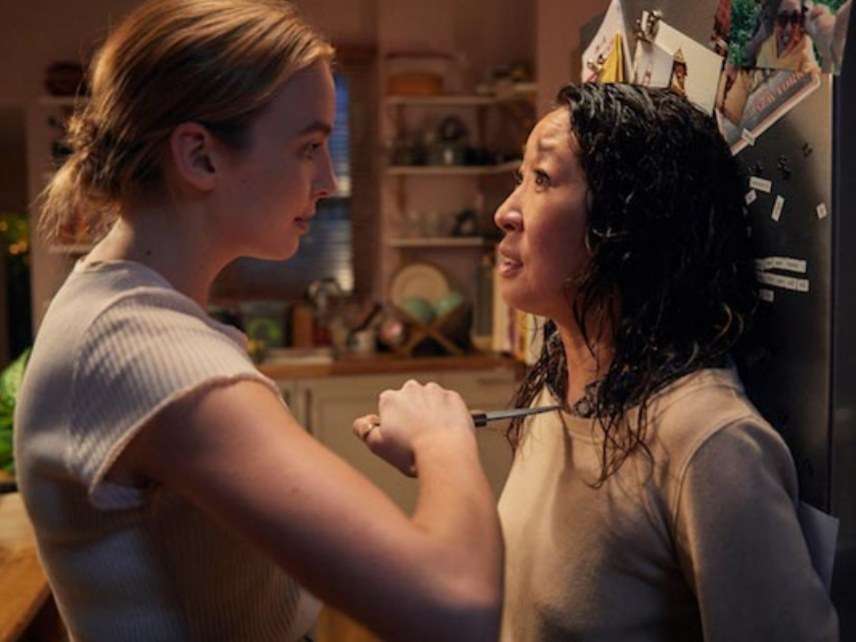 Killing Eve. BBC America. Sunday, April 8, 8 p.m.
Waco: The Longest Siege, Smithsonian Channel. Monday, April 9, 8 p.m.
Eve Polastri works for MI-5, the British equivalent of the FBI, but her job—personal assistant to a mid-level bureaucrat in charge of security for visiting dignitaries—is mundane and her life terrifyingly boring. Literally: She awakes screaming from a dream that she's fallen asleep on both of her arms at once. She amuses herself by reading case files on female killers and plotting ways to get murder her husband without getting caught.
But then, this cockeyed line of feminist thinking leads to her accidental involvement in the investigation of an apparent political murder. (Thinking aloud in front of a boss, Eve correctly guesses that the killer must be a woman.) And now she finds herself living out both sides of her fantasy in a kill-or-be-killed pursuit of a gorgeous but quite insane Russian assassin named Villanelle in BBC America's comic suspense thriller, Killing Eve.
Alternating effortlessly between weirdly funny and chillingly tense, Killing Eve is the utterly endearing love child of oddball British novelist Luke Jennings and Phoebe Waller-Bridge, who writes and stars in the eccentric Brit television comedy Fleabag.
Waller-Bridge's adaptation of Jennings' book offers, from one perspective, a dizzy feminist reformulation of the James Bond mythos, with the same lively direction framing the same lushly exotic scenery and the same exotic manners of population control. The only difference, seemingly, is the gender of the killers.
But there's more to Killing Eve than gender-joshing. Eve and Villanelle are polar opposites—or, perhaps, two sides of the same coin. Eve (Sandra Oh, Grey's Anatomy) is frowsy, middle-aged, and sexually indifferent, at least to her husband. Villanelle (Jodie Comer, Starz's The White Princess) is young, sleek, and promiscuous. Villanelle is a highly trained assassin. Eve, for all her intellectual prowess about the nature of homicide and its practitioners, is scared by loud noises.
Most of all, Eve likes to think about killing, the whys and, especially, the hows. Villanelle just kills, constantly and joyously. Their cat and mouse game is magnetic and even erotic.
It's also often extremely funny. Though violence can erupt, quickly and bloodily, at any moment in Killing Eve (I advise getting a tune-up for your gag reflex before sitting down to the first episode), the laughs come more frequently than shudders. And the show's value as a British-American cultural exchange cannot be underestimated. However else would we have known the overweening importance of genitalia references to the science of insulting bosses in Great Britain. "Dick swab" and "monkey dick," just to use a couple of examples, could be lexicological breakthroughs.
But it's the women who really power the humor in Killing Eve. Comer, a product of British TV who isn't well known to American audiences—though she will be, soon enough—brings a manic, grisly, energy to her part. The scene in which she engages in a stare-down with an 8-year-old across a restaurant floor—just because—is a hilarious encapsulation of her entire character, a high school mean girl with a 9mm Glock and a case of sharpened knitting needles.
Oh, meanwhile, deftly paints herself in the awkward hues of Fargo as the smart but often bumbling Eve. Watching her bring her textbook interrogation skills to bear on a half-mad witness who, before her sanity cracks altogether, discloses only that the cops should look for "a small-breasted psycho" is like a post-modernist chapter for Dick Tracy's Crimestoppers Textbook.
As convincing as the bloodshed in Killing Eve is, it's all the work of the special effects geeks. The same, unfortunately, cannot be said for the mind-boggling butchering in the Smithsonian Channel documentary Waco: The Longest Siege. The deaths of 80-some people—including several children—at the hands of fanatic federal agents is an all-too-true story that has lost none of its horror in the 25 years since it happened.
The victims were members of a Christian sect known as the Branch Davidians, who believed in an apocalyptic interpretation of the Biblical book of Revelations. They settled into a compound they built themselves on the prairie outside Waco, Texas, and funded it in part through selling weapons at gun shows.
The sales were, generally speaking, legal. But the feds believed the Davidians had in their compound components of both M-16 and AR-15 semi-automatic rifles, which the cops said could be combined to create a fully automatic machine gun.
Though the charge was highly technical (there was no evidence a machine gun had actually been built) and though the Davidians had previously been cooperative with inquiries from local law enforcement, the Bureau of Alcohol, Tobacco and Firearms decided to stage a helicopter assault on the compound, with agents wearing ninja masks kicking in doors and windows as bullets flew—to this day, no one knows who fired first—and dozens of terrified women and children scrambled for cover.
The day ended with 10 dead and the Davidians still holed up in their compound. Over the next two months, the FBI (which took over for the now disgraced BATF) cut their water, power and food off, subjected them all-night audio bombardment with the shrieks of dying rabbits, and generally did their best to confirm the Davidians' belief that a Biblical Apocalypse was nigh.
After about two months, the FBI used tanks to knock holes in the walls, then pumped the compound full of tear gas. When it caught fire (probably with the aid of at least some Davidians, who believed they were helping fulfill Biblical prophecy, only nine survivors were able to escape.
Waco: The Longest Siege tells the whole awful story, though not as well as the Paramount Network's Waco miniseries earlier in the year. There are interviews with former Davidians who turned against the sect and others who still believe. There are interviews with cops, some of them looking haunted, though it's hard to tell whether it's by the Ghost of Waco Past or, in the climate these days, the Ghost of Waco Future.