Lawsuit Challenges Chicago Towing Racket After City Destroyed Disabled Woman's Van
The lawsuit is the second filed this year challenging Chicago's punitive and corrupt towing program.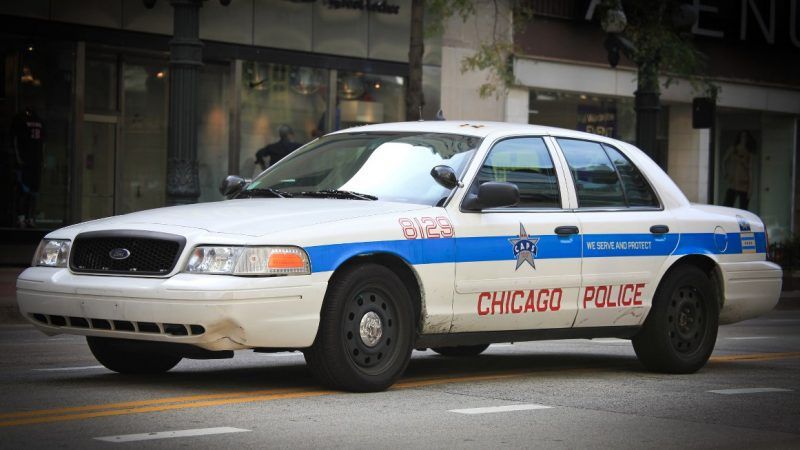 (Cafebeanz Company / Dreamstime.com)
The city of Chicago has been hit with a second class-action lawsuit challenging its massive and massively unpopular towing program, alleging that the city fails to notify vehicle owners of the impoundment and impending disposal of their cars.

According to the new lawsuit, filed in Illinois state court, Chicago has a policy of "towing without telling," ignoring a state law passed in 2005 requiring the city to notify vehicle owners that their cars may be disposed of if not claimed. "As a result, thousands of cars are in effect stolen from citizens of Chicago and sold without proper notice and due process," the lawsuit argues.
The lead plaintiff in the lawsuit is Andrea Santiago, a Chicago woman with multiple sclerosis whose van, which included a $10,000 wheelchair lift, was improperly towed and destroyed last year.
As Reason reported, the city of Chicago flagged Santiago's vehicle as abandoned in June 2018, although it was legally parked and had all of its required stickers, including a disability placard. Santiago's family moved the van and put a sign on it saying that it was not abandoned, but United Road Towing, a private contractor for Chicago, hauled it away anyway. Santiago claims she never received a state-required notice from the city informing her that her car had been impounded. Two weeks later, Chicago sold Santiago's van to United Road Towing for $15. A scrap yard then bought the van from the towing company for $615 and destroyed it.
The lawsuit charges that Santiago's case is just one particularly egregious example of what happens to thousands of Chicagoans whose cars are declared abandoned by the city. "The city is disposing of citizens' vehicles without telling them and keeping the proceeds of the sale," the suit claims.
In April, the Institute for Justice, a libertarian-leaning public interest law firm, filed a class-action lawsuit challenging Chicago's vehicle impound program. Chicago seizes thousands of cars a year for a litany of municipal code violations. The city then holds those cars indefinitely until the owners pay thousands of dollars in fines and towing fees—a practice the Institute for Justice says violates the Illinois and U.S. Constitution's protections against excessive fines and unreasonable seizures, as well as due process protections.
The April lawsuit followed a Reason investigation last year describing how Chicago's punitive impound program soaks people in fines and fees and deprives them indefinitely of their transportation, whether or not they actually committed an offense. It also operates independently from the state's courts, meaning that even in cases in which defendants have beaten a criminal charge and/or a civil asset forfeiture case, they can still be found liable for thousands of dollars in fines and storage fees, and have their cars held until they pay or relinquish their vehicle to the city. Between 2012 and 2017 alone, Chicago racked up $114 million in vehicle impound fines.
One of the lead plaintiffs in the Institute for Justice suit is Spencer Byrd, a part-time auto mechanic whose Cadillac DeVille was seized by Chicago police in 2016 after he was pulled over. Byrd's passenger, a customer he was giving a ride to, had heroin in his pocket. Although Byrd was never charged with a crime—and eventually beat a civil asset forfeiture case in state court—Chicago refused to release his car until he paid thousands of dollars in fines and fees for violating the city code.
"Owners find themselves in a labyrinthine impound system that is plagued by serious procedural flaws," the Institute for Justice suit pointed out. "Even innocent owners get caught up in this system, facing hefty fines and fees when someone else used their car to commit a crime without the car owner's knowledge."
A WBEZ analysis of Chicago's gigantic towing operation published earlier this year found that in 2017 the city towed nearly 94,000 cars. About one in four of those cars were sold to United Road Towing for scrap prices, for a total of $4 million. WBEZ estimated the actual total value of the cars to be $22 million.
"It's a confounding system," Andrew Hemmer, an attorney who represented vehicle owners fighting impounds, told Reason last year. "It can't be overstated what a procedural and logistical nightmare it is to get a car impounded in the city of Chicago."