Chicago Seized a Disabled Woman's Van. Now It's Scrap Metal.
The city decided her van was an abandoned vehicle, even though it clearly wasn't.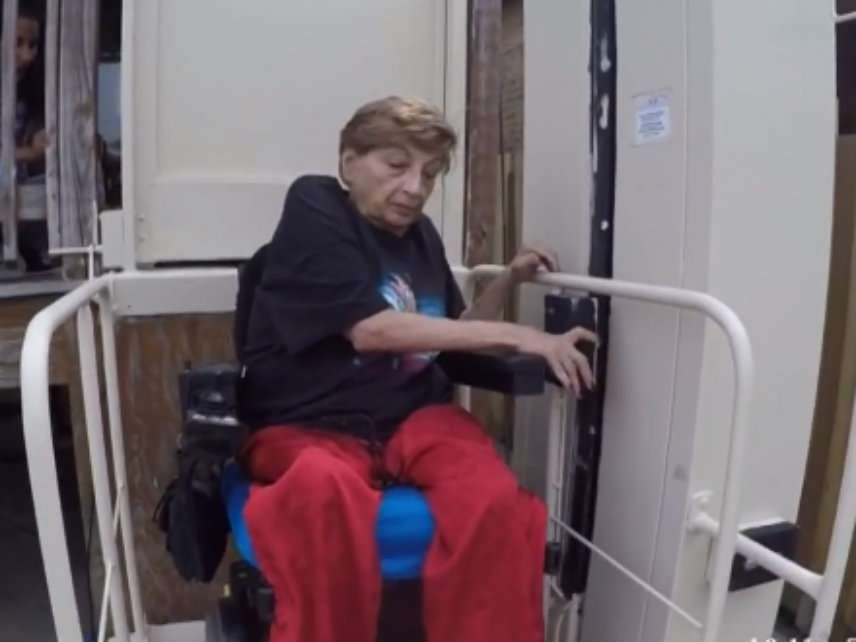 A disabled Chicago woman was deprived of her only form of transportation after the city decided her wheelchair-accessible van was an abandoned vehicle.
For more than a decade, Andrea Santiago's family parked her van along different parts of the same street. The van, equipped with a hydraulic lift, was worth about $15,000. According to WBBM, which reviewed years of Google Earth images, the van was regularly parked legally.
"It was her only mode of transportation," attorney Jacie Zolna, who's representing Santiago's family, explains to Reason. It was "my freedom," Santiago, who has multiple sclerosis, tells WBBM.
Santiago relied on the van to get to doctor's appointments, among other places. But in June, an investigator from the Chicago Department of Streets and Sanitation put a notice on the vehicle. If the van wasn't moved in the next week, the notice said, the city would treat it like an abandoned vehicle and tow it away.
According to spokesperson Marjani Williams, the department only investigates potentially abandoned vehicles that have been reported by residents. In this case, WBBM reports the department received just one 311 call. And the caller misidentified Santiago's GMC van as a Chevy sedan.
But it shouldn't have ended up mattering. When they saw that the van had to be moved, Santiago's family went above and beyond. "We scraped everything off the windows and put a sign up that said the vehicle is not abandoned," her son-in-law, Mike Reilly, tells WBBM. "We even left a phone number for my wife so they could call, and we moved the van up one spot."
It wasn't enough. "No reasonable person could conclude that it was a deserted vehicle," says Zolna. "They just came and took it anyways."
Technically, it wasn't the city that took the car. United Road Towing (URT), which has a $60 million contract with the Chicago government, towed the van to the auto pound. URT is the same company that declared bankruptcy last year following a $5 million judgement in a class-action suit from people claiming their cars were towed without their permission.
According to WBBM, "The company kept Santiago's van at the auto pound for two weeks then, as the contract allows them to do, they bought it from the city for $15." It wound up in a salvage yard, where it was sold for scrap and crushed.
Williams says the city sends "pre-tow" notices via mail to whoever's name is on a potentially abandoned vehicle's registration. And according to a department statement: "Owners receive another notice via certified mail after the vehicle is impounded."
Zolna disputes that this is how the department operates. "They do not send you a letter until after the car has been towed," he says. "Your car could be sitting a block away from you, and if the city thinks it was abandoned, they won't even tell you that they think it's abandoned before they take it."
Santiago's family claims they received no warning aside from the abandoned vehicle sticker. And they didn't hear anything after it was impounded either. "Not a phone call, not a letter in the mail," Reilly tells WBBM. "We received no notification whatsoever."
As long as they moved the car, they should have been in the clear. If "there's proof that the vehicle was moved, then we will not tow the vehicle," Williams says. Investigators do their "due diligence," she explains, though she wouldn't say if they had found proof that the van was moved.
Like Santiago, Chicago Alderman Nicholas Sposato of the 38th Ward has multiple sclerosis. He thinks the city messed up. "I fully say we made a mistake and this can't happen in the future," he tells WBBM. In this case, he suggests, a little common sense might have gone a long way. "You would hope people would have a little more compassion and have a half a brain to say: 'I can see the lift in here. I can see the handicap plate. Do I really want to be towing this?'" Sposato says.
Chicago has a long history of taking away without good reason. In April, Reason's C.J. Ciaramella published an investigation into how the city generates revenue by impounding innocent people's vehicles. Between 2012 and 2017 alone, Chicago racked up $114 million in vehicle impound fines.
As for Santiago, Zolna says he's taking "every action possible" to ensure that she gets reimbursed. "We're going to do whatever we need to do to make sure this gets remedied," he says.