Congress Wants to Help Broker a Better Tech Deal for Big Media
Plus: psychedelics research bill moves forward, big companies push back against abortion bans, and more...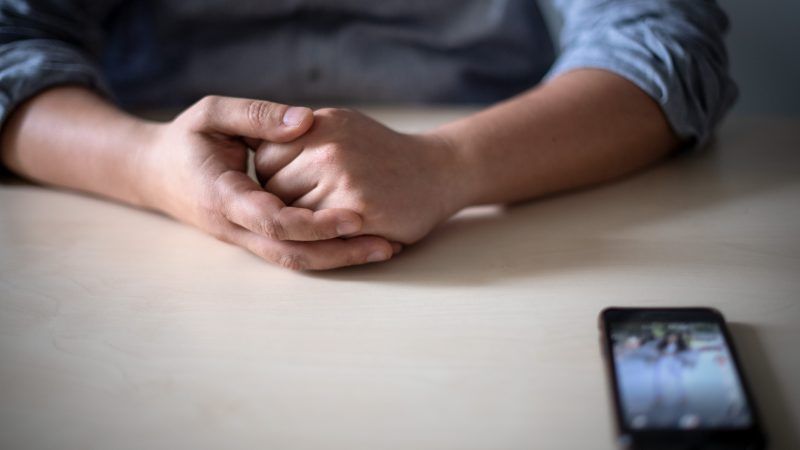 (Sina Schuldt/dpa/picture-alliance/Newscom)
Congress wants to help broker better tech deal for Big Media. Today, members of the U.S. House of Representatives will "be hearing multiple pitches for a bill called the Journalism and Preservation Act," pushed by "lobbyists for the newspaper industry," CNN Business reports.
Politicians may have a historically rocky relationship with traditional press, but at least they can control it somewhat, especially through soft means like bullying reporters over bad takes or promising access in exchange for "fair" coverage. Online platforms are a whole different beast, and one that leaves neither establishment journalists nor political authorities with room to hide from the masses, nor protection from anyone with a phone reporting on their antics. It's no wonder that—the president's bluster about Fake News aside—we're seeing a growing alliance between Washington and the news industry when it comes to technology policy and punishment.
The media bill (H.R. 2054) being hashed out today may not be so bad in itself. It "would provide newspapers and online publishers with a four-year antitrust exemption, allowing them to band together in negotiations with online platforms," writes CNN's Brian Stelter.
But the people pushing it sound scarily like all they really want is crony corporatist solutions to competition from digital technology and the masses. They want to be able to force all sorts of online intermediaries and web platforms to conduct business on terms that are favorable to certain big publications.
David Chavern, CEO of the News Media Alliance, told CNN that if publishers could come together to negotiate, they could pressure platforms with regard to not just economic arrangements between press and tech companies but also sharing their customer data, their algorithms (or as Chavern calls them, "secret rules that change on a moment's notice"), and control over which publications they promote. Hmm…
Do we really want both tech platforms and all sorts of media outlets to be able to access our data? Why should The New York Times or CNN get a say in what social media companies promote on their own platforms? Or to peek at the private intellectual property and business practices of these companies? And how in the world does that help anyone but, well, Big Media?
Every single time you see industry PR upchuck like this in the NY Times & other papers--and moral panic abour the net--realize how self-serving it is for them to attack the platforms. Publishers are in competition…and losing.https://t.co/z1fcCXrTPZ

— Jeff Jarvis (@jeffjarvis) June 10, 2019
No matter how many news outlets band together, they're not going to find a way to stop a lot of advertisers from choosing social platforms and search engines (one of the big things harming traditional media right now). Nor are they likely to succeed finding some way to force platforms like Google News to pay publishers for links (why oh why would a platform pay you to promote your product?).
When giving details, these groups show a fundamental misunderstanding or dishonesty about how online monetization works.
In any event, House members are expected to discuss the bill at a hearing today titled "Online Platforms and Market Power, Part 1: The Free and Diverse Press." It starts at 2 p.m.
In the meantime, check out Nick Gillespie on the question: "Are Google and YouTube evil?" and read Andrea O'Sullivan on what antitrust actions against them would mean.
---
FREE MINDS
Good news:
We now have *bipartisan support* for our amendment allowing expanded research into psychedelics.

This is important, as several studies have shown promise in treatment-resistant PTSD, severe depression, & more.

The War on Drugs has caused so much harm. It's time to reverse it. https://t.co/SUGxFAQ0CD

— Alexandria Ocasio-Cortez (@AOC) June 10, 2019
---
FREE MARKETS
187 companies sign on to letter against abortion laws. Big companies from H&M to Slack to Ben & Jerry's ice cream are critiquing abortion bans passed in some states recently. From Business Insider:
Banks, tech firms, media companies, and fashion brands jointly signed a full-page ad in The New York Times, published Monday, that said: "Equality in the workplace is one of the most important business issues of our time." Signatories on the open letter — titled "Don't Ban Equality" — included Bloomberg, Ben & Jerry's, Postmates, H&M, Yelp, Atlantic Records & Warner Media Group, Tinder, and Slack.

"Restricting access to comprehensive reproductive care, including abortion, threatens the health, independence and economic stability of our employees and customers," the companies said in the letter, adding they employ more than 108,000 workers.

"Simply put, it goes against our values and is bad for business," they said. "It impairs our ability to build diverse and inclusive workforce pipelines, recruit top talent across the states, and protect the well-being of all the people who keep our businesses thriving day in and out."

---
QUICK HITS
Rep. Justin Amash tells me he stepped down from the House Freedom Caucus and the HFC board tonight.

"I have the highest regard for them, and they're my close friends," Amash said. "I didn't want to be a further distraction for the group."

— Haley Byrd (@byrdinator) June 11, 2019
We looked at 560 civil asset forfeiture cases across 4 Texas counties. 2 out of every 10 cases never resulted in a criminal charge. https://t.co/vW53GTfW6n

— Texas Tribune (@TexasTribune) June 10, 2019