Don't Trust the FBI to Properly Use Its Massive Facial Recognition Database
You might consider buying a hat to cover your face—and hoping you'll be allowed to wear it.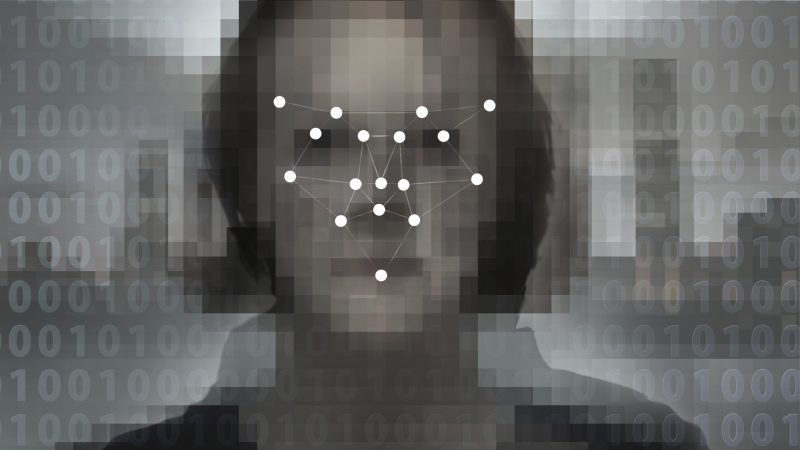 (FANATIC STUDIO / SCIENCE PHOTO LIBRARY/Newscom)
As the FBI amasses hundreds of millions of photos for its facial recognition program (with little in the way of safeguards), is it also going to force us to bare our faces for cameras as we move through an increasingly surveilled country? It's a timely question as the Government Accountability Office (GAO) warns that even modest privacy and accuracy recommendations have been ignored by U.S. law enforcement and, in the UK, police create a precedent by penalizing passers-by who cover their faces to avoid being scanned.
"Lawmakers were left momentarily and uncharacteristically speechless Tuesday as an auditor at Homeland Security detailed the FBI's database of 640 million faces, a number that is twice the population of the United States," according to Courthouse News.
That's a lot of faces for computers to scan for matches, though not as many identities, since the pictures come from overlapping state and federal databases. About 30 million of the images are derived from criminal justice records through the Next Generation Identification-Interstate Photo System. The rest "primarily contain civil photos from state and federal government databases, such as visa applicant photos and selected states' driver's license photos," according to a GAO report published June 4, the same day director Gretta Goodwin detailed her agency's concerns to Congress.
A map included in the report shows that some states have prohibited the use of facial recognition technology or opted out of sharing photos with the FBI. But others have surrendered almost everything to the feds. A good many, including my own Arizona, have apparently withheld mugshots of accused and convicted criminals while turning over the images of anybody with a driver's license.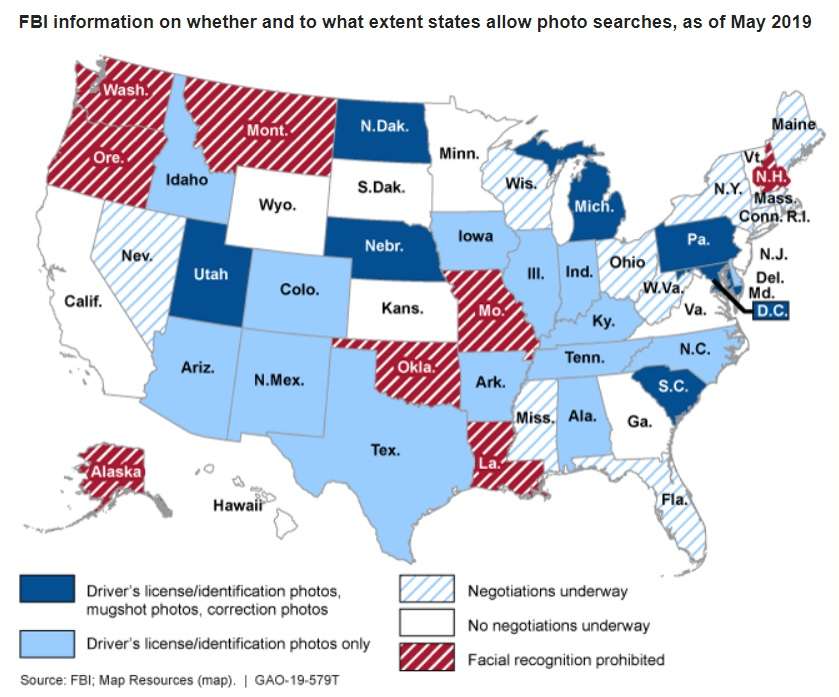 That's potentially a big problem, since the FBI has done little to ensure the reliability and respectability of its efforts. "While the FBI has conducted audits to oversee the use of its face recognition capabilities, it still hasn't taken steps to determine whether state database searches are accurate enough to support law enforcement investigations," the GAO cautions.
Overall, in the years leading up to the report, "GAO made three recommendations related to privacy, one of which has been implemented. GAO also made three recommendations related to accuracy that the FBI is still working to address."
"There have been no findings of civil liberties violations or evidence of system misuse," responds Kimberly J. Del Greco, deputy assistant director of the FBI's Criminal Justice Information Services Division. "To date, the FBI has conducted nine audits—there have been no findings of non-compliance, and no observations of unauthorized requests." Del Greco also claims better than 99 percent accuracy for the Bureau's facial recognition algorithm.
So, the FBI would have me believe that it absolutely will not be abusing its ability to track me through public places based on its unerring interpretation of the scowling snapshot the Arizona Department of Transportation turned over without a fight.
Or maybe it will abuse its power. That there have (allegedly) been no internal findings of civil liberties violations yet is a less-convincing predictor of future behavior than the FBI's own record of sketchy conduct; the 1976 Church Report found that "the FBI…has placed more emphasis on domestic dissent than on organized crime" in just one effort to expose a litany of violations.
And, if history repeats itself, FBI efforts to track me could end up landing you in hot water.
"One potential source of injustice is the prospect of an inaccurate identification match being triggered, resulting in unwarranted action against individuals," acknowledges a London Policing Ethics Panel report on facial recognition released last month.
Field implementation of facial recognition technology has been a tad less accurate than official claims would have you believe. Britain, that test bed of the modern democratic police state, has been experimenting with facial recognition technology on its streets with unimpressive results.
"Using a series of Freedom of Information requests Big Brother Watch" found that "Metropolitan Police's facial recognition matches were 98% inaccurate, misidentifying 95 people at last year's Notting Hill Carnival as criminals," the civil liberties organization reports. "South Wales Police's matches were 91% inaccurate."
In London, a series of eight trials between 2016 and 2018 yielded a 96 percent false positive rate. That's "where software wrongly alerts police that a person passing through the scanning area matches a photo on the database," according to The Independent, which notes that "a 14-year-old black schoolboy was fingerprinted after being misidentified."
It's a creepy police state as administered by Barney Fife. That's pretty damned funny—unless you're arrested based on a bad match.
But improving the accuracy would make its implementation potentially more threatening, not less.
"Currently, protesters enjoy a sense of safety in numbers. This would be lost in an era of total surveillance," the London Policing Ethics Panel report concedes. "While many people believe the British state to be generally benign … political history teaches us that we cannot be complacent and assume this will always be so."
As for that benign state…
"Several people were stopped after covering their faces or pulling up hoods" to avoid being scanned during a test deployment of facial recognition technology in Romford, London, according to The Independent. This, despite assurances from the police that "anyone who declines to be scanned during the deployment will not be viewed as suspicious by police officers." One man was fined 90 pounds after loudly protesting when police stopped him for covering his face.
The FBI has its own track record of abuses and missteps, dating well before the focus on dissent documented in the Church Report and continuing through the debate over its role in the 2016 presidential election and modern partisan politics. Former FBI Director Robert Mueller, at the center of current Bureau controversies, was once called before the Foreign Intelligence Surveillance Court to explain bogus surveillance warrants.  Given that history, it's hardly reassuring when officials insist that "the FBI has developed practices and procedures when it uses facial recognition technologies that constitute the state of the art in protecting privacy and civil liberties" and that any other protections are unnecessary.
Until the feds come up with something a little more solid in the way of assuring both the accuracy of facial recognition techniques and a respect for personal liberty when implementing the technology, you might want to consider buying yourself a nice hat—something that can be pulled down over your mug. And you'll just have to hope that you'll be allowed to wear your headgear in places where the government is scanning for suspects—or anybody who might slightly resemble them.