Justin Amash's Principled Stand Against Trump Will Not Make Him Popular in the GOP
Plus: Game of Thrones ends, Trump's trade war with China regrettably does not.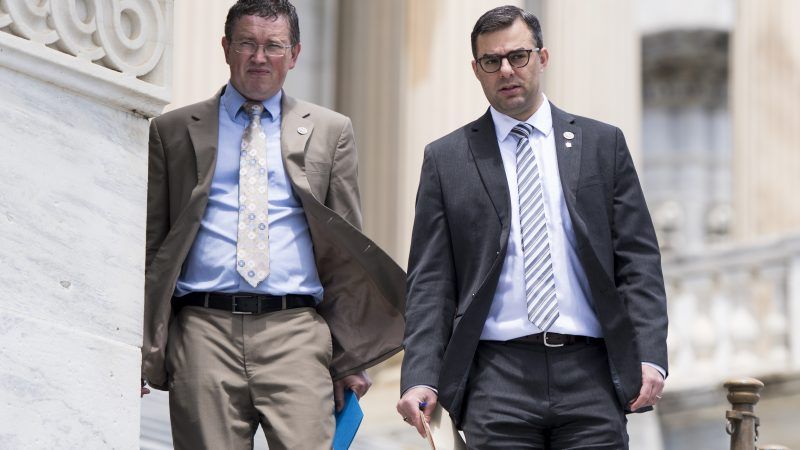 (Bill Clark/CQ Roll Call/Newscom)
Libertarian-leaning Rep. Justin Amash (R–Mich.) has become the first Republican legislator to signal support for impeaching President Trump on obstruction of justice charges. On Saturday, he penned a series of tweets outlining his case.
Amash, an attorney, notes that he read the entire Mueller report, and conferred with his staff extensively. His conclusions are similar to those reached by Andrew Napolitano, a Fox News legal analyst and former New Jersey Superior Court judge. Amash and Napolitano are two of the most high profile Republicans to break with Trump. They are also both libertarians and have faced a heavy barrage of criticism for daring to disagree with the president—most notably, from the president himself. Trump accused Napolitano of previously angling for a Supreme Court seat, and now he has accused Amash of being a "total lightweight" and a "loser."
Never a fan of @justinamash, a total lightweight who opposes me and some of our great Republican ideas and policies just for the sake of getting his name out there through controversy. If he actually read the biased Mueller Report, "composed" by 18 Angry Dems who hated Trump,….

— Donald J. Trump (@realDonaldTrump) May 19, 2019
Trump wrongly insinuates that Amash is doing this for self-promotion. In reality, there is nothing to be gained politically by defying Trump, since there is little room in the GOP for Trump critics. Indeed, Amash's principled stance has already earned him a primary challenger in the form of an unabashedly pro-Trump state representative named Jim Lower, who called Amash "out of touch" with voters. Turning Point USA President Charlie Kirk attacked Amash as well, smearing him as un-American in a bizarre and conspiracy-minded tweet.
Sen. Mitt Romney (R–Utah) gave Amash more support than anyone else, calling his declaration "courageous" but declining to support it.
Impeachment is still a distantly unlikely thing, as House Speaker Nancy Pelosi (D–Calif.) has little interest in pursuing the matter. For all those who wish to be rid of Trump, defeating him in the 2020 presidential election is by far the most viable path.
FREE MINDS
Two left-of-center news outlets—Vox and The New Republic—published long articles pushing back on my piece about Harvard's abhorrent treatment of law professor Ron Sullivan, who was fired as faculty dean at the request of activist students. Vox's Matt Yglesias correctly noted that the controversy "managed to touch practically every hot-button issue in the world," and wrote:
There are important aspects of any university where it's critical to not leave the students in charge of the big decisions. But the specific role of faculty dean essentially requires you to be popular with the students. Harvard assigns freshmen to houses at random, and while it's technically permitted for upper-class students to switch houses or live off campus, both are fairly strongly discouraged. A house is not a democracy per se, but in a practical sense, maintaining the confidence of the students is a primary job requirement.

Given that backdrop, it's probably unwise in general for faculty deans to involve themselves in any kind of controversial activity.
TNR went much further:
Even if one thinks none of that all criminal defense work is just part and parcel with due process, there's no question that Weinstein is not just another criminal defendant. He is the man whose misdeeds were so severe that they set off a movement that has toppled dozens of famous men who were previously untouchable, and countless others in positions of power (including two connected to this magazine). His case represents a tidal change in American culture, as women not only become empowered to speak out against abusive men, but are believed.

Perhaps that's precisely what appealed to Sullivan about Weinstein's case: the ultimate opportunity to push back against the supposed excesses of #MeToo.

Ron Sullivan could've gone quietly: apologize to students, resign from Winthrop, and focus on his law work. Instead, he chose to prey on liberal sensibilities to further his personal crusade. In his media campaign to drum up support over recent months, he resorted to the sort of rhetoric his new army of defenders loathe.
These are well-articulated critiques, but largely unpersuasive. The idea that uncomfortable words are a form of violence is central to the new activist worldview, and it was vital for Harvard to put a stop to it. Instead, the administration caved. This was about sending a message that on campus, the only acceptable opinion of the #MeToo movement is the one that aligns with the most progressive, safe-space-craving students.
FREE MARKETS
President Trump shows no signs of backing down from his trade war with China, which is already having a negative impact on rural America, according to CNN:
Telecom companies in rural areas may face increased costs or network disruptions if they are unable to buy the gear they need from Chinese suppliers — and that could affect customers who depend on those connections.

"Farmers, ranchers, small businesses in rural America, the people who support those businesses in rural America — your teachers, all that," said Carri Bennet, the general counsel for the Rural Wireless Association, a trade group representing rural telecom companies. "Our members are in small, little communities mainly of under 10,000 people … It doesn't help them. It ends up hurting them."
But most Republican leaders are backing Trump's move. Sen. Mitt Romney (R–Utah) told CNN Anchor Jake Tapper that even though the tariffs would raise prices for Americans, this was a "sacrifice which is essential to keep China from continuing to kill our jobs and our businesses that employ people." Sen. Pat Toomey (R–Pa.) also defended Trump's trade war.
QUICK HITS