Harvard Caves to Student Mob, Fires Ronald Sullivan for Being Harvey Weinstein's Lawyer
"We are surprised and dismayed by the action Harvard announced today."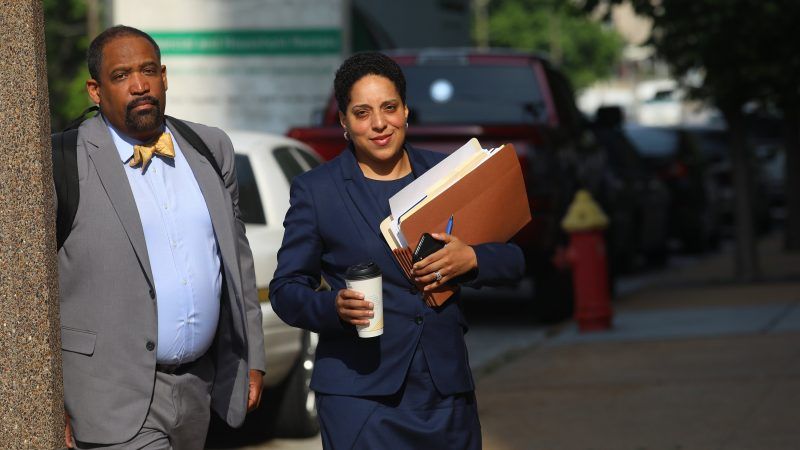 (Christian Gooden/TNS/Newscom)
Harvard University's administration has unilaterally surrendered to a mob of student-activists demanding the termination of law professor Ronald Sullivan as faculty dean of Winthrop House, an undergraduate residence, over his "trauma-inducing" decision to join Harvey Weinstein's legal defense team.
"I am writing to let you know that Ronald Sullivan and Stephanie Robinson will not be continuing as your Faculty Deans when their term ends on June 30, 2019," Harvard College Dean Rakesh Khurana wrote in an email to Winthrop House students on Saturday.
Robinson is Sullivan's wife and co-faculty dean of Winthrop House. They were the first African-Americans to serve in this position.
Sullivan, who remains a Harvard law professor, is a man with quite a resume: He advised Sen. Barack Obama on criminal justice issues in 2008, represented the family of Michael Brown in their suit against the city of Ferguson, Missouri, and is responsible for the release of more than 6,000 wrongfully incarcerated people. His clients have included accused murderers and terrorists, consistent with the liberal principle that everyone accused of a crime deserves expert legal representation.
But in the wake of Sullivan's decision to serve as legal counsel for Weinstein, Harvard student-activists have embraced a different view. Danu Mudannayake, one the students leading the campaign to remove Sullivan, described the professor's representation of Weinstein as "not only upsetting, but deeply trauma-inducing" and evidence that he "does not value the safety of students he lives within Winthrop House." According to Mudannayake and her fellow radicals, Sullivan has made Harvard an unsafe and hostile educational environment.
These are absurd accusations, and Khurana foolishly gave credence to them when he agreed to investigate Sullivan a few weeks ago. This was bad enough, but the results of that investigation are worse: Sullivan and Robinson are out.
"This is a regrettable situation and a very hard decision to make," wrote Khurana in his mealy-mouthed statement.
Their sudden firings evidently shocked Sullivan and Robinson.
"We are surprised and dismayed by the action Harvard announced today," they said in a statement. "We believed the discussions we were having with high-level university representatives were progressing in a positive manner, but Harvard unilaterally ended those talks."
Mudannayake was also caught by surprise, though the news has delighted her.
"My honest reaction is just completely gobsmacked, but in the best way," she told The New York Times. "I'm very proud today of our college and our college's administration for finally choosing to do the right thing." She described the atmosphere as "celebratory."
This is a disaster. The administration has endorsed the ridiculous notion that serving as legal counsel for a person accused of sexual misconduct is itself a form of sexual misconduct, or at the very least contributes to sexual harassment on campus. It is no exaggeration to say that Khurana has undermined one of the most important principles of modern, enlightened justice. He should be ashamed of himself.
By caving to the mob, Harvard has shown student-activists that it takes seriously their demands for a kind of broadly-defined safety that includes protection from ideas they don't like. This outcome will undoubtedly embolden them.