Michigan Police Won't Be Able to Seize People's Cars for Suspected Drug Crimes Anymore
Michigan Gov. Gretchen Whitmer has signed three bills to limit civil asset forfeiture.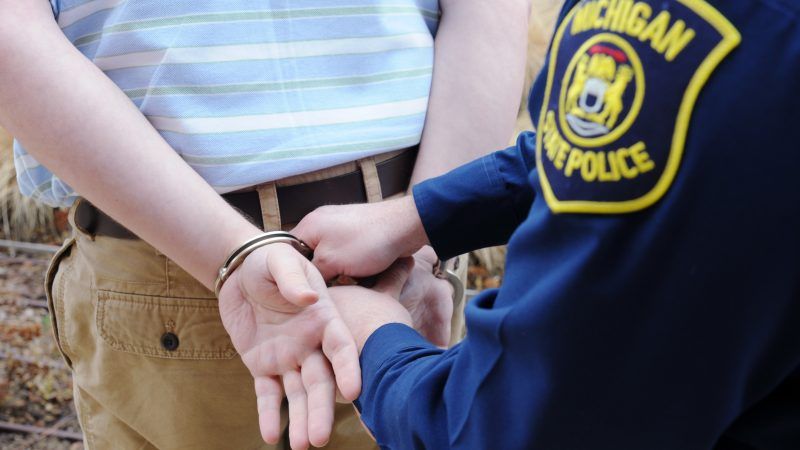 Michigan police have been using a tool called civil asset forfeiture to seize hundreds of cars a year over suspected marijuana offenses, even when the owner is not convicted of a crime. But those days will be coming to an end.
Michigan Gov. Gretchen Whitmer signed three bills into law Thursday that significantly limit police's ability to forfeit property without first obtaining a criminal conviction. Michigan will join 11 other states that have passed laws requiring convictions before forfeitures in some or all cases—part of growing bipartisan concerns that civil forfeiture deprives property owners of due process and creates perverse incentives for the police.
"I know that many of our citizen have not been treated fairly or offered the protections they deserve, and that changes today," Whitmer said at a press conference before signing the bills.
The bills will bar police from seizing property for suspected drug crimes without first obtaining a conviction in cases involving assets under $50,000. They will also strengthen procedural protections for property owners.
"Just a few years ago, Michigan had the worst-rated forfeiture laws in the country, and here we are today, joining the states with the best civil asset forfeiture protections," says Jarrett Skorup, director of marketing and communications for the pro-market Mackinac Center.
Law enforcement groups claim that asset forfeiture is a vital tool to disrupt drug trafficking and organized crime, but civil liberties groups and news investigations have revealed abuses of the practice around the country, often involving everyday citizens carrying petty amounts of cash.
Using public records, Skorup studied Michigan's use of asset forfeiture and found that police seized thousands of cars in 2017 under the auspices of marijuana enforcement. Of the more than 2,500 vehicles seized, 473 were not accompanied by a criminal conviction; in 438 of those cases, no one was even charged with a crime. In 10 cases, the cars were seized under suspicion of a drug violation even though the records say police didn't find any drugs.
The majority of those vehicle seizures occurred in Wayne County, which includes Detroit. Wayne County law enforcement has a particularly aggressive practice of surveilling medical marijuana dispensaries, pulling over drivers, and seizing their cars. County prosecutors then typically offer to settle such forfeiture cases and return the owner's car for a $900 payment.
As Reason has reported, that county's asset forfeiture program is now the subject of a federal civil rights lawsuit filed by a woman whose car was seized after Wayne County sheriff's deputies found $10 worth of marijuana in it. The suit claims the seizure and settlement fee were a violation of the Eighth Amendment's protections against excessive fines.
Overall, Michigan police used asset forfeiture to seize $13 million in cash and property in 2017—everything ranging from guns to TVs to Playstation 4s to grow lights for marijuana. Bowling balls, jumper cables, power tools, and Beats headphones also made the list.
More than half of all U.S. states have passed some form of civil asset forfeiture reform over the past decade. Three states have abolished civil forfeiture altogether. In Hawaii, a bill banning civil forfeiture is currently awaiting the governor's signature.
Some major cities, like Albuquerque and Philadelphia, have had to curtail their forfeiture programs due to lawsuits like the one against Wayne County.
There are some exceptions to the new Michigan laws. In addition to the $50,000 threshold, property can still be forfeited if it's unclaimed, the owner cannot be located, or the owner signs away the conviction requirement as part of deal with law enforcement.
Skorup says he worries that defendants may be pressured by law enforcement to sign away their property. Indeed, in 2018 Wyoming banned the use of roadside waivers following the case of Phil Parhamovich. Parhamovich was pulled over by a Wyoming state trooper while on his way to Wisconsin. Parhamovich said the trooper pressured him into signing away $92,000 in cash that was found in his van, money he said he planned to use to buy a recording studio. A judge eventually ordered the money to be returned.
"But overall, this is a monumental reform," Skorup says of Michigan's new laws. "These changes, combined with the fact that Michigan passed a ballot proposal legalizing small amounts of marijuana, should prevent most cases of people losing their property without being charged or convicted of any crime."