NYC Police Union Tweets Video of Subway Blow Job To Criticize New Congestion Pricing Policy
This is not the first time a tweet from the Sergeants Benevolent Association has courted controversy.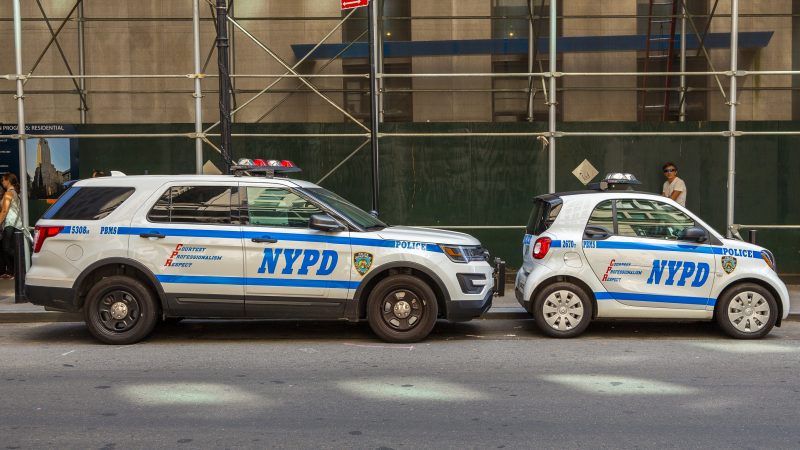 (Tomasz Wozniak /Dreamstime.com)
Reactions have been mixed to the New York legislature's decision back in April to impose a congestion toll on drivers entering the lower portions of Manhattan.
Transportation wonks were generally pleased with the yet-to-be-implemented tolls' potential for reducing gridlock, while outer borough commuters have complained of the coming cost increases.
Perhaps the most colorful reaction came from the Sergeants Benevolent Association (SBA)—New York City's second-largest police union—which chose to protest the new traffic mitigation strategy by tweeting out a video Monday of one person performing oral sex on another in one of the city's subway stations.
"Our political leaders have the AUDACITY to implement Congestion Pricing to repair subways & quality of life is a total DISGRACE," reads the SBA's tweet. "Thank you Mayor de Blasio [sic] and Governor Cuomo. You have done nothing but ruin a city & the Police Commissioner remains your puppet."
The video has since been deleted, although it is not clear whether the SBA removed it voluntarily, or if it was taken down by Twitter.
The video's removal, along with local media outlets' tasteful cropping and/or blurring of screenshots of the tweet, makes it all the more difficult to draw a rhetorical connection between the video's contents and congestion pricing.
But the SBA is also not known for social media subtlety. The union has vented on Twitter about the need to obtain warrants before conducting searches and expressed irritation that officers have to show a modicum of restraint when deciding who to arrest. That said, the group's opposition to congestion pricing is not surprising.
Many New York City police officers commute into Manhattan from the city's outer boroughs, meaning they will certainly be hit with the congestion toll on their way into work. For this reason, union officials have been arguing that off-duty police officers, first responders, and other city workers should be exempted from these new tolls.
"The burden should not fall on the backs of already underpaid city workers, especially not the public safety professionals who protect the public," wrote Patrick Lynch, president of the Police Benevolent Association (another police union) in an April New York Daily News op-ed.
When the state legislature passed its congestion pricing policy as part of the state budget in April, it left a lot the specifics to be determined—including crucial details like new toll prices and who will and won't have to pay them.
As a result, every interest group under the sun has advocated for an exemption. Cops, yes, but also representatives of the trucking industry and low-income drivers who live in places like Queens and the Bronx.
The demands for special carve-outs are understandable.  No one wants to pay for something they're used to getting for free. However, as I noted last month, the more exceptions, the less effective congestion pricing will be—both at reducing traffic and minimizing travel times.
No matter what kinds of sex people are having on the subway, off-duty cops should have to pay New York City's congestion tolls just like everybody else.