Police Union Protects Another Bad Cop, This Time Despite Domestic Violence Allegations
Thanks to a police union, Officer Darren Cachola has managed to stay on the force job despite a firing, brutality and abuse allegations, and a video of him punching his girlfriend.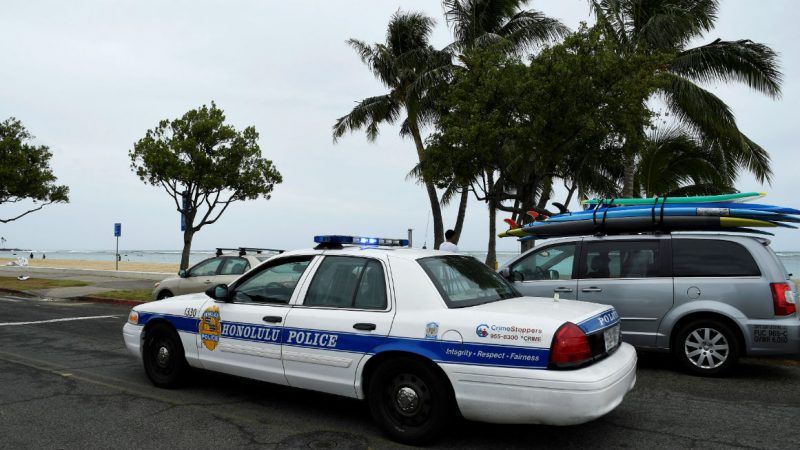 (HUGH GENTRY/REUTERS/Newscom)
Despite another domestic abuse incident, Officer Darren Cachola might once again get to keep his job at the Honolulu Police Department (HPD). 
Cachola was arrested Tuesday for felony abuse of an unspecified member in his house. Following his arrest, the Star Adviser revealed a long history of brutality both in Cachola's professional and personal lives. He once kicked a motorcyclist and broke their ribs during a traffic stop. He was also caught on camera hitting his former girlfriend in the restaurant where she worked at the time.
Cachola was never arrested.
In 2017, Cachola's wife told a 911 dispatcher that Cachola was choking her. Police saw red marks around his wife's neck, but she told the officers that she was not injured and Cachola was never arrested or charged. Instead, he was told to stay away from his wife for 48 hours. The wife later filed a lawsuit alleging that the responding officers discouraged her from filing charges, and instead told her to give a statement that said she merely got into an argument with her husband.
The HPD has attempted to reprimand Cachola for his behavior. The department even fired him in 2015 following the on-camera fight with his girlfriend.
But a union arbitrator fought for Cachola's reinstatement, which was granted last year. The State of Hawaii Organization of Police Officers filed a complaint with the Hawaii Labor Relations Board to prohibit the details of the decision from becoming public. The board then issued a temporary order against the police chief and city officials to keep the details from being released.
Cachola is expected to receive hundreds of thousands in back pay following his reinstatement.
HPD is hardly the first department that's struggled to get rid of an officer.
In 2018, a magistrate ruled that "Florida's Worst Cop," Opa-locka police sergeant German Bosque, was free to return to the police force despite three arrests and six firings over the course of 20 years. Bosque has been accused of "stealing drugs, possessing counterfeit cash, brutalizing suspects and bystanders, lying, insubordination, sexual assault."