President Trump's Post-Mueller Report Tweets, Scored
The Mueller report drops and Trump tweets.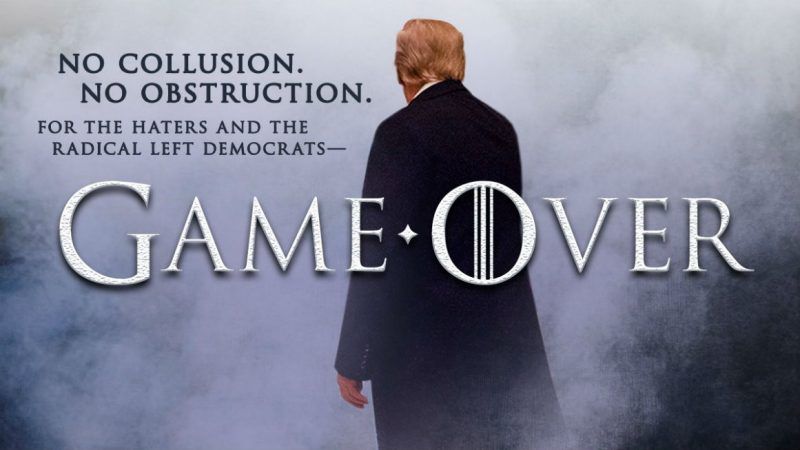 (Twitter/@realDonaldTrump)
Love him or hate him, President Trump's Twitter presence is impossible to ignore. And with something as exciting as the Mueller report dropping today, the thumb-thugging bar was exceptionally high.
We're spending some time analyzing the president's Twitter feed today.
No Collusion - No Obstruction! pic.twitter.com/diggF8V3hl

— Donald J. Trump (@realDonaldTrump) April 18, 2019
Trump's first post-Mueller report tweet was this bad boy right here. The video is strong. You get to hear Trump repeat "no collusion" for nearly an entire minute. The clip is set to some dramatic—patriotic, even—music in the background. If you got the sense that Trump was about to interrupt the clip to say, "This is our Independence Day," then you aren't alone.
The words in the tweet also get straight to the point. "No Collusion—No Obstruction!" captures the essence of Trump. 
Overall score: 8/10
— Donald J. Trump (@realDonaldTrump) April 18, 2019
I admire the attempt at relevancy, but would personally advise against it. For one thing, pop culture references are subject to all sorts of blowback from hardcore fans. Trump may think he's referring to himself as Jon Snow, but that won't stop millions of Twitter users from getting into his mentions and insisting he's actually Joffrey.
How does HBO feel about Trump sharing yet another Game of Thrones meme? Welp, the company said that they "still prefer" to not have their intellectual property "used for political purposes" in a statement.
Overall score: 4/10
As I have been saying all along, NO COLLUSION - NO OBSTRUCTION! pic.twitter.com/BnMB5mvHAM

— Donald J. Trump (@realDonaldTrump) April 18, 2019
Trump uses other people to convey what he's insisted all this time. A popular late night comedian? A flustered CNN panel? Trump is using their own words to drag them for filth and prove his point.
However, I'm docking points for wordiness and repetition. Not only is this essentially his first tweet, but it would have had more impact without any sort of introduction.
There are also concerns about pacing. Considering the previous tweets were posted before lunchtime, this new video would have made for good post-work traffic/pre-dinner discussion.
Overall score: 7.5/10
Bonus Links: Interested in the Mueller report but don't know where to start? Get your "Ctrl+F" ready and try this searchable version. Have questions about collusion? Read an overview here, or some other takes here.