Philadelphia Finds Potential Home for a Safe Injection Facility
But Justice Department officials want to stop them.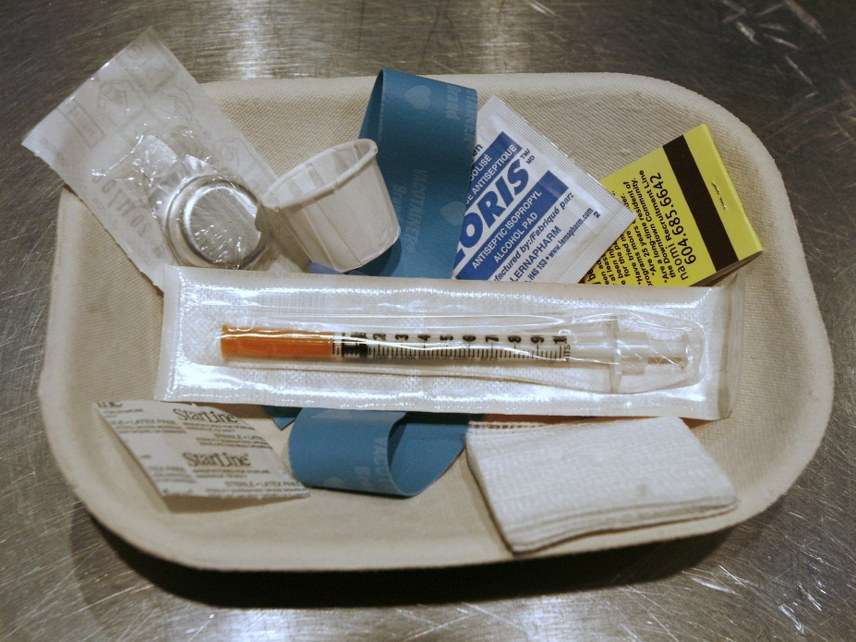 We may be on the verge of a federal-local confrontation over safe injection sites.
Safehouse, a nonprofit that has been endorsed by several Philadelphia city leaders and has former Gov. Ed Rendell as a board member, is close to a lease agreement for a facility in Kensington, a neighborhood known for open drug use. There, addicts will be able to use drugs in a space where professionals are on hand to respond quickly if they overdose. The place will also direct people toward resources that may help them with their addictions.
Kensington is well-known for its encampments of people openly using heroin and opioids, and Philadelphia as a whole saw more than 1,200 overdose deaths in 2017.
On Thursday, Rendell, participating in a conference on drug war harm reduction at the Cato Institute, revealed that Safehouse had been offered the property by an owner who wanted to remain anonymous but had lost a son to an overdose. The Philadelphia Inquirer has learned that a family that owns the Philadelphia Suburban Development Corporation is likely involved.
If this happens, Philadelphia will be the first U.S. city to have a locally sanctioned safe injection site. But that's a big "if." U.S. Attorney William McSwain announced in February that he hoped to get a judge to declare the injection site a violation of federal law. This was intended as a warning shot to scare the nonprofit and the city away from this plan. If the judge ruled in his favor and the site opened anyway, McSwain was hinting that the Justice Department may prosecute them.
With Safehouse still moving forward, McSwain tells the Inquirer that he's was not backing down and would consider getting a legal injunction to stop the facility from opening. And now there's a threat from NIMBYs too, despite the pervasive open drug use that already takes place in the area. Mark Squilla, the city councilman who represents that district, has started claiming that there isn't enough information about whether a safe injection site will actually work, and he's been asking why they would open just one site and not several around the city. That's a typical response to an unwanted development, such as low-income housing: You claim it's not "fair" for one neighborhood to bear the burden of a problem and that it should be spread around. That justification then gets used to shut the project down entirely.
We don't really know for sure whether an injection site will be helpful in American cities, because we haven't done it yet. But the evidence shows that in countries that do allow supervised injection sites, such places reduce public consumption of drugs (which you'd think would make Squilla happy), reduce harms, and save lives.
Rendell says he plans to move forward anyway, even if there's a risk of federal prosecution. Meanwhile, Safehouse is raising money from private donations to open this one site. They do ultimately want to have more than one.
Bonus link: There is, in fact, a secretly operated safe injection site that has been operating in an undisclosed location in the United States for several years. It's unsanctioned by the government (hence the secrecy). A study of those who injected there showed that if not for the site, most of them (more than 90 percent) would be attempting to consume drugs in public spaces. More than a quarter had seen (or had) an overdose using drugs outside the facility. Read more about that study here.