Feds Say Ohio Vice Cop Andrew Mitchell Abducted Women and Forced Them Into Sex
Authorities wouldn't say whether the charges related to Donna Dalton, who was shot to death by Mitchell last August.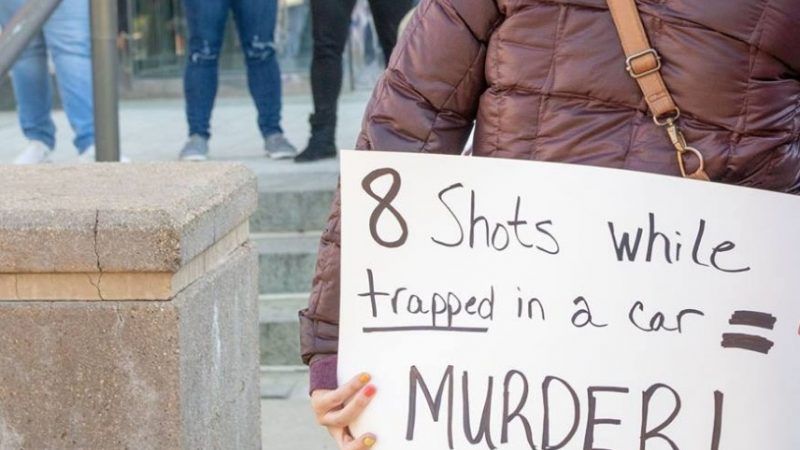 The Columbus, Ohio, police officer who fatally shot Donna Dalton last year has now been arrested by the FBI and indicted on federal charges. Vice cop Andrew Mitchell is accused of kidnapping women "under the guise of an arrest" and forcing victims "to engage in sex for their freedom," as the Columbus Division of Police put it.
A seven-count indictment was returned by a federal grand jury last week and unsealed today, and federal agents picked up Mitchell this morning. The charges encompass activity beginning in July 2017.
"While under the guise of an arrest," said U.S. Attorney General for the Southern District of Ohio Ben C. Glassman at a press conference Monday, Mitchell "picked up a woman, transported her to another location, and then offered her freedom in exchange for oral sex."
Mitchell—an ex-homicide cop, 30-year veteran of the force, and vice officer since May 2017—is accused of similar conduct with another woman in September 2017 and again in spring 2018, forcing her into vaginal and anal sex.
"Having become aware of the investigation into his activities," Mitchell then tampered with witnesses, said Glassman. He later attempted to obstruct a federal grand jury investigation into this, and then lied to the FBI when asked if he had ever "had sex with a prostitute," when he had both done so under circumstances like this as well as "paid for sex some."
Glassman stressed that "this is just an indictment" and that the investigation is ongoing. For now, Mitchell faces federal charges of witness tampering, making false statements, obstruction of justice, and deprivation of rights under the color of law.
Authorities would not say whether the federal charges are related to Dalton (also known as Donna Castleberry), who was shot multiple times while in Mitchell's unmarked police car last August. Mitchell claimed that he killed her in self-defense after she stabbed him in the hand.
Police later announced that at the time of the shooting, Mitchell was already under investigation based on an unspecified citizen complaint. The department's critical incident response team began a separate investigation into Dalton's death. Franklin County Prosecuting Attorney Ron O'Brien said the latter investigation had been completed and findings would be presented to a grand jury later this month.
Columbus police opened an investigation into its whole vice squad around the same time. Vice officers faced lawsuits over their arrest of Stormy Daniels, who was making a guest appearance at a Columbus strip club, and two other workers there. Charges against all three women were dropped, and the city has already settled the non-Daniels suit.
In September, the chief of Columbus police asked federal investigators to pitch in. The division "has requested the assistance of the Federal Bureau of Investigation's Public Corruption Task Force as evidence has developed in the investigations of the Columbus Police Vice Section," it said in a statement. "The Task Force includes the Ohio Bureau of Criminal Investigation, Ohio Auditor of State, and the FBI. A formal request was made by Chief Kim Jacobs to transfer the investigations and the Task Force accepted."