Ilhan Omar's Israel Remarks Prompt Politicians to Bicker Over Who the Real Bigots Are: Reason Roundup
Plus: outrage over water bottles, and Cory Booker introduces the "next step" on criminal justice reform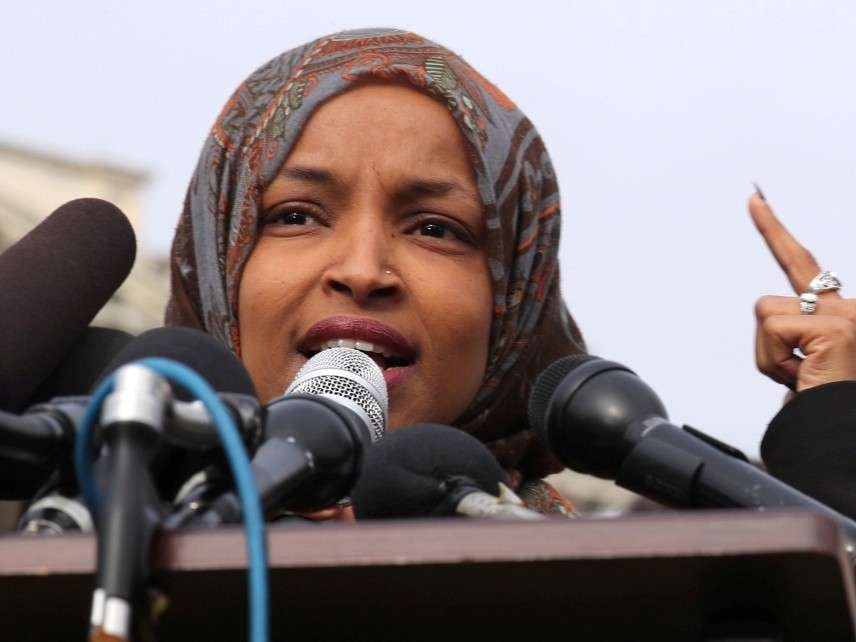 The House voted 407–23 yesterday for a resolution to condemn bigotry in all its forms, including Islamophobia, racism, and anti-Semitism. But the whole affair was a bit more complicated than that.
The resolution itself was prompted by some comments that freshman Rep. Ilhan Omar (D–Minn.) made last week about the American Israel Public Affairs Committee (AIPAC), a pro-Israel lobbying organization. "I want to talk about the political influence in this country that says it's OK for people to push for allegiance to a foreign country," said Omar, a Muslim, referring to Israel. "I want to ask why is it OK for me to talk about the influence of the NRA, of fossil fuel industries or Big Pharma, and not talk about a powerful lobbying group that is influencing policies?"
Many people viewed those remarks as anti-Semitic. The representatives who originally drafted the House legislation—Eliot L. Engel (D–N.Y.) and Ted Deutch (D–Fla.)—wanted to specifically condemn Omar's remarks and anti-Semitic rhetoric in general, according to The Washington Post. It quickly evolved into a resolution that condemned anti-Semitism but not Omar. In the end, it criticized various forms of bigotry, not just anti-Semitism, and specifically mentioned "false and vicious attacks on and threats to Muslim-Americans for alleged association with terrorism."
The resolution's shifting scope led 23 House Republicans, upset that it didn't go condemn Omar, to vote against it. The bill "became so generic that it lost its meaning or significance," read a statement from Rep. Louie Gohmert (R–Texas), who claimed that Democrats had "rationalized" Omar's allegedly anti-Semitic comments.
Those comments, meanwhile, sparked a firestorm of debate over who the real bigots are. To many conservatives, Omar is at fault for her remarks and House Democrats for not standing up to her.
It is shameful that House Democrats won't take a stronger stand against Anti-Semitism in their conference. Anti-Semitism has fueled atrocities throughout history and it's inconceivable they will not act to condemn it!

— Donald J. Trump (@realDonaldTrump) March 6, 2019
The resolution was "a sham put forward by Democrats to avoid condemning one of their own and denouncing vile anti-Semitism," declared Rep. Liz Cheney (R–Wyo.) yesterday. Omar "deserves to be rebuked, by name, and removed from the House Foreign Affairs Committee," Cheney added.
Rep. Alexandria Ocasio-Cortez (D–N.Y.), meanwhile, called attention to the Republicans who voted no on the resolution:
Where's the outrage over the 23 GOP members who voted NO on a resolution condemning bigotry today?

Oh, there's none?

Did they get called out, raked over, ambushed in halls and relentlessly asked why not?

No? Okay. Got it.

— Alexandria Ocasio-Cortez (@AOC) March 8, 2019
This wasn't just about Republicans criticizing Democrats. It was also about internal divisions amongst Democrats. Jonathan Allen of NBC News writes that "the entire episode dramatically exposed the ideological, religious, generational and racial divides within the Democrats' caucus at a time when they are desperate to demonstrate to the country that they are using their newfound majority to govern."
Naturally, the discussion made it into the 2020 presidential race. Sen. Kirsten Gillibrand (D–N.Y.) who's running for president, lightly criticized Omar but also slammed the "hypocrisy of the Republican Party." Omar's GOP critics "said little or nothing when President Trump defended white supremacists at Charlottesville," according to Gillibrand. Sens. Bernie Sanders (I–Vt.), Elizabeth Warren (D–Mass.), and Kamala Harris (D–Ca.) weighed in too.
FREE MARKETS
Controversy over a 40-ounce…water bottle? Some Brooklyn residents are upset that a company called Ounce Water, founded by Sons of Anarchy actor Theo Rossi and his wife Meghan McDermott, is selling water bottles in the shape of malt liquor containers. The goal is to "take something that once was part of poisoning people (malt liquor) and instead fill your bottle with health and life," McDermott tells Yahoo! The company wants people to drink 80 ounces of water a day, so consuming one bottle would represent half of that.
The Brooklyn-based activists claim the company is trying to sell the water to black communities. The organization Breukelen Rise invokes the "traumatic history of malt liquor in the black community."
"That history is of high alcohol content, cheap liquors that were sold and heavily promoted through rap music and all kinds of marketing and entertainment," community member Christine Gilliam tells Yahoo! The thinking, I guess, is that while children may drink water from a 40-ounce water bottle at first, they'll eventually want the real thing: malt liquor.
FREE MINDS
Booker introduces the "next step" on criminal justice reform. Democratic presidential candidate Sen. Cory Booker of New Jersey introduced the "Next Step Act" yesterday, saying on Twitter that he's trying to "push for bolder, more progressive criminal justice reform":
I supported the First Step Act—a historic criminal justice bill recently signed into law – but that's just the beginning.

Today I'm introducing a new bill – the Next Step Act – to push for bolder, more progressive criminal justice reform. Here's what we're fighting for: pic.twitter.com/98PDv3De5J

— Sen. Cory Booker (@SenBooker) March 7, 2019
The legislation comes less than three months after Congress passed the FIRST STEP Act, which, as Reason's C.J. Ciaramella notes in in the April issue, "is intended as a stepping stone to larger reforms." So what does the Next Step Act do? According to CBS News, the legislation pushes
reforms like eliminating the disparity between crack and powder cocaine sentences, reducing mandatory minimum sentences for non-violent drug offenses, and reinstating the right to vote in federal elections for the formerly incarcerated.

It would also include legislation Booker reintroduced last week that would end federal prohibition of marijuana and expunge federal convictions for use and possession.
QUICK HITS