SCOTUS Won't Hear Defamation Case Against Bill Cosby; Clarence Thomas Has Issues with Landmark First Amendment Ruling [UPDATED]
Thomas thinks the Supreme Court may have erred in its 1964 NYT v. Sullivan ruling.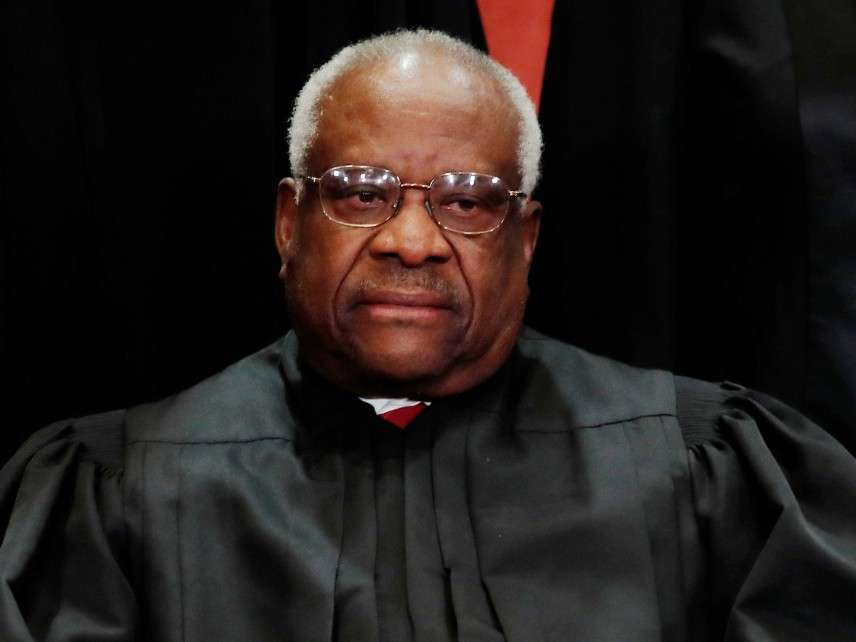 The Supreme Court today declined to hear a defamation case against disgraced comedian Bill Cosby that had been filed by one of his alleged rape victims.*
Cosby, who was sentenced to three to 10 years behind bars after being convicted of a separate sexual assault, had been accused of defaming—via his attorney—Kathy McKee, a former actress and talk show host, who claims the comedian raped her in 1974. McKee told her story to the New York Daily News in 2014, around the time Cosby was facing other allegations of sexual misconduct. She said one of Cosby's lawyers then sent a letter to the Daily News calling her allegation "wild" and wrongly suggesting that she, like some of Cosby's other accusers, had a criminal record, according to Reuters.
Cosby's legal team defending him in the defamation suit claimed that by going public with her story, McKee had become a public figure. The standard to establish defamation against a public official is much higher than that needed to prove a private individual was defamed. This is largely thanks to the Supreme Court's 1964 ruling in New York Times Co. v. Sullivan. The Court essentially said that when public officials are claiming defamation, they must prove that the defendant acted with "actual malice," meaning the defendant knew they were spreading falsehoods but did so anyway, or simply didn't care to find out the truth either way. This was seen as a win for the First Amendment, as it meant that disgruntled government officials would not be able to easily win defamation suits against media outlets. The ruling was eventually expanded to cover public figures as well.
Lower courts sided with Cosby on this matter, and in January 2018, a federal appeals court denied to hear the case. McKee filed a writ of certiorari with the Supreme Court, only to be rejected again today.
The Court as a whole did not provide any reasoning behind its action (or lack thereof). However, Justice Clarence Thomas' concurrence, which no other justice signed onto, is notable in that it criticizes the actual malice standard and calls on the Court to reexamine how libel cases are dealt with. "McKee asks us to review her classification as a limited purpose public figure. I agree with the Court's decision not to take up that factbound question," Thomas wrote. "I write to explain why, in an appropriate case, we should reconsider the precedents that require courts to ask it in the first place."
Thomas' concurrence seems to suggest that the Court was overreaching when it established the actual malice standard. "New York Times and the Court's decisions extending it were policy-driven decisions masquerading as constitutional law," he wrote. "Instead of simply applying the First Amendment as it was understood by the people who ratified it, the Court fashioned its own 'federal rule[s]' by balancing the 'competing values at stake in defamation suits,'" he added, citing the 1974 ruling in Gertz v. Robert Welch, Inc.
"We should not continue to reflexively apply this policy-driven approach to the Constitution," he said, instead suggesting that "we should carefully examine the original meaning of the First and Fourteenth Amendments. If the Constitution does not require public figures to satisfy an actual-malice standard in state-law defamation suits, then neither should we."
Thomas went on to explain that prior to the ruling in New York Times v. Sullivan, libel cases were a question of common law. "The common law of libel at the time the First and Fourteenth Amendments were ratified did not require public figures to satisfy any kind of heightened liability standard as a condition of recovering damages," he said. It was more so a question of whether the claims were true or not. "But where the publication was false, even if the defendant could show that no reputational injury occurred, the prevailing rule was that at least nominal damages were to be awarded," he wrote. In colonial America, libel was largely prosecuted as a crime, and libel against public officials was seen as a worse offense than libel about private individuals," Thomas said.
"We did not begin meddling in this area until 1964, nearly 175 years after the First Amendment was ratified," Thomas concluded. "The States are perfectly capable of striking an acceptable balance between encouraging robust public discourse and providing a meaningful remedy for reputational harm. We should reconsider our jurisprudence in this area."
As The Washington Post noted, President Trump has suggested that it should be easier to sue media outlets for defamation. as a result, Thomas' concurrence has some people worried about the future of press freedom. "Since he was on the campaign trail, President Trump has complained about libel laws in the United States, and has argued that they should be rewritten," University of Texas School of Law Professor Steve Vladeck told CNN, where he works as a Supreme Court analyst. "Justice Thomas's opinion today concurring in the denial of certiorari is a roadmap to exactly that result."
* CORRECTION: The headline and first sentence of this piece previously stated that the Supreme Court had "sided" with Bill Cosby. In fact, the Court denied a petition for writ of certiorari filed by a woman who had accused Cosby of defamation. Denial of certiorari should never be described as a ruling in favor of any party. I regret the error.