Trump Mocks California Bullet Train Boondoggle in Slamming 16 States' National Emergency Suit
Trump has exhibited a "flagrant disregard of fundamental separation of powers principles engrained in the United States Constitution," the suit reads.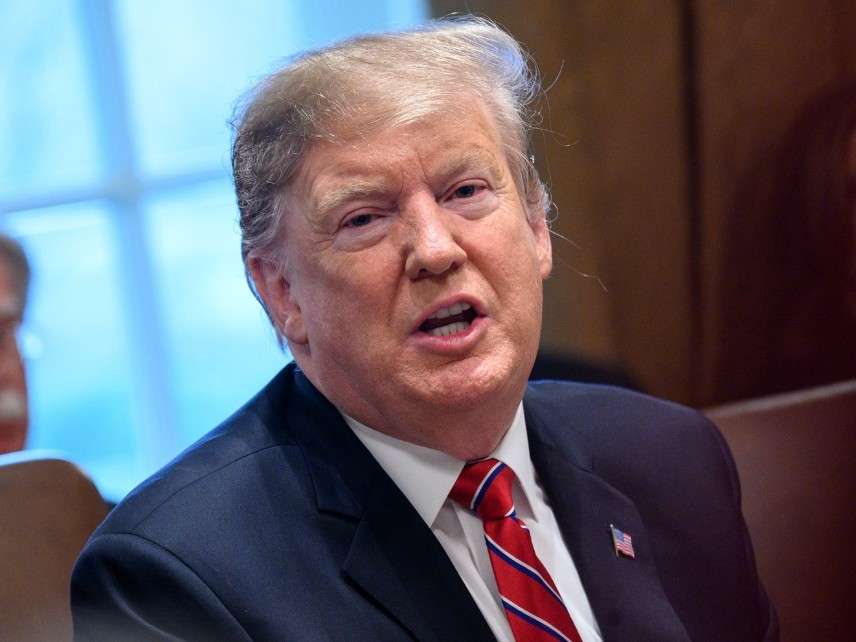 President Donald Trump shot back today at the 16 states who have filed a lawsuit over his use of a national emergency declaration to obtain funds for a wall on the U.S.-Mexico border.
California Attorney General Xavier Becerra, who's spearheading the suit, filed it yesterday in federal court. The states of Colorado, Connecticut, Delaware, Hawaii, Illinois, Maine, Maryland, Michigan, Minnesota, Nevada, New Jersey, New Mexico, New York, Oregon, and Virginia are co-plaintiffs.
In a tweet this morning, Trump took particular aim at California, mocking the state over Gov. Gavin Newsom's announcement last week that the scope of the state's bullet train project would be widely reduced.
"As I predicted, 16 states, led mostly by Open Border Democrats and the Radical Left, have filed a lawsuit in, of course, the 9th Circuit!" Trump wrote. Trump's displeasure with the Ninth Circuit stems from that federal appeals court's liberal reputation. The lawsuit in question was actually filed in a trial court, the U.S. District Court for Northern District of California, though an appeal would likely be heard in the Ninth Circuit Court.
"California, the state that has wasted billions of dollars on their out of control Fast Train, with no hope of completion, seems in charge!" Trump added. In a follow-up post, he claimed that "the failed Fast Train project in California, where the cost overruns are becoming world record setting, is hundreds of times more expensive than the desperately needed Wall!"
Trump is right to criticize California's bullet train boondoggle. The high-speed rail system, which would have connected San Francisco to Los Angeles, was originally supposed to cost $33 billion. As Reason's Scott Shackford noted last week, the estimated cost has since ballooned to $77 billion, and it likely would have exceeded $100 billion had the project been completed.
That's considerably more expensive (though not "hundreds of times more so") than Trump's wall, at least when you consider the amount of money that's currently being allocated toward the border barrier. Trump had demanded $5.7 billion in funding from Congress for the wall. When he only received $1.375 billion, he took executive action to get more. The administration's reported plan is to take $600 million from the Treasury Department's asset forfeiture fund, as well as $2.5 billion from the Department of Defense's drug interdiction fund. Through the use of his national emergency declaration, Trump also plans to reallocate $3.5 billion from the Pentagon's military construction budget.
Trump's getting roughly $8 billion for his wall, though the barrier will end up costing much more. Reason's Eric Boehm has pointed out that construction alone could cost around $28 billion, while maintenance costs over the first decade could exceed $48 billion.
Becerra's lawsuit, meanwhile, claims Trump has exhibited a "flagrant disregard of fundamental separation of powers principles engrained in the United States Constitution."
"Contrary to the will of Congress, the President has used the pretext of a manufactured 'crisis' of unlawful immigration to declare a national emergency and redirect federal dollars appropriated for drug interdiction, military construction, and law enforcement initiatives toward building a wall on the United States-Mexico border," the suit reads. "This includes the diversion of funding that each of the Plaintiff States receive." It also claims that "the construction of a wall along California's and New Mexico's southern borders will cause irreparable environmental damage to those States' natural resources."
So do the plaintiffs stand any chance? That remains to be seen. "It's not a slam dunk for them," Harvard law professor Mark Tushnet told The Wall Street Journal. "But there's a decent chance they will ultimately prevail."
Trump may have hurt his own cause during a press conference Friday in which he officially announced he was declaring a national emergency. "I could do the wall over a longer period of time. I didn't need to do this. But I'd rather do it much faster," he told NBC's Peter Alexander.
Becerra's suit seemed to allude to those comments. "By the President's own admission, an emergency declaration is not necessary," the suit reads, noting that Customs and Border Protection (CBP) "data show that unlawful entries are near 45-year lows" and that "the State Department recognizes there is a lack of credible evidence that terrorists are using the southern border to enter the United States."
The fact that 16 states would sue the Trump administration over the national emergency declaration is not surprising. In his remarks Friday, Trump acknowledged his administration would likely be sued, but predicted that just as the Supreme Court upheld his travel ban, it will rule in his favor on this issue as well. "Sadly, we'll be sued and sadly it will go through a process and happily we'll win," he said.
We'll see if that's the case. David Bier, an immigration policy analyst for the Cato Institute, told Reason last month: "My belief is that the president can get away with doing almost anything he wants in the name of national security." That may be true. But only time will tell how the courts feel.