Republican Senator Pitches Weird Conspiracy Theory About Weed Legalization, Menthol Cigarettes, and the FDA
Sen. Richard Burr raises an interesting point about onerous regulation, but his argument is baffling.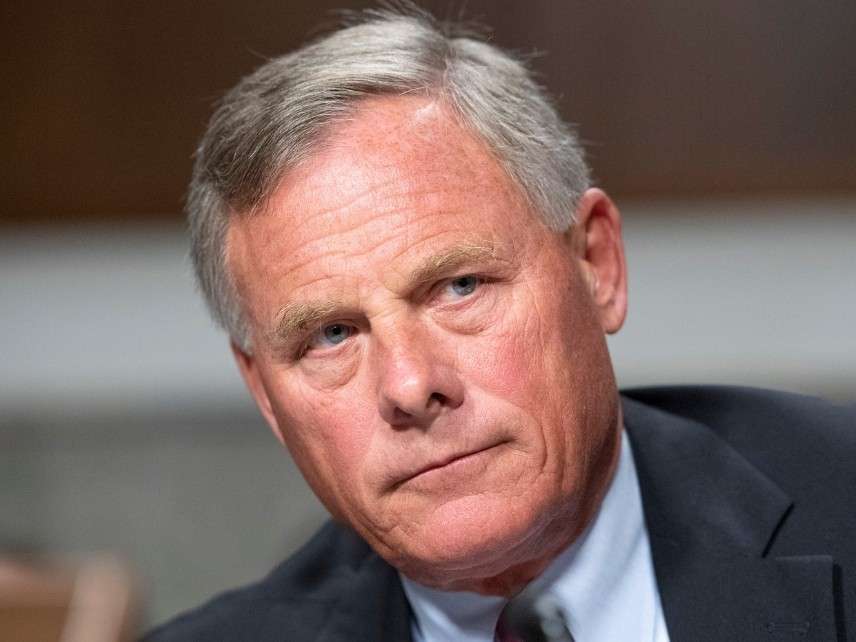 Sen. Richard Burr (R–N.C.) has been a harsh critic of the Food and Drug Administration (FDA) for some time now, at least since FDA Commissioner Scott Gottlieb proposed banning menthol cigarettes in November. But while Burr is right to take issue with this proposed ban, his latest argument against it is baffling, to say the least.
Speaking from the Senate floor on Thursday, the North Carolina Republican tried to link Canada's 2017 ban on menthol products to its legalization of recreational marijuana last year. The same thing, Burr said, might soon happen in the U.S. "This is eerily similar to Canada a few years ago, when they banned menthol products," Burr explained. "How did they follow that up? This year, they legalized cannabis. Maybe that's the route we're on."
Burr said he's willing to debate the merits of legalizing weed, "but right now, that's illegal in the United States, and we put up with it with states that have legalized it." Marijuana and tobacco, he added, have "the same combustible concerns," though "there's a difference between the two."
"[Tobacco] is legal," he said. "We have agreed that if you are over 18, you can choose to use it—with an extensive educational campaign to tell everybody why it is harmful to their health."
A bit later on in his speech, Burr explained why he believes the situation in Canada might be similar to the one in the U.S. Canada banned menthol, he said, then legalized marijuana not too long afterward. "I'm not accusing the [FDA] of having that pathway, though it does raise some suspicion," he said. While the FDA is trying to increase regulations on the tobacco industry, it's signaled a willingness to approve some cannabis-derived products, he claimed. "I will state that the commissioner announced not long ago that they were beginning to review products that were derived from cannabis—oils and other things that they thought they could safely approve for use in the United States," Burr said.
This is correct. In December, after President Donald Trump signed legislation that legalized hemp (a type of cannabis that cannabinoid oil, which does not get you high, can be extracted from), the FDA announced it would explore ways for businesses to legally sell CBD products. Gottlieb is "only fueling my fears that you're following the same roadmap that Canada followed," Burr said, suggesting that the FDA's recent actions regarding menthol and CBD are a "bait-and-switch thing." Gottlieb is trying to ban menthol products "to prove that the Food and Drug Administration can overreach and not be slapped," Burr added.
"Somewhere down the road you may come to the same conclusion Canada did: Rather than enforce cannabis and illegal drugs, let's just approve them. Let's make them legal," he said.
As Marijuana Moment notes, there is of course no evidence that the FDA is plotting to ban menthol cigarettes so it can approve marijuana later on. While the FDA did approve a CBD-derived epilepsy medication June, marijuana remains classified as a Schedule I drug under the Controlled Substances Act, meaning it supposedly has "no currently accepted medical use and a high potential for abuse."
Gottlieb did predict in November that federal action on marijuana policy will "inevitably" happen soon. But such action, whatever it is, will likely take place at the legislative level.
Burr, meanwhile, wants the marijuana industry to be regulated just as tightly as the tobacco industry. "Understand that if you begin to loosen up the legal use of cannabis, then we're going to hold you to the same standards you've displayed for everything else," he said. "Everything that you hold a drug manufacturer to, that you hold a drug device manufacturer…and, quite honestly, that you hold the tobacco industry to."
"If you're worried about something burning a product and inhaling it into your lungs, you better be just as concerned about it as it relates to marijuana," Burr added.
While Burr raises an interesting point, his reasoning is flawed. It's essentially a sour grapes argument—if the tobacco industry can't get its way (and tobacco is North Carolina's biggest cash crop) then neither should the marijuana industry. He's right to criticize the FDA's proposed menthol ban, which limits individual choice. But regulations on the marijuana industry hurt as well. In California, for instance, heavy taxes and regulations actually led weed sales to fall from 2017, when only medical marijuana usage was permitted, to 2018, when recreational weed became legal.
The answer to onerous government regulations on one product is not similar regulations on a separate product. Burr would be better off lobbying for the federal government to stay out of both the tobacco and marijuana industries.