Portland Cop Told Subordinates To Shoot Random Black People. He'll Likely Get a $100K Payout.
Thank the police union.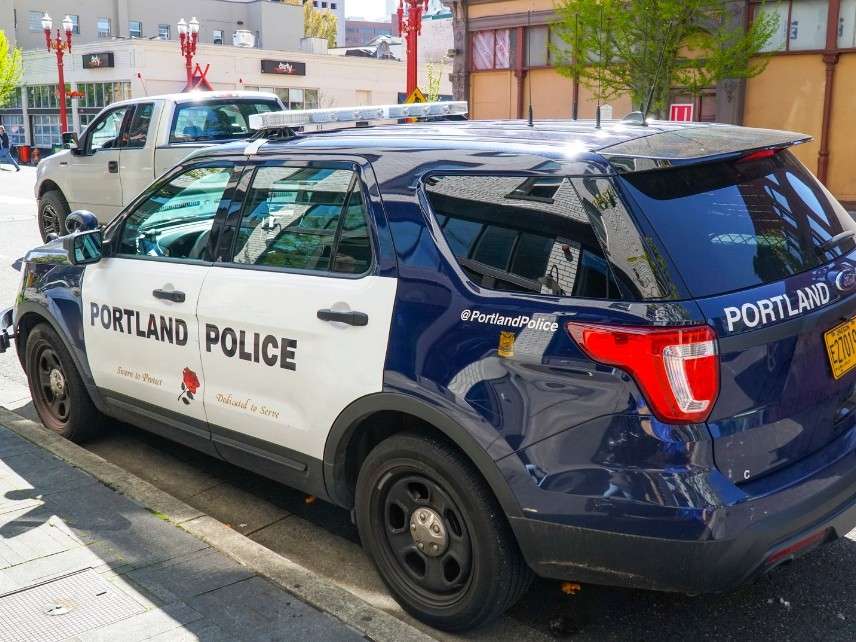 A Portland police sergeant was fired last year for suggesting to his fellow officers that they should shoot black people for no reason. More than a year later, he's in line to receive a $100,000 settlement from the city.
Former Sgt. Gregg Lewis' exact comments were only made public by Portland Mayor Ted Wheeler's office yesterday, nearly two years after Lewis made them. That's because the city council is currently debating how to deal with a grievance filed by the Portland Police Association following his termination.
During the council's debate yesterday, Commissioner Jo Ann Hardesty (D–19) revealed what she claimed were the remarks that got Lewis in trouble. Hardesty later admitted in a statement that "the paraphrased remarks" she remembered were different "from the quotes used in the official report." Still, Hardesty's actions prompted Wheeler's office to release Lewis' termination notice, reported The Oregonian.
According to the notice, Lewis' comments, which he admitted to making, came in front of more than a dozen officers and three sergeants as he conducted roll call in February 2017. A fellow officer reported that Lewis was discussing the detoxing of drunk individuals in parking garages. "If you come across a guy in a suit and tie that came downtown and had a little too much to drink," the officer reported Lewis as saying, "he's probably not the guy you want to detox straight out of the garage. He will most likely sue you. If it's a homeless guy, you will probably be safe. I doubt he's going to sue you."
At that point in the discussion, one of the cops present brought up a critical reader comment on a newspaper article about the fatal Portland Police shooting several days prior of Quanice Hayes, an unarmed black 17-year-old. "PPB kills black people, but only injures white people," the comment reportedly read. Lewis allegedly responded: "Well, let's just go out and kill all the black people." According to a different officer's account of what happened, Lewis said: "If they are black, just shoot them."
Lewis' comments were investigated by internal affairs and human resources. According to his termination notice, he didn't deny making them, but insisted he was trying to be humorous. Lewis told an investigator:
There had been these ridiculous statements in the media about the decisions we make when we shoot people. So these conversations had gone on right before roll call in the locker room, there had been conversations about that particular topic. So, as we were just getting finished, I remember saying, and I thought it was kind of humorous, in light of these stupid conversations in the media, so, you know, unless it's a black guy, then we just shoot them.
Lewis also claimed he has "a habit of sometimes being sarcastic," though he admitted his comment was "inappropriate." Regardless, Lewis was fired on January 12, 2018. "Your remarks shocked and left a negative impression on the officers and sergeants who were present," reads his termination letter, which was signed by Police Chief Danielle Outlaw and Wheeler, who as mayor also serves as police commissioner. "It does not appear you fully understand the impact of your statements and the implication that you were encouraging or condoning mistreatment of a group or class of individuals based on their race."
But that wasn't the end of it. The Portland Police Association filed a grievance regarding Lewis' firing, which the city denied, thus prompting the police union to move toward arbitration, according to Oregon Public Broadcasting.
Under a proposed settlement, Lewis' firing would be revoked so he could retire, receiving back pay totaling $100,020.53 in the process. However, he would not be able to work for the police department or the city ever again. The city attorney sees this as the best course of action, believing that the city would lose an arbitration fight against the union. In such a scenario, Lewis would be eligible to be re-hired, and he'd probably receive the back pay as well.
It's a no-win scenario, as several commissioners acknowledged in the council chambers yesterday. "I feel physically ill about supporting this settlement," Commissioner Amanda Fritz said, according to KPTV. "The most important thing is to get rid of this person on the police force."
"None of us are happy with this outcome," added Commissioner Chloe Eudaly. Wheeler senior adviser Berg Nelson, meanwhile, explained that while "nobody's happy with this decision," it "is the only way we can ensure this individual never works for the city ever again."
This case illustrates the immense power police unions hold in the public sector. When unions defend bad cops who do or say terrible things, which they often do, they have a good chance of winning. A bill proposed in the Oregon Senate would prevent arbitrators from overturning disciplinary actions against police officers as long as the facts of the case are not in question. However, this only applies if the discipline "was made pursuant to discipline guide incorporated into agency's disciplinary policies," according to the bill's summary.
As Portland Cop Watch's Dan Handelman pointed out in public testimony yesterday, the bill might not even apply to this case. According to the Portland Bureau of Police discipline guide, the maximum punishment an officer can receive for "offensive or discriminatory language" is a two-week suspension without pay.
The city council, meanwhile, will vote on the settlement next Wednesday.