Bill Weld May Run for President as a Republican, Boston Media Speculates
Despite Weld's 14 months of party-building as a Libertarian, the local media and some of his allies are talking up a GOP primary challenge to Donald Trump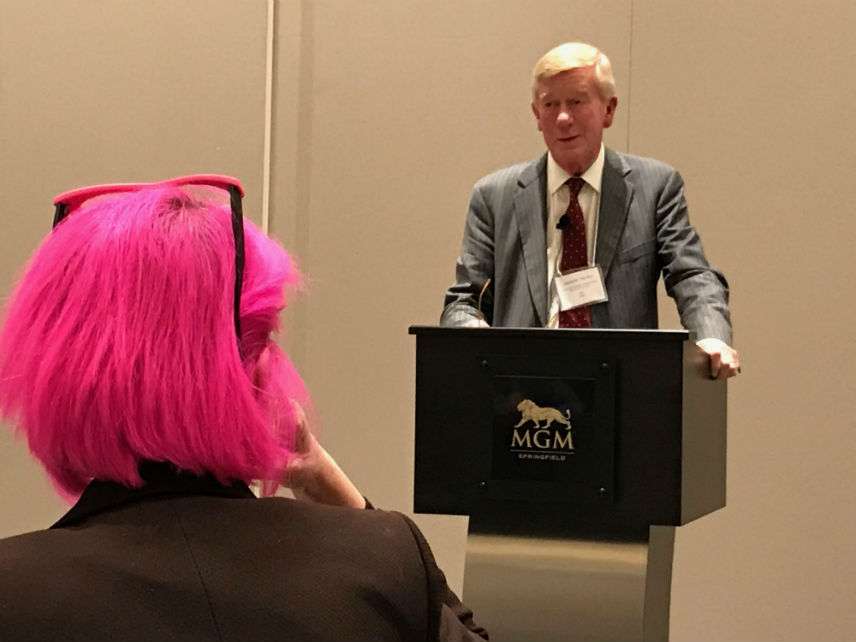 Eleven days ago, 2016 Libertarian Party vice presidential nominee Bill Weld told me that "It helps the Libertarian Party to have three or four strong candidates" running for president in 2020, and that "I am very interested….I am going to be involved in 2020."
Weld, who has spent the past year or so laying the groundwork for a run at the L.P. nomination, has stated repeatedly since November 2016 that he plans to stay in America's third party. "The Libertarians have a very clear path in Washington, and I intend to participate in that," he told me on Election Day. "I'm going to stay L.P." he reiterated one year later.
All of which makes the past week of Boston media coverage that much more eyebrow-raising. On January 23, Boston Herald columnist Joe Battenfeld wrote that Weld "is heading to New Hampshire soon and don't count him out of the 2020 mix—either as a Libertarian or a Republican." While Weld didn't comment, "sources close to him say he'd relish a chance to take on Donald Trump."
The New York Times on January 26, citing "people who have spoken with him," reported that Weld "is weighing a challenge to Mr. Trump as a small-government moderate," and "has discussed either opposing Mr. Trump in the Republican primaries or seeking the Libertarian presidential nomination."
Then last night WCVB, citing "sources," reported that Weld "could make an announcement about a possible presidential run as soon as Thursday," that "he has taken a leave of absence from his law firm," and that "any possible run would be made as a Republican."
I contacted Weld last night for comment about the WCVB report, and he emailed "Whatever this is, is not from me." He also emailed Boston Globe reporter Michael Levenson to say that he's not leaving his firm, and not announcing anything Thursday: "No, not correct, either item."
Now Levenson's out with his own article under the headline, "Weld ponders a presidential campaign, but will it be as a Libertarian or a Republican?" While the former two-term Republican governor of Massachusetts "is declining to detail his thinking for now," Levenson did get some on-the-record quotes from Weld's Republican friends about why he might go GOP:
"If the goal is defeating Trump, the best option is for him to run as a Republican because primary challenges have historically weakened sitting presidents," said Rob Gray, Weld's former press secretary and a longtime Republican strategist. "Primary challenges get more media coverage and have more political juice so it puts an incumbent in the position of fighting a two-front war, against candidates of a different party and against someone in their own party." […]

"Nobody is going to invite Trump to debate the Libertarian candidate in New Hampshire," Gray said. "Whereas, it is likely someone is going to invite the Republican primary candidate to debate him in New Hampshire. Trump can avoid it, but there's a political risk to that."
Levenson also quoted Tom Rath, "a former New Hampshire attorney general and elder statesman in the party…who has spoken to Weld about a potential campaign":
"He has to be taken seriously and this can't just be a whimsical thing, and he knows that….He has to be more than a protest vehicle to gain traction because this vote, to New Hampshire people, is one of their most important political possessions. They don't give it away in a trivial fashion."
I emailed Weld today about whether he'd rule out a GOP bid, and will update in this space if/when he responds. Given that he has had eight days to correct the by-now widespread reporting on a possible return to Republican politics, it seems likely that the publicity suits him just fine.
Libertarian Party members on the other hand, not so much.
"I would absolutely be upset if he went back to the Republicans—most, if not all, Libertarians would be," Massachusetts state Chair Jeff Lyons told the Globe. "He's definitely made a lot of comments up to a week and a half ago, saying 'I'm going to be involved with Libertarians in 2020.' I've observed him give that talk many times over the past year and a half, two years now."
If Weld indeed re-took the GOP plunge, that would likely be a three-strikes-and-you're-out situation for many Libertarians. As I wrote in May 2016, just before he squeaked into the veep slot on the second ballot (much to the bafflement of the national press), Weld double-crossed the L.P. in 2006 over the New York gubernatorial race (you can watch his response to those charges here). Then in the final days of the 2016 campaign, he infuriated party members with a series of unusual actions—telling "all those in the electorate who remain torn between two so-called major party candidates whom they cannot enthusiastically support," and particularly "those Republicans who feel that our President should exhibit commonly accepted standards of decency and discipline," to vote against the "unhinged" Donald Trump; disputing his own party's press release about the FBI investigation into Hillary Clinton; and then going on MSNBC's Rachel Maddow Show to say "I'm here vouching for Mrs. Clinton."
Then again, the Boston media has gotten a bit too far over its skis about their homegrown Brahmin in the past. In early October 2016, for example, the Globe reported that Weld "said…that he plans to focus exclusively on blasting Donald Trump over the next five weeks, a strategic pivot aimed at denying Trump the White House and giving himself a key role in helping to rebuild the GOP," and also quoted unnamed Weld aides as criticizing presidential nominee Gary Johnson's "flubs on national television" and even investigating whether it would be possible to flip the ticket.
Weld disputed those characterizations in real time, saying that he never said "exclusively," that he'd keep criticizing Clinton (he did, but also vouched for her character), that he wouldn't be campaigning only in Republican states (true), and that he never looked into a ticket-flip, which was anyway not legally possible. And he has not taken anything like a key role in helping to rebuild the GOP.
For the moment, anyway.