Trump Stands Up for Blue Collar Workers by Reducing Their Profit-Sharing Checks
Because of tariffs, Ford hourly employees will lose out on $750 they would have otherwise received.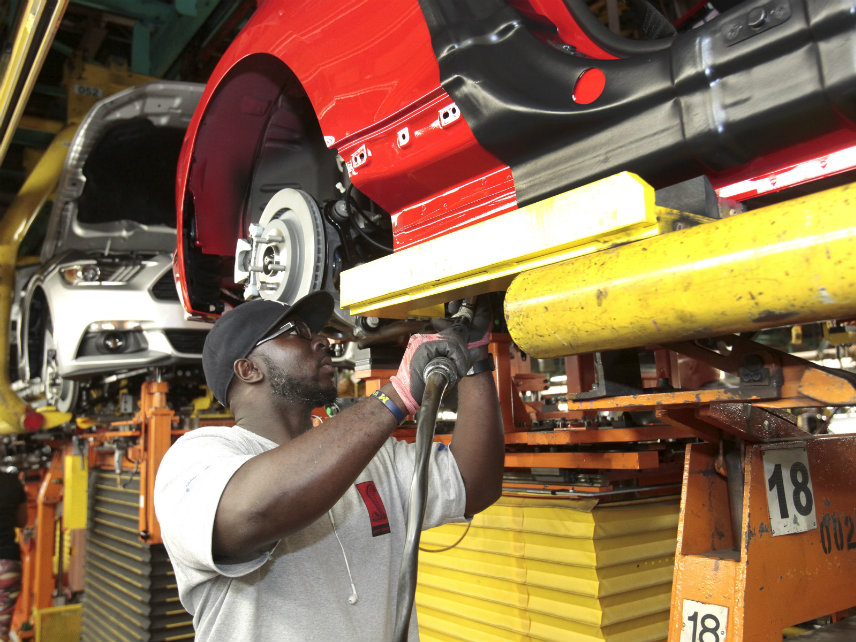 The Ford Motor Company will send hourly workers $7,500 checks in March as part of the company's profit-sharing agreement. Those checks would have been about 10 percent bigger if not for the tariffs that sapped hundreds of millions of dollars out of the carmaker's profits last year.
During a discussion Thursday with reporters about Ford's annual financial report, Bob Shanks, Ford's chief financial officer, said the company had lost about $750 million due to tariffs, the Detroit Free Press reports. Under the terms of their union contract, hourly workers at Ford production facilities earn a $1,000 bonus for every $1 billion the company makes in profits in North America. So having to pay $750 million in higher taxes because of Donald Trump's tariffs translates into a $750 reduction for each worker.
Beyond the direct costs of the tariffs, Ford reported an unexpected $1.1 billion increase in supply costs for steel and aluminum—a knock-on effect of Trump's 25 percent tariff on imported steel and 10 percent tariff on imported aluminum. When those tariffs jacked up prices for imported metals, domestic producers raised their prices too, a Ford economist tells the Free Press.
The reduced checks for Ford factory workers is the latest example of how Trump's protectionist trade policies often hurt the very blue-collar workers and industries the president says the tariffs are supposed to be helping.
Probably the most obvious example is that fact that American steel companies have seen their stock prices fall dramatically since the tariffs were imposed—U.S. Steel's stock price has collapsed by more than 50 percent since March 2018. While Trump has repeatedly claimed that new steel plants are opening up around the country, that's simply not true. Meanwhile, aluminum manufacturers have added a mere 300 jobs since the protectionist tariffs were imposed, but American aluminum-consuming companies have paid more than $690 million in import taxes. One major aluminum manufacturer, Alcoa, has actually sought an exemption from the tariffs that were meant to be protecting it from competition.
The tariffs have also backfired spectacularly for American farmers, who now have to pay higher prices for equipment and supplies while also losing access to export markets in China. The Trump administration has scrambled to hide that mess by offering to bail out farmers, but the bailout funds are likely insufficient to cover all losses—and some people who aren't really farmers have been getting funds from the pot.
Ford workers may be disappointed by their smaller profit-sharing checks, but other blue-collar workers have faced layoffs because of the costs of Trump's tariffs. From a factory in rural South Carolina where televisions are assembled to a nail manufacturer in Missouri, the higher costs created by tariffs have translated into pink slips for American workers.
Accoring to an analysis by the Tax Foundation, Trump's tariffs will reduce the gross domestic product, a shorthand measure for the overall size of the economy, by about $30 billion while also depressing wages and costing more than 94,000 jobs. Oh, and Americans have already paid more than $42 billion in higher taxes due to tariffs—a $146 decrease in after-tax income for middle-class Americans.
Those taxes aren't saving jobs or resurrecting America's industry. Like the $750 that will be missing from those checks handed out to Ford's hourly workers later this year, those dollars are being transferred from American wallets, bank accounts, and balance sheets to the federal Treasury. That's what tariffs do.