Oklahoma Cops Jail Four Men for Transporting Legal Hemp
The first wrinkle in the era of legal hemp comes into focus: Police officers do not appear capable of distinguishing hemp from marijuana.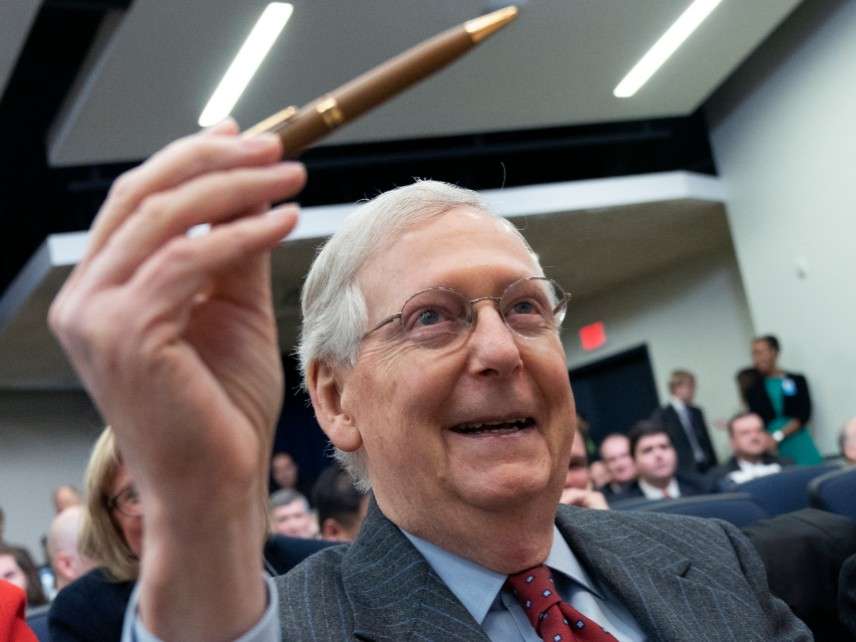 Police in Pawhuska, Oklahoma, jailed four men and seized $500,000 worth of industrial hemp this week because they believed the hemp to be marijuana and the men to be marijuana traffickers.
Denver's Fox31 reports that the men—a driver and several security escorts—remain in custody and that the Pawhuska police have contacted the Drug Enforcement Administration for assistance in testing the hemp.
Thanks to the 2018 Farm Bill, hemp is no longer a controlled substance. These four men will likely be freed, and the hemp will hopefully be returned. But the fact that they were arrested at all speaks to the increasingly patchwork nature of cannabis laws across the U.S., and the confusion and damage that system visits on market participants.
Jamie Baumgartner of Colorado, whose Panacea Life Sciences was the intended recipient of the hemp, tells Fox31 that his company ordered the plant from Kentucky, that a manifest on the truck identified the cargo as hemp, and that Panacea Life Sciences' contractors received "pre-clearance from the State of Oklahoma" to transport hemp through the state on its way from Kentucky to Colorado. This should have been enough to ward off police harassment.
But hemp and marijuana are both forms of cannabis, so they look and smell alike. In the months and years ahead, we can expect law enforcement in Prohibition states to hassle hemp companies, sometimes out of an abundance of caution, sometimes out of stupidity, sometimes out of malice.
"I can't tell you how many calls we get [at NORML] about CBD from retailers," Paul Armentano told me for a recent feature on cannabidiol (CBD), a therapeutic compound contained in both hemp and marijuana plants. "At least once every couple of weeks, we hear from someone raided by local cops for selling CBD products out of a retail space."
A local TV news station in Nashville reported in October that police in Tennessee have already mistakenly cracked down on hemp products, which were legal under state law even before the 2018 Farm Bill passed, because neither officers nor their drug dogs can differentiate between the two plants.
"So, an officer who sees you smoking a rolled cigarette that smells and looks like marijuana—that's enough to take you into custody," attorney Jim Todd told Nashville's NewsChannel5. "This is gonna be a huge problem. A lot of people with hemp are going to possibly get arrested."
Unfortunately, this problem is likely to get worse before it gets better. Aside from the obvious confusion, we may soon see local and state hemp seizure cases involving products that sit just above the THC threshold that federal law now says separates hemp and marijuana. Any product that 0.3 percent (or less) THC is classified legally as hemp; any product that contains more than 0.3 percent is marijuana. A plant product that contains 0.4 percent THC is not going to get you high—the average THC content of marijuana plants in Denver's recreational dispensaries was 19.6 percent in 2017—but a plant with 0.4 percent THC would possibly be illegal under federal law, and allow for asset forfeiture and drug trafficking charges.
We might also see malicious or incompetent batch testing by local cops, or the intentional contamination of evidence. In light of the drug lab scandals in Massachusetts and routine reports of police officers misidentifying legal substances during traffic stops, these are not baseless fears. I mean, if cops in Florida can mistake donut frosting for meth, cops anywhere can—and almost certainly will—mistake a plant that looks and smells a lot like marijuana for marijuana.