Gorsuch and Sotomayor Join Forces in Defense of Sixth Amendment Rights
It's not the first time the two justices have teamed up on a criminal justice case.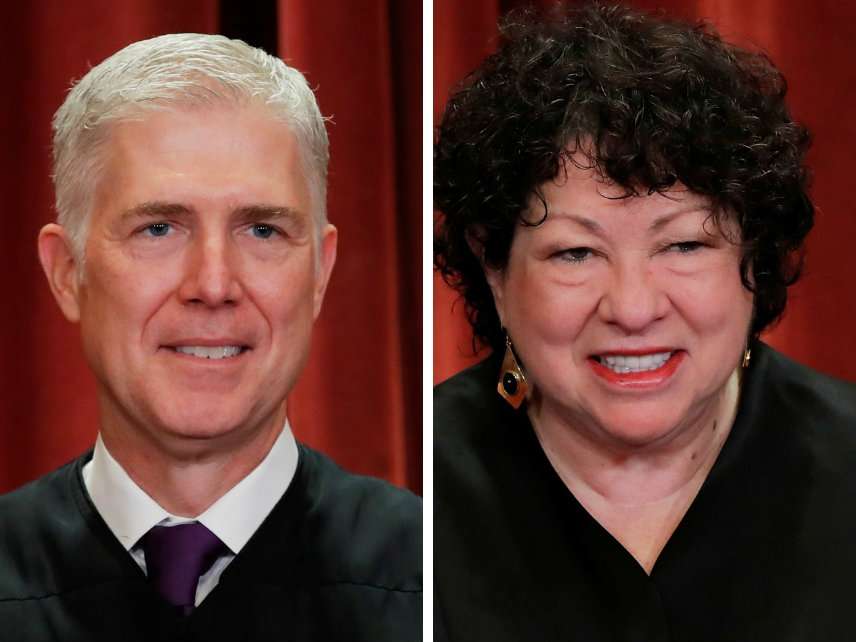 Supreme Court Justices Neil Gorsuch and Sonia Sotomayor have once again joined forces, this time dissenting from a decision today not to hear a case related to criminal justice.
The case involves two men, Joshua John Hester and his former realtor, Marco Luis. Back in 2012, Hester pleaded guilty to eight felony charges stemming from a marijuana distribution operation he was running in California. Luis, meanwhile, was the realtor for two of Hester's properties. Both men admitted to conspiracy to launder money, and they were ordered by a district court to pay $329,767 in restitution to CitiGroup and $615,935 to JP Morgan Chase.
Hester and Luis appealed to the U.S. Court of Appeals for the Ninth Circuit, which remanded the JP Morgan restitition order to the district court but ruled they had to pay the $329,767 to CitiGroup. The district court then said all the money in Hester's inmate trust account, except for $500, needed to be used as restitution for CitiGroup as a condition of his and Luis' supervised release. They appealed again, though unsuccessfully, to the Ninth Circuit, "challenging the district court's ability to set a restitution payment schedule and to order the Bureau of Prisons to turn over funds in Hester's Inmate Trust Account," according to the Ninth Circuit's January 2018 ruling.
Hester and Luis appealed once more, this time asking the Supreme Court to hear their case. They argued that under the Sixth Amendment, which guarantees the right to a trial by jury, they can demand that a jury, not a judge, determine the facts of the case supporting the restitution order. But the Court today declined to hear their case.
Their argument "depends upon the proposition that the Sixth Amendment requires a jury to find the facts on which a sentence of imprisonment is based," wrote Justice Samuel Alito. This "proposition is supported by decisions of this Court," he added, "but it represents a questionable interpretation of the original meaning of the Sixth Amendment.
"Unless the Court is willing to reconsider that interpretation, fidelity to original meaning counsels against further extension of these suspect precedents," Alito concluded.
At least two justices disagreed. Arguing that "this case is worthy of our review," Gorsuch, who was joined by Sotomayor, penned a dissent. He noted that in a criminal trial where the defendant opts for a jury, the prosecutor must make a case to the jury regarding potential time of incarceration. The same goes for fines. "If a court orders you to pay a fine to the government, a jury must also find all the facts necessary to justify that punishment too," Gorsuch wrote.
He went on to point out that "restitution plays an increasing role in federal criminal sentencing today," and that "failure or inability to pay restitution can result in suspension of the right to vote, continued court supervision, or even reincarceration."
With that in mind, Gorsuch took note of the flaws in the government's two main arguments. For one thing, he claimed the government misinterprets Supreme Court precedent. "This Court has held that the Sixth Amendment requires a jury to find any fact that triggers an increase in a defendant's 'statutory maximum' sentence," Gorsuch wrote, referring to "the harshest sentence the law allows a court to impose based on facts a jury has found or the defendant has admitted." Contrary to the government's reasoning, this applies to restitution orders as well, he said, even though they are dependent on the victim's loss.
"The statutory maximum for restitution is usually zero, because a court can't award any restitution without finding additional facts about the victim's loss," Gorsuch wrote. "And just as a jury must find any facts necessary to authorize a steeper prison sentence or fine, it would seem to follow that a jury must find any facts necessary to support a (nonzero) restitution order."
Gorsuch also addressed the government's backup argument that restitution is a civil penalty rather than a criminal one. "[T]he government concedes that 'restitution is imposed as part of a defendant's criminal conviction,'" he pointed out. Plus, federal laws "describe restitution as a 'penalty' imposed on the defendant as part of his criminal sentence."
While Gorsuch and Sotomayor are generally thought to approach Court matters from opposite viewpoints—Gorsuch as a conservative, Sotomayor as a liberal—they've shown on more than one occasion that this isn't always true, particularly when it comes to criminal justice. As Reason's Damon Root reported in October, both justices faulted Congress for allowing the attorney general to act like a legislator. And in November, Gorsuch and Sotomayor faulted their Court colleagues for declining to hear a case regarding a woman's Sixth Amendment right to cross-examine her accuser.
These instances, as well as Justice Brett Kavanaugh's decision last month to side with his liberal colleagues in declining to hear a pair of Planned Parenthood defunding cases, illustrate an important point: It's impossible to classify Supreme Court Justices with purely partisan labels.