Trump Plausibly Pleads Ignorance in His Latest Defense Against Criminal Charges for Campaign Finance Violations
Even if hush payments to his alleged mistresses amounted to illegal campaign contributions, the president says, he did not know that at the time.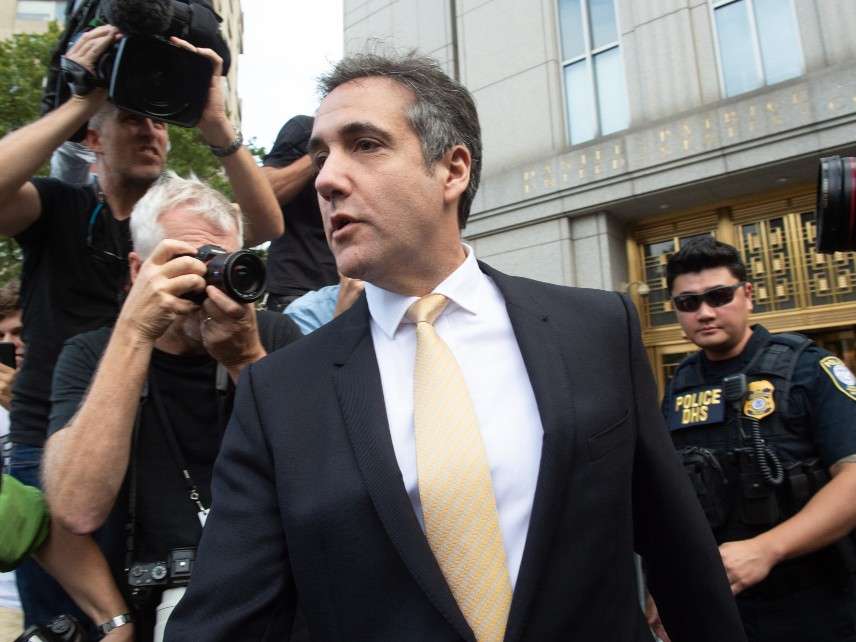 Today Michael Cohen, Donald Trump's former lawyer, got the "substantial prison term" that federal prosecutors sought as punishment for various crimes to which he admitted, including violations of federal campaign finance law in the form of hush payments to women who claimed to have had sexual relationships with his client. "As a lawyer," U.S. District Judge William H. Pauley III observed while sentencing Cohen to three years in federal prison, "Mr. Cohen should have known better."
Donald Trump is no lawyer, of course, and ignorance seems like his best defense against the charge that he "knowingly and willfully" violated the Federal Election Campaign Act (as required for a criminal conviction under that law) by directing Cohen to make those payments. The president tried out that defense on Twitter this week, saying that even if the payments amounted to illegal campaign contributions, "it is only a CIVIL CASE." He added that if "it was done correctly by a lawyer" (i.e., Cohen), "there would not even be a fine."
That may seem like the usual Trumpian blame shifting, but it is plausible that Trump, to the extent that he considered the matter at all, trusted his lawyer to handle the hush payments in a nonfelonious manner. It would not be surprising if it never occurred to Trump that paying off Stormy Daniels and arranging to have The National Enquirer pay off Karen McDougal could be construed as, respectively, an excessive campaign contribution by Cohen and an illegal corporate contribution by AMI, the tabloid's publisher. Trump surely wanted to keep the payoffs quiet, but that does not mean he knew they were illegal.
In another tweet on Monday, Trump described the $130,000 payment to Daniels (and maybe also the $125,000 payment to McDougal) as "a private transaction," implying that his motive was personal (avoiding embarrassment to himself and his wife) rather than political (winning the presidential election). Cohen, by contrast, said he arranged the payments at Trump's direction "for the principal purpose of influencing the election." And in its press release announcing Cohen's sentence, the U.S. Attorney's Office for the Southern District of New York also confirmed that it had reached a non-prosecution agreement with AMI in which the company admitted that it paid McDougal "in concert with a candidate's presidential campaign" to "ensure that the woman did not publicize damaging allegations about the candidate before the 2016 presidential election." AMI said "its principal purpose in making the payment was to suppress the woman's story so as to prevent it from influencing the election."
It is possible that 1) Cohen and AMI both simply said what they thought prosecutors wanted to hear, 2) their understanding of the payments' purpose was different from Trump's, or 3) Trump's motives were both personal and political. Even assuming that the payoffs helped Trump win the election, they would still count as personal rather than campaign expenditures if they would have happened regardless of whether he was running for president. "At a minimum," former Federal Election Commission Chairman Brad Smith observed in a Reason essay after Cohen's guilty plea last August, "it is unclear whether paying blackmail to a mistress is 'for the purpose of influencing an election,' and so must be paid with campaign funds, or a 'personal use,' and so prohibited from being paid with campaign funds."
Trump's second defense is less plausible than the first, since it seems that silencing Daniels and McDougal took on a new urgency in light of the election. Still, proving that the payments would not have been made in the alternate universe where Donald Trump did not run for president, like proving that he understood the intricacies of campaign finance law, would be a tall order.