Former Trump Lawyer Michael Cohen Sentenced to Three Years in Prison
Cohen blames Trump for sending him down a "path of darkness"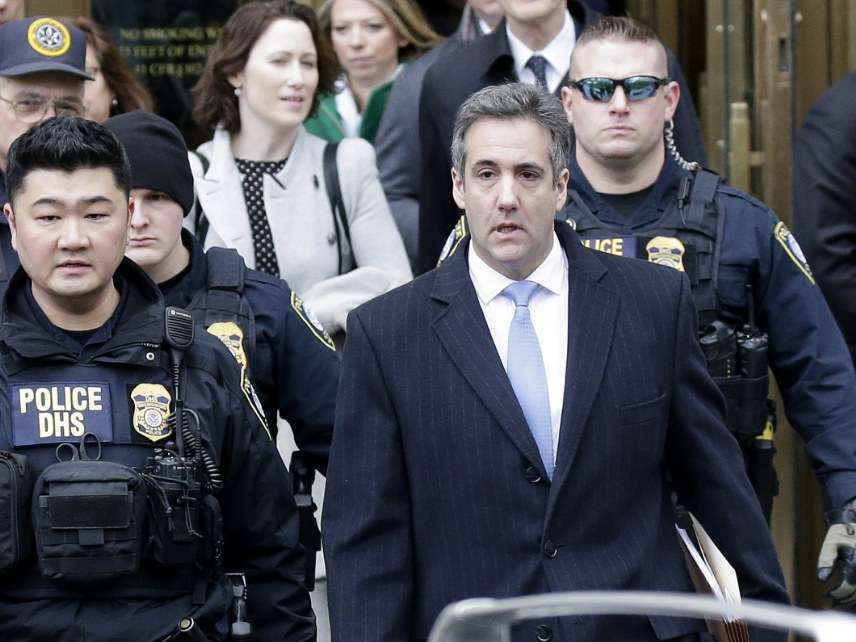 Former Trump attorney Michael Cohen will serve three years in federal prison for eight counts of tax evasion and illegal campaign contributions, a federal judge decided this afternoon.
While most of the charges are not directly connected to President Donald Trump, two of the counts involve Cohen's role in laundering payments to buy the silence of two women during the 2016 election who claimed to have had affairs with Trump. Cohen has said he arranged the payments directly at the request of Trump, something that has been mentioned in the prosecutors' sentencing request for Cohen.
Cohen was also sentenced to two months for lying to Congress about the dates on which Trump's business organization negotiated with Russian officials about a possible Trump Tower hotel in Moscow. Cohen had told Congress that negotiations ended before the primary season began in 2016, but in reality the negotiations continued well into the summer. This was a separate plea deal with Special Counsel Robert Mueller, and Mueller recommended that a sentence for this separate crime be served concurrently with the other crimes. The tax and fraud charges, meanwhile, were filed by federal prosecutors from the Southern District of New York, not Mueller. The judge agreed with Mueller's recommendation.
At the sentencing hearing, Cohen took responsibility for his actions, but also blamed Trump for leading him down "a path of darkness instead of light." Mind you, he was a well-paid bully with a reputation for legal threats, and pretty nasty ones at that, against anybody who came at Trump or the Trump organization. There is no version of this story in which Cohen is anything other than a creep.
Trump has since completely distanced himself from Cohen, claiming that Cohen is lying in order to get a lesser sentence for his other crimes. Except, because Trump cannot control himself, he also tweeted out a defense of these actions that he claims Cohen lied about, saying that this was a "simple private transaction" (as part of that infamous "smocking gun" tweet).
Reason's Jacob Sullum previously noted that whether Cohen's plea comes back to haunt Trump may depend on whether Trump actually grasped that these payments counted as illegal campaign donations. Read more of Sullum's analysis here.
UPDATE: Prosecutors from the Southern District of New York announced this afternoon that American Media Inc., the company that owns the National Enquirer, has entered into a non-prosecution agreement with the feds in exchange for acknowledging their role in making the $150,000 hush money payment to keep one of the women, former Playboy model Karen McDougal, quiet.