Human Trafficking Grant Goes to Arrest Suspected Victims in Tucson
A Tucson Weekly investigation finds that federal funds to "fight sex trafficking" are actually perpetuating it.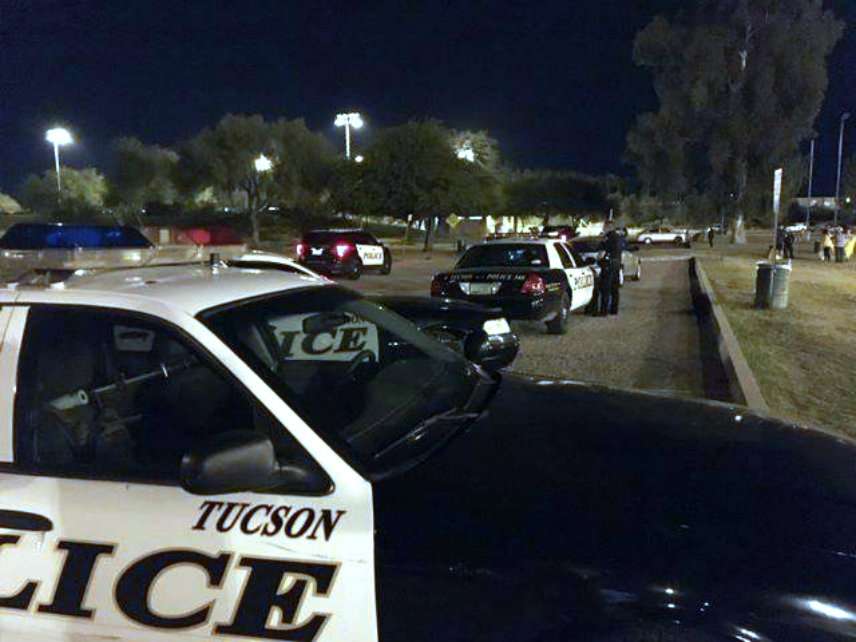 The program raked in $1.5 million from the Department of Justice (DOJ) in its first year. Its mission: to disrupt human trafficking and help the crime's victims in southeastern Arizona. Instead, Southern Arizona's Anti-Trafficking Unified Response Network (SAATURN) largely engaged in arresting and prosecuting sex workers, including some suspected of being victims of sexual exploitation.
We know this thanks to some solid investigative work from Tucson Weekly. Last week's cover story by Danyelle Khmara reports that in three years of SAATURN investigations, 516 cases were opened. But only 23 of these cases resulted in arrests related to sex trafficking, with just 14 leading to charges and only 10 so far ending in convictions or guilty pleas. (Three of the cases are still ongoing, while one suspect committed suicide while out on bail.)
Even in these cases, "sex trafficking" is used to describe a rather wide range of conduct, including things that may have caused harm but aren't at all what people think when they hear human trafficking and sex traffickers. Just two cases "resemble the mainstream narrative of a kidnapped female forced to commit commercial sex acts against her will," writes Khmara. "The rest of the cases vary widely." Some examples:
In one case, a drunk, 71-year-old registered sex-offender in a wheelchair persistently and crudely offered a 14-year-old girl money for sexual favors at a bus stop. He tried to touch her but she was able to move out of his reach. In another case, a man offered to pay three 15-year-old boys and one girl to commit sex acts in front of him.
In cases involving adult women, some "consider the trafficker their friend or boyfriend," notes Khmara. Cops and activists like to suggest this is because the women have been brainwashed or abused. Certainly, many cases of coerced prostitution are more akin to domestic violence situations than the movie image of sex trafficking. But it's also true that friends, partners, spouses, roommates, and others who are aiding an adult sex worker with the sex worker's consent are often arrested for offenses like pimping and, now, sex trafficking.
Many sex workers themselves were investigated and arrested by Tuscon police as part of the SAATURN project. Some of these investigations were started based on years-old online ads.
In total, SAATURN-related efforts yielded 52 misdemeanor arrests for either prostitution or working as a legal escort without a license. The arrests were set up as stings, in which undercover cops contacted sex workers with online ads and set up dates at area motels. Those without drugs on them, outstanding warrants, or unpaid court fees were generally cited for prostitution and then released—after cops confiscated their cell phones and cash.
"If she is found to be a trafficking victim," writes Khlana, she may be arrested but "she won't typically be charged" (emphasis mine).
Two felony prostitution charges were also made. In one of the felony cases, "an undercover cop set up a meeting with a 23-year-old woman of color who had a Backpage ad," reports Tucson Weekly:
When they met, he exposed himself, let her touch his penis and undress in front of him before arresting her. She told detectives later that she had been a prostitute since she was 16 and previously fled a pimp who beat her. Operating out of an apartment explicitly for sex work, she was charged with "attempting to keep or maintain a house of prostitution."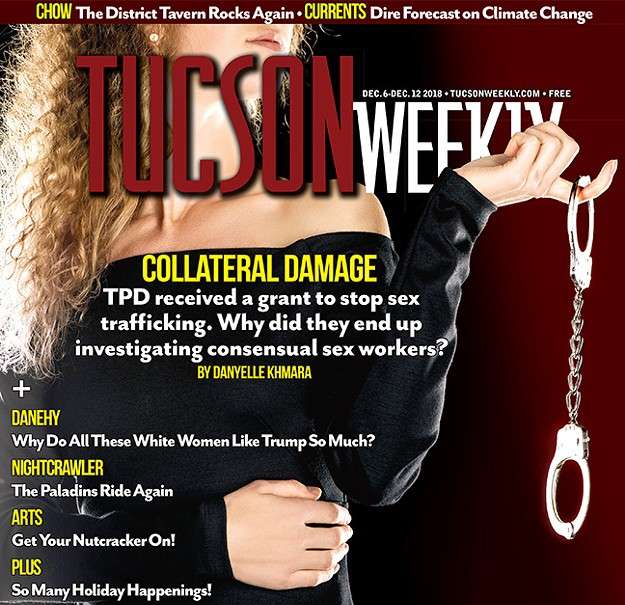 The woman wound up being sent to jail for 180 days.
All told, SAATURN investigations led to 253 arrests for random offenses, "like prohibited possession of a firearm, narcotics charges and felony warrants," Khlana writes.
Pima County Public Defender Joel Feinman has criticized the SAATURN operations, observing that even the people deservedly arrested in operations like these are not the criminal masterminds that the trafficking frame suggests.
"Calling them sex traffickers as opposed to pimps sends a very different message and mobilizes a very different political base," Feinman tells Tuscon Weekly. It lets people mobilize "around tougher laws and harsher sentencings and more police and more money for law enforcement" rather than "looking at the problem with a nuance that I think it deserves."
Interestingly, Tuscon Weekly reports that the DOJ "directed [Tucson police] in February to stop conducting operations that start with the intention of arresting the sex provider" and stop using the grant money on "end demand" strategies (also known as the Nordic Model) that center on arresting prostitution customers. Data on recent SAATURN-related arrests "indicates that no Johns or sex workers were arrested through SAATURN since that order," the Weekly found.
That's a huge change from DOJ policies past when it comes to federally-funded prostitution stings—and a very much needed one. Let's hope similar directives are making it to the other local law enforcement agencies receiving millions to police sex.