Facebook Cripples Community Organizing With Overzealous Attempts to Stop Russian Trolls: Reason Roundup
Plus: Trump changes his mind about military spending and why Rand Paul hates Trump's new attorney general pick.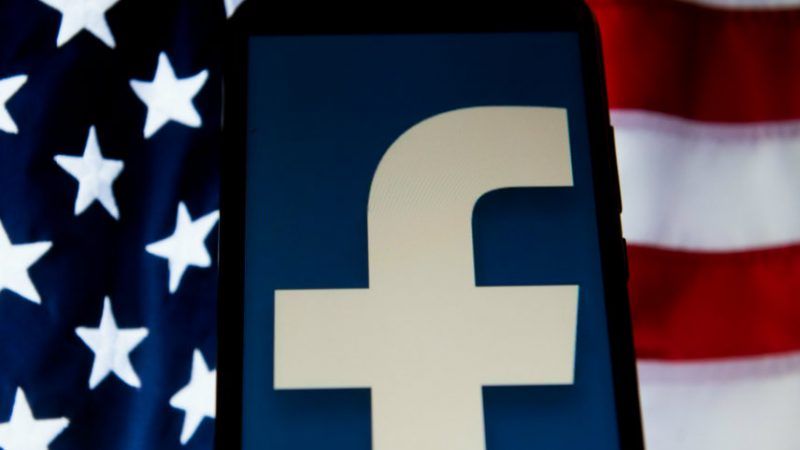 Fallout from new Facebook policies. Facebook's hamfisted efforts to stop "disinformation" and "foreign influence" have made it much more difficult for political activists, community groups, and ideologically aligned communities to coalesce and organize. "The social network's rules on political advertising burden nonprofits and are impossible to understand," states the Wall Street Journal.
Facebook's new "measures have been poorly executed and inconsistently applied," complains Daniel Gallant in the Journal op-ed.
This is something I've experienced firsthand in trying to navigate Facebook for the libertarian feminist group I co-founded, Feminists for Liberty. Whether it's the word feminism, the word liberty, or both, Facebook has coded the group as inherently political, even though we're a nonprofit and certainly not organizing around candidates, ballot issues, or elections. As such, we're subject to heightened scrutiny—including requests for all sorts of private personal and financial information—in order to ask for donations, promote events (even a happy hour), or do other things that pages and causes deemed non-political can do.
These new hoops were enacted after Facebook faced pressure from regulators over Russian troll farms running U.S. political pages and groups on the site. In the grand scheme of Facebook, their numbers and influence were very small. But American paranoia (and desire to blame Trump's presidency on anyone but ourselves) created a demand for Facebook to Do! Something!, and making it harder for small nonprofits to organize and easier to suppress political speech is the approach the company took.
Facebook's new measures "unfairly burden charitable organizations and small businesses, yet are easy for organized or well-funded actors to circumvent," writes Gallant. More:
Several paid advertising campaigns run by my colleagues and clients have been inexplicably obstructed by Facebook's policing in the past several months. Facebook refused to allow my New York cultural nonprofit, the Nuyorican Poets Cafe, to pay to promote a post encouraging people to vote in the midterms because our page was not "authorized to run ads related to politics." A campaign promoting a lecture about sculpture at the Boston Museum of Fine Arts was blocked because Facebook's censors mistakenly believed it was intended to influence an election in Ireland….

The problem is widespread. The Atlantic reported on Nov. 2 that Facebook's election-security policies have caused it to block advertising campaigns from organizations including community centers, national parks and charities that serve wounded veterans.
Facebook's new policies regarding sexual content (another development at least somewhat spawned by meddling politicians and bureaucrats) are causing consternation too. "It wouldn't be a stretch to think that asking 'Netflix and chill?' could run afoul" of Facebook's new sexual solicitation policy, the Electronic Frontier Foundation (EFF) warns.
Most Facebook users will be able to carry on as usual—undetected and unreported even if they do use "sexual slang" or slide into someone's DMs to make a pass. But expansive content rules and their inevitably uneven enforcement leaves a lot of room for these policies to be weaponized.
"With such broadly sweeping rules, online trolls can take advantage of reporting mechanisms to punish groups they don't like," writes EFF's Elliot Harmon. "Combined with opaque and one-sided flagging and reporting systems, overly restrictive rules can incentivize abuse from bullies and other bad actors."
Harmon continues:
It's not just individual trolls either: state actors have systematically abused Facebook's flagging process to censor political enemies. With these new rules, organizing that type of attack just became a lot easier. A few reports can drag a user into Facebook's labyrinthine enforcement regime, which can result in having a group page deactivated or even being banned from Facebook entirely. This process gives the user no meaningful opportunity to appeal a bad decision.

Given the rules' focus on sexual interests and activities, it's easy to imagine who would be the easiest targets: sex workers (including those who work lawfully), members of the LGBTQ community, and others who congregate online to discuss issues relating to sex. What makes the policy so dangerous to those communities is that it forbids the very things they gather online to discuss.

Even before the recent changes at Facebook and Tumblr, we'd seen trolls exploit similar policies to target the LGBTQ community and censor sexual health resources. Entire harassment campaigns have organized to use payment processors' reporting systems to cut off sex workers' income. When online platforms adopt moderation policies and reporting processes, it's essential that they consider how those policies and systems might be weaponized against marginalized groups.
FREE MINDS
Paul slams Sessions-replacement choice. President Donald Trump's pick to replace Jeff Sessions as head of the Department of Justice is a "big fan" of civil asset forfeiture, Sen. Rand Paul (R–Ky.) lamented on Meet the Press yesterday morning. Nominee William Barr—who served as attorney general from 1991 to 1993—was also enthusiastic about mass surveillance. Barr "even went so far as to say the PATRIOT Act was pretty good [but] we should go much further," noted Paul.
FREE MARKETS
China mad at Canada for holding tech exec on U.S. orders over Iran sales. Got that? "The controversy over Huawei Technologies…escalated over the weekend after the Chinese government warned Canada it would face 'severe consequences' if it didn't release the Chinese telecommunications giant's finance chief," reports the Wall Street Journal. Canada is holding Huawei's Chief Financial Officer Meng Wanzhou on behalf of the U.S. Department of Justice, which is investigating whether the company violated laws against trading with Iranians. Now, two big British banks—HSBC and Standard Chartered—are also "ensnared" in the international saga.
FOREVER WAR
Trump has changed his mind about cutting military spending. The president's new budget proposal reportedly seeks $750 billion for Pentagon spending in 2020. This budget "would dwarf the $733 billion budget proposal Mattis and other top military leaders have been fighting to preserve and would represent a stunning about-face for a president," notes Politico. Trump previously called a $716 billion military budget "crazy" and suggested cuts.
"Errors in accounting," says the Pentagon. https://t.co/XErYLZlFfJ

— Justin Amash (@justinamash) December 10, 2018
QUICK HITS
• Trump adviser and son-in-law Jared Kushner offered public relations advice to Saudi Crown Prince Mohmammed bin Salman after the killing of journalist Jamal Khashoggi.
• Echoing Eric Garner, another man unjustly killed by thugs, Khashoggi's last words were "I can't breathe, I can't breathe, I can't breathe," according to CNN. The network's information comes from a "source briefed on the investigation" who has viewed a transcript of Khashoggi's killing.
• The U.K. can give up on Brexit without approval from other European Union member states, the European Court of Justice ruled today.
• Former Vice and Proud Boys head Gavin McInnes is the latest personality to leave the newly merged Conservative Review and The Blaze, which is now going by Blaze TV. Michelle Malkin left last week.
Blaze Media no longer has a relationship with Gavin McInnes, and per company policy, cannot comment on personnel matters.

— BlazeTV (@CRTV) December 9, 2018
• "Boosting—basically one person playing on another's account to rank them up—is going to be a criminal offense in South Korea with some stiff punishments awaiting the booster," reports Polygon.
• The feds could "help foster children find permanent homes by lowering barriers to adopting children across state lines and prohibiting discrimination against religious organizations," writes American Enterprise Insttiute fellow Naomi Schaefer Riley.
• Incarceration nation:
A new study from Cornell University estimates that 6.5 million adults — 1 in 38 — in the U.S. currently have an immediate family member incarcerated.

More at @washingtonpost: https://t.co/R9yJwNW4Xu

— The Marshall Project (@MarshallProj) December 6, 2018