Libertarian Jeff Hewitt Wins Seat on Riverside County Board of Supervisors
The L.P.'s biggest 2018 winner wants to tackle California's public sector pension crisis head-on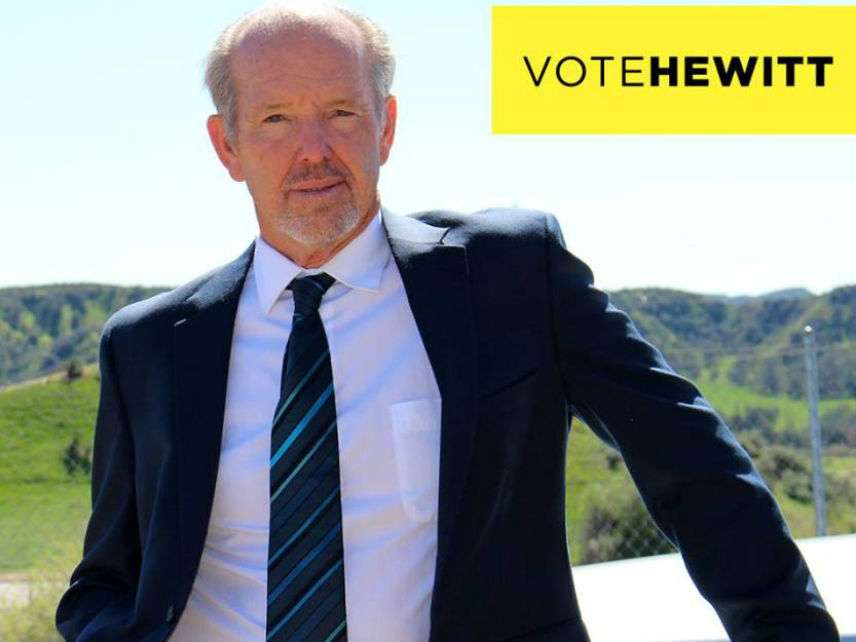 Jeff Hewitt, the Libertarian mayor of tiny Calimesa, California, has narrowly won a seat on the Riverside County Board of Supervisors, the Riverside County Registrar of Voters announced early this morning.
The 65-year-old supervisor-elect, best known for booting out the California Department of Forestry and Fire Protection (Cal Fire) from Calimesa and replacing it with a cheaper, city-owned department, squeaked past former GOP assemblyman Russ Bogh, 51.9 percent to 48.1 percent. Hewitt won despite being heavily outfundraised, with Bogh's chief sources of money coming from public sector unions, and Hewitt pulling cash from state and national libertarians, including California tomato-industry giant (and Reason Foundation Board of Trustees member) Chris Rufer.
"I raised $550,000 total, and he raised $1.1 million total, so he out-raised me two to one," an exultant Hewitt told me yesterday. "However, he outspent me nearly three to one between the primary and the general election, so that in itself is amazing. There is no one in this area that thought I was going to be the winner."
The seat, like Hewitt's mayoral post, is nonpartisan, though his party affiliation is nobody's secret, sitting as he does on the Libertarian National Committee. In a fundraising email sent Wednesday, L.P. National Chair Nicholas Sarwark characterized the prospect of a Hewitt victory as a "mega-win."
Riverside is the 11th most populous county in the United States, with 2.4 million-plus inhabitants, or more than West Virginia and Wyoming combined. Hewitt, whose district includes the cities of Moreno Valley, Menifee, and Perris, is one of five supervisors overseeing an annual budget of $5.5 billion. The county's precarious finances took a massive hit in the 2008-09 financial crisis, and continue to groan under the weight of public sector pension obligations and contract negotiations between elected officials and the unions that support them.
"You realize I will now be one of five people determining 101 [fire] stations, the largest user of Cal Fire," Hewitt said. "I went from being their most hated enemy, to now they're going to have to start kissing up….We've got our priorities, with pensions and pension reform basically being the first—getting all new hires away from the unsustainable CalPERS, and putting a program in so that we can possibly follow through on all these [pension] obligations, these ridiculous ones that we've made to the people that are already grandfathered in."
Hewitt becomes the 28th Libertarian to win office in the November election, and the 53rd overall for 2018, according to the party. That latter number is an increase from 34 in 2016, Sarwark indicated in his email. "This may be the most significant WIN by the LP since it stole an Electoral College vote," Matthew Barnes, a Hewitt campaign volunteer, gushed earlier this week at Liberty.me. "[His seat is] one of the most prized political positions in the country and easily among the top 20 most influential positions in all of California. The result will likely mean that for the first time in history, the Libertarian Party will have a solid member supervising a significant county seat."
While perhaps hyperbolic, and containing a whiff of morale-boosting after the party's many disappointments last month (Gary Johnson's distant third-place showing for U.S. Senate; Larry Sharpe's dispiriting 4th place for New York governor; and the drubbings of party-switching state representatives Laura Ebke, Brandon Phinney and Caleb Dyer), such enthusiasms nonetheless reflect a reality: Jeff Hewitt's win is an important demonstration project not just in how Libertarians can win elections, but what they can do once in office.
"I used the advantages of being a Libertarian," Hewitt said. "I used the donors that weren't available to other people, and we used ideologically driven libertarian canvassers that sold me as good as I could sell myself…. Every one of our about 13 different canvassers that worked on my campaign, they were taught to go run campaigns in the future, successful campaigns. And they're all Libertarians."
Critical to that effort was Young Americans for Liberty's Cliff Maloney, whose Operation Win at the Door has fanned out nationwide to support pro-liberty candidates. ("He's super helpful," Sarwark said this week in a conference call to Libertarian activists.) And earning the most rave reviews was long time Libertarian activist and Hewitt campaign manager, Boomer Shannon. "I hope in this next cycle, we're going to see three, four, five successful campaigns just from the people that Boomer…was able to show how to do this," Hewitt said.
Shannon portrays the victory as one of grassroots personal connections over the top-down, out-of-touch approach of the Democratic and Republican parties. "We have a saying around here that guides our attitudes: 'Politics is about people; and the number one skill is making friends,'" Shannon told Matthew Barnes. "We could have never had this level of success if Jeff had not first volunteered for the planning office in his hometown, ran for the city council and then been promoted to Mayor. A candidate's reputation is the foundation every campaign is built upon."
Hewitt, a former swimming-pool digger, is as gregarious a character as you will see in any room full of Libertarians. He is not shy about talking to strangers. And he is ruthlessly pragmatic when talking to voters about what matters to them.
"As a Libertarian, things like asset forfeiture and other social rights that we are fighting for—I agree with all those things. I'm not good at arguing for those," he told me at the Libertarian National Convention this summer. "Most of my things are economic freedoms as far as trying to get taxes down. That's how we get people from the other two parties. A lot of Democrats, they think we need to pay taxes, but guess what? They like it when they have more of their money left, too."
"If the majority of people say, 'Hey look, we want our public safety, we want some of our roads or our parks done,'" he continued, "don't shove it in their face and go, 'No, all those things should be private!' You and I may agree on that, but when we come in there and we deliver a better product for them at a much reduced price, we've applied free market principles already right there."
As for the eternal debates over platform language and philosophical principles? "The Libertarian Party doesn't need any more principle, doesn't need any more platform—it's got great ideas," he said. "Now, how do you implement them? We obviously elect officials."