'Let's Whoop Some Ass': St. Louis Cops Charged With Beating Undercover Detective Posing as Protester
"It's gonna be a lot of fun beating the hell out of these shitheads once the sun goes down and nobody can tell us apart."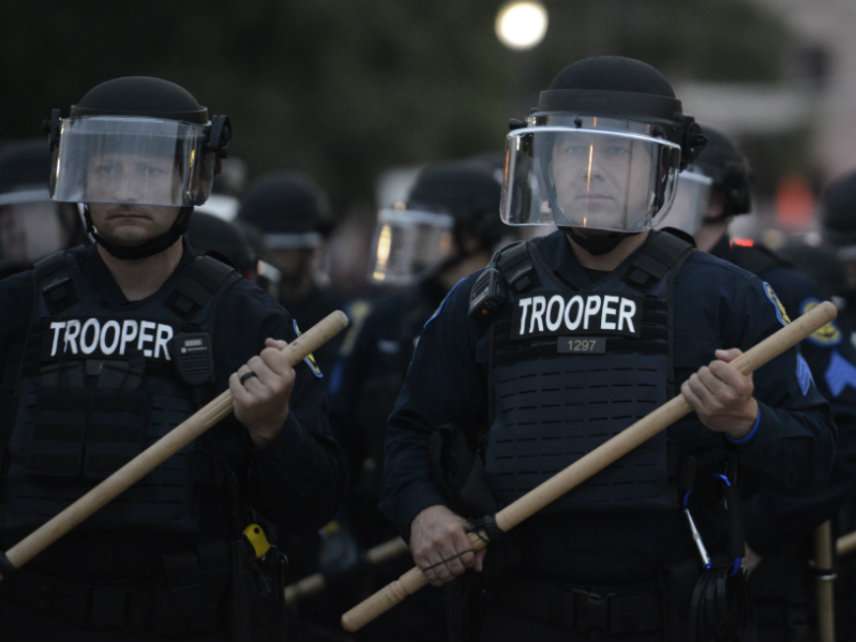 Several St. Louis cops face federal charges for beating a man they thought was a protester and then covering up the encounter. Their victim turned out to be an undercover officer himself.
The incident took place in September 2017, when protests erupted over the acquittal of former police officer Jason Stockley. (Stockley had shot and killed black driver Anthony Lamar Smith following a police chase. Stockley, who claimed self-defense, was tried for murder and found not guilty.) As demonstrators took to the streets, the St. Louis Metropolitan Police Department deployed officers to work crowd control and to crack down on criminal activity.
According to an indictment filed yesterday in the U.S. District Court for the District of Missouri, four officers—Dustin Boone, Randy Hays, Christopher Myers, and Bailey Colletta—"encountered" a man they believed to be a protester, identified only as L.H.
Boone, Hays, and Myers allegedly took L.H. to the ground and beat him "while he was compliant and not posing a threat to anybody," the indictment says. "This offense resulted in bodily injury to L.H. and included the use of a dangerous weapon, that is: shod feet and a riot baton."
L.H. was not actually a protester. He was an undercover detective and 22-year veteran of the police department. His full name is Luther Hall, the St. Louis Post-Dispatch reports, and he apparently suffered severe injuries. His jaw muscles became inflamed after he was kicked in the face, causing him to have trouble eating and lose 20 pounds. He has also had issues with his tailbone, neck, and back, with the latter two requiring surgery.
After realizing L.H. was a cop, Boone, Hays, and Myers allegedly proceeded to cover up their actions. They're accused of falsely claiming that he resisted arrest, as well as trying to persuade him not to report their actions. The three officers also allegedly lied to potential witnesses in an effort to influence their testimony. Myers stands accused of destroying L.H.'s phone in another attempt to obstruct the investigation.
Colletta, who was romantically involved with Hays at the time, allegedly saw her fellow officers arrest L.H. She's accused of lying, both to investigators and to a grand jury, about what happened.
The indictment also includes text messages from Boone, Hays, and Myers that seem to show they were looking forward to beating up on protesters. "[L]et's whoop some ass," Myers wrote. "It's gonna get IGNORANT tonight," Boone responded. "But it's gonna be a lot of fun beating the hell out of these shitheads once the sun goes down and nobody can tell us apart." Two days later, Boone wrote to Myers that it's "a blast beating people that deserve it." Several weeks after the incident involving L.H., Hays said in a message to Boone that "going rogue does feel good."
The four officers, who have been placed on unpaid leave, are being represented by the police union's lawyers. If convicted, each could face decades in prison. "We encourage elected officials, the media and the public to allow them their day in court without speculation about their guilt or innocence," St. Louis Police Officers' Association business manager Jeff Roorda tells the Post-Dispatch.
Allegations of police abuse were widespread during the Stockley protests. In September, 14 lawsuits were filed on behalf of people arrested and/or pepper-sprayed during the protests, including several journalists.
The Rev. Darryl Gray, who helped organize the demonstrations, hopes the alleged assault of an undercover cop will help people understand there's a problem. "Maybe this police officer getting beat up by three of his own, who deliberately went out to hurt someone who was compliant and not resisting, maybe this is what is needed in this country and this city and this region to finally say, 'We have not gone far enough to hold police accountable,'" Gray tells The Washington Post.