Everybody Demands Midterm Victory Trophies
Midterm election results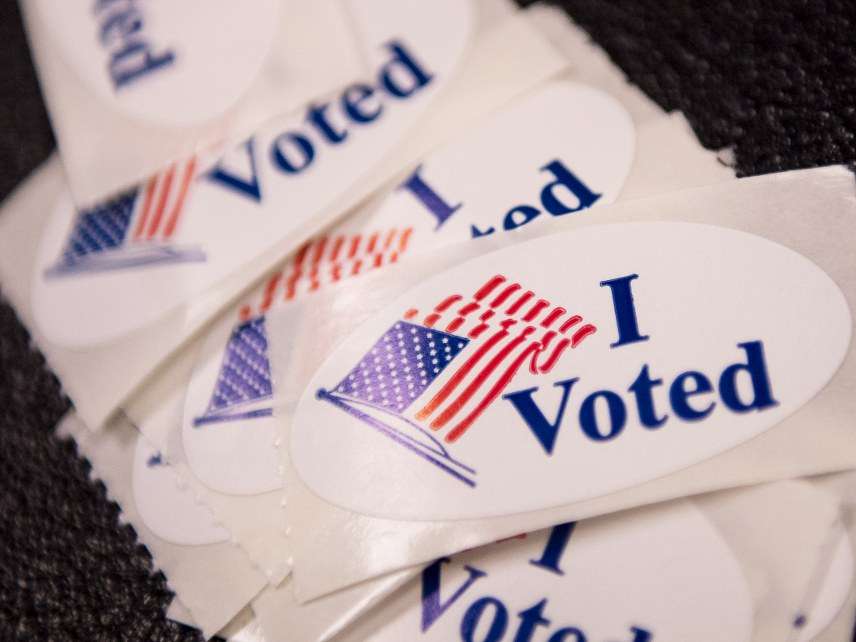 It's ending up being the kind of election where everybody declares victory. President Donald Trump earlier tweeted what he saw as a "success" in the election, probably due to the Republican Party's strong showing in the Senate elections. Meanwhile Democrats are celebrating their House win.
This post is being updated throughout the night as results come in.
Update (12:30 a.m.): Some odds and ends as the election coverage winds down.
Senate: Former Florida Republican Gov. Rick Scott seems poised to take incumbent Democrat Sen. Bill Nelson's seat, further securing the GOP control over the Senate. In Arizona, Republican Martha McSally and Democrat Kyrsten Sinema are in a near-tie. In New Mexico, Gary Johnson did not turn out to be anything like a spoiler as a Libertarian Party candidate as Democratic incumbent Sen. Martin Heinrich easily kept his seat. But Johnson did get 15 percent of the vote. Thanks to California's top-two election system, Sen. Dianne Feinstein is fending off a fellow Democrat, but so far she appears to be winning.
House: Democratic control of the House is near-certain. Only one seat has so far shifted in favor of the Republicans. In Maine, the state's new ranked choice voting system may affect the outcome of the vote to represent the state's Second District. Republican Bruce Poliquin currently leads a four-person race, but he doesn't have 50 percent of the vote. If that stands, there will be an instant runoff tally that could change the results (and not in his favor). Details on how Maine's ranked-choice system works can be found here. And Rep. Steve King (R-Iowa) had been behind his Democratic challenger, but he appears to be recovering to keep his seat.
Ballot initiatives: California can be slow to count its ballot initiatives. Currently an economically illiterate effort to expand rent control in the state is failing (thank heavens). But so is an attempt to repeal some of the state's super high gas taxes. Oregon voters appear to be rejecting an effort to repeal its "sanctuary state" law that stops law enforcement there from arresting people for the sole crime of being in the country illegally. And Washington State voters appear to be poised to change the state's laws on police deadly force that keeps prosecutors from charging officers with crimes for killing people in the line of duty unless they can show malice or evil intent, as opposed to just recklessness or incompetence.
UPDATE (11:45 p.m.):
"Tremendous success tonight. Thank you to all!" Trump tweeted.
In the Senate, Missouri Attorney General Josh Hawley will defeat incumbent Democratic Sen. Claire McCaskill as Republicans continue to defend their majority. Elsewhere, Republican Rep. Martha McSally has a narrow lead over Democratic Rep. Kyrsten Sinema in Arizona. Democrats have yet to flip a GOP-held Senate seat.
CNN has finally called the Florida gubernatorial race for Ron DeSantis. In Michigan, Democrat Gretchen Whitmer will easily defeat Republican Bill Schuette. It's the first time Michigan will have a Democratic governor in eight years. Democrat Tony Evers, meanwhile, it beating incumbent Republican Wisconsin Gov. Scott Walker by less than 3,000 votes, with about 75 percent of the vote in.
In the House, which Democrats should easily win, controversial Republican Rep. Steve King (Iowa) has a slim lead over Democrat J.D. Scholten.
Finally, voters in Michigan appear to have passed a ballot measure legalizing marijuana for recreational use.
Update (11 p.m.): To the extent that there is a blue wave, it has claimed Texas Republican Rep. Pete Sessions, who chairs the House Rules Committee and was notable for his role in preventing medical marijuana-friendly legislation from being brought to a vote. He is being projected to lose to Democrat Colin Allred. He currently trails 52 to 46 percent. Libertarian Party candidate Melina Baker is getting 1.7 percent of the vote.
Meanwhile in Montana, GOP Rep. Greg Gianforte, well-known for having body-slammed a journalist, is behind Democrat Kathleen Williams. Libertarian Party candidate Elinor Swanson is currently getting 2.7 percent of the vote, but that's not enough to cover the spread.
The Democrats needed to pick up 23 to take control of the House, and it seems this point to be extremely likely they're going to reach that goal. CNN reports they need just four more seats and polls are just now closing on the West Coast.
In the governor's races, incumbent Republican Scott Walker in Wisconsin is still slightly behind Democratic challenger Tony Evers. Libertarian Phil Anderson may end up covering the spread there. And in Iowa, Republican incumbent Gov. Kim Reynolds is lagging behind Democratic challenger Fred Hubbell. Republicans will keep control of the governor's seat in Ohio. Mike DeWine is poised to succeed current Republican Gov. John Kasich. And CNN has just projected that Republican Ron DeSantis has won the title of governor in Florida.
UPDATE (10:33 p.m.): Democrats' most recent pickups in the House include seats in Minnesota, Pennsylvania, Kansas, and New York. More than half the vote is in for Utah's Fourth Congressional District, and Republican Mia Love is losing by about 10 points to Democratic challenger Ben McAdams. GOP Rep. Dave Brat, meanwhile, is locked in a tight battle against Democratic challenger Abigail Spanberger, who leads by a little more than 2,000 votes with 98 percent of the vote in.
In Texas, it looks like Republican Sen. Ted Cruz will hold off Democratic Rep. Beto O'Rourke (ABC projects Cruz will win). North Dakota Democratic Sen. Heidi Heitkamp will lose re-election to GOP Rep. Kevin Cramer. No doubt in large part due to those results, CNN now projects that Republicans will keep control of the Senate.
Two races that were never really in doubt have also been called: Democratic socialist Alexandria Ocasio-Cortez will win a House seat in New York, and former Massachusetts Gov. and 2012 Republican presidential nominee Mitt Romney will be the next senator from Utah.
In Georgia's gubernatorial race, Republican Secretary of State Brian Kemp continues to lead Democratic state Rep. Stacey Adams. Incumbent GOP Wisconsin Gov. Scott Walker, meanwhile, trails Democrat Tony Evers by about 5 points.
UPDATE (10:05): Democrat Conor Lamb in Pennsylvania has defeated Keith Rothfus to represent the 17th District. And Democrat Debbie Mucarsel-Powell has defeated Carlos Curbelo in Florida's 26th District.
Republican Illinois Gov. Bruce Rauner has lost his re-election, falling to Democrat J.B. Pritzker, the first change of party for a governor seat. But it may not be the last. Republican Scott Walker is slightly behind Democratic challenger Tony Evers in Wisconsin. Republican Kris Kobach, meanwhile, has lost to Democrat Laura Kelly.
In New Jersey, scandals did not sink Democratic Sen. Bob Menendez. He has handily won re-election.
We noted earlier that Floridians have voted in favor of granting felons back their voting rights after they've served their time. They are also close to passing Amendment 11, which is just as important. Amendment 11 will allow the state to retroactively reduce the sentences of already prosecuted prisoners when they change the laws. The vote currently stands at 61 percent. It needs a 60 percent approval vote to pass.
Meanwhile in Louisiana, voters are so far favoring by 61 percent an amendment that would require unanimous jury verdicts to convict somebody of a felony. They are only one of two states (Oregon is the other) that allow defendants to be convicted with less than unanimous jury.
UPDATE (9:45 p.m.): With the GOP wins in the Indiana and Tennessee Senate races, the chances of Democrats taking back the Senate appear to be slim to none. To be clear, races in Texas and Florida are both too close to call, but the 2018 map really favored Republicans. Democrats had little room for error, and in losing both toss-up races, they probably won't be able to win a majority.
Things are less clear in the House. Republican Rep. Andy Barr has been re-elected in Kentucky, though FiveThirtyEight currently gives Democrats a 56.5 percent chance of claiming a majority.
We also have updates on several ballot initiatives of note: A measure to legalize marijuana for recreational use is winning in Michigan. However, an initiative that would decriminalize weed is currently losing in North Dakota.
In Colorado, Democrat Jared Polis will become the first openly gay man to be elected governor in American history. Finally, libertarian-leaning Republican Rep. Justin Amash is projected to win re-election in Michigan's Third Congressional District.
Update (9:15 p.m.): Republican Gov. Greg Abbott in Texas and Democratic Gov. Andrew Cuomo fended off challengers and will serve another term. Outlets are declaring that Democratic New Mexico Sen. Martin Heinrich has been re-elected, but numbers aren't out yet to see what sort of role Libertarian Party candidate Gary Johnson played in the outcome. CNN is reporting that Democrat (but Trump-friendly) West Virginia Sen. Joe Manchin will keep his seat.
UPDATE (8:45 p.m.): It looks like Shalala will defeat Maria Elvira Salazar in the race to fill retiring Republican Rep. Ileana Ros-Lehtinen's seat. In Oklahoma's Fifth Congressional District, Democrat Kendra Horn has a 9-point lead over the Republican incumbent, Rep. Steve Russell.
Back in Florida, both the gubernatorial and Senate races are very close. In the Senate race, Republican Gov. Rick Scott is leading Democratic Sen. Bill Nelson by about 1 point. In the race for governor, Democrat Andrew Gillum is trailing Ron DeSantis by a narrow margin. Both Gillum and Nelson led in most polls in the lead-up to Election Day.
In other Senate races, Democratic Rep. Beto O'Rourke has a narrow lead over GOP Sen. Ted Cruz in Texas, while early results show Rep. Marsha Blackburn beating former Democratic Gov. Phil Bredensen. It's early in New Jersey, but incumbent Democratic Sen. Bob Menendez is winning over GOP challenger Bog Hugin.
UPDATE (8:15 p.m.): As a whole bunch of polls close in the East, South and Midwest, let's take a quick look at a couple of relevant ballot initiatives and some governor's races.
Ballot initatives: In Ohio, a ballot measure to reduce criminal penalties for drug crimes is losing badly with early results, 60 percent saying no.
In Florida, an initiative to restore voting rights to felons after they complete their sentences is faring better, with 64 percent voting yes. But so far that's only 9 percent of the vote.
Governor's races: In Georgia, Republican Brian Kemp, who has garnered plenty of controversy over his role in handling the elections themselves as the secretary of state, is ahead of Democrat Stacy Abrams 66 to 33 percent. Libertarian "spoiler" Ted Metz so far has only half a percent of the vote.
In Florida, Democrat Andrew Gillum and Republican Ron DeSantis are tied. Gillum had been ahead but then votes from the panhandle started coming in.
UPDATE (7:53 p.m.): In Virginia's Seventh Congressional District, Rep. Dave Brat is leading Democratic challenger Abigail Spanberger by a slim margin. In Kentucky, meanwhile, Democrat Amy McGrath now has a 4-point lead over GOP Rep. Andy Barr.
In Indiana, Republican Mike Braun is leading Democrat Sen. Joe Donnelly by about 18 points. Florida Republican Gov. Rick Scott is trailing Democratic Sen. Bill Nelson by a little less than 3 points in that state's Senate race.
In terms of gubernatorial races, Georgia Secretary of State Brian Kemp, Republican, is leading Democratic state Rep. Stacey Abrams in the early results. Andrew Gillum, meanwhile, has a narrow lead over Ron DeSantis in the race for Florida governor.
UPDATE (7:25 p.m.): On the basis of early returns, the media is declaring that Sen. Bernie Sanders (I–Vt.) is safe. In Florida, Republican former Gov. Rick Scott and incumbent Democratic Sen. Bill Nelson are trading positions as the numbers are tallied. It's too close to call early. In Indiana, Republican Mike Braun remains ahead of incumbent Democrat Joe Donnelly.
In the House, Rep. Andy Barr (R–Ky.) and Democratic challenger Amy McGrath continue to change leads.
UPDATE (7 p.m.): Three-term Republican incumbent Rep. Andy Barr has a slim 0.1 percent lead over Democratic challenger Amy McGrath in Kentucky's Sixth Congressional District, with roughly 2 percent of the votes counted. If McGrath wins, it could be an early indication that Democrats are on their way to taking back control of the House. President Donald Trump won this district by 15 points in 2016.
Meanwhile, Sen. Joe Donnelly (D–Ind.) is trailing his GOP opponent, former state Rep. Mike Braun, by a significant margin. Braun leads Donnelly 59.4 percent to 36.6 percent with 3 percent of the vote in. A loss by Donnelly could indicate that the Senate will not be in play for Democrats, who probably need to hold onto his seat if they want to flip the upper chamber of Congress. Libertarian candidate Lucy Brenton, meanwhile, has garnered 4 percent of the vote in what was expected to be a very close race.
In Kentucky's Fourth Congressional District, libertarian-leaning Republican Rep. Thomas Massie has a sizable lead over Democrat Seth Hall. Massie leads by almost 20 points with 2 percent of the vote in.
UPDATE (6 p.m.): The first polls are now closing (in parts of Indiana and Kentucky). Many Americans will now begin the waiting and watching of election results to see if there's a "blue wave" transferring control of the House of Representatives from the Republicans to the Democrats, whether some important ballot measures get passed, and to be told what this election "means" for the state of the government. Undoubtedly those who do not get the outcomes they want will be quick to declare America's democracy to be at risk. It is, after all, the "most important election ever" until 2020, when that will most obviously be the most important election ever.
Or, if they're not masochists, Americans might be binge watching the latest season of Daredevil on Netflix instead. We certainly would not judge or blame them. And if they're libertarians, sitting through the endless blue vs. red narratives that spin out of midterm elections might not hold much appeal.
So if you're one of those folks, welcome to Reason's election results liveblog. The two of us will be staying attuned to the outcomes so you can just check in as you please and otherwise live a happy, fulfilling evening doing as you choose. Various Reason writers will be weighing in at Hit & Run with deeper analysis of what election results mean. But this post is going to mostly revolve around simply reporting the outcomes of races and ballot initiatives that we think are significant, and that includes how high-profile libertarian candidates end up performing. We will be updating regularly. Remember the golden era of live-blogging? Consider this post to be a throwback.
Here's some helpful pre-reading while you're awaiting results:
Check in regularly for the latest.