Jeff Sessions Was a Terrible Attorney General. His Successor Will Do More of the Same.
Maybe Trump should nominate Kim Kardashian West.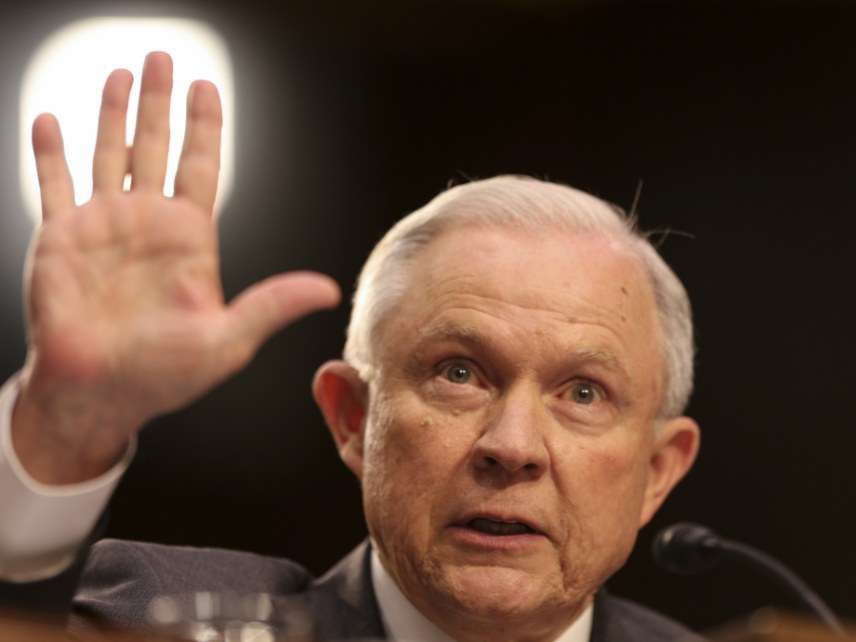 If you care about criminal justice issues, Attorney General Jeff Sessions' resignation is cause for celebration regardless of how you feel about President Donald Trump. But let's be real about what's going to come next.
Sessions resigned on Trump's orders, and it most certainly was due to the president's desire to reduce the scope of, or even shut down, Special Prosecutor Robert Mueller's investigation into Russia's role in the 2016 presidential election. Sessions cut ties with that investigation, citing a conflict of interest, and Trump openly hated him for it. He publicly declared he would not have appointed Sessions had he known the man would recuse himself.
But if it weren't for Mueller's investigation, the two men probably would have been best buddies. The president is most certainly going to appoint somebody very similar to take his place, albeit a person more loyal to Trump than to the appearance of an impartial Justice Department.
Matthew Whitaker, Sessions' chief of staff, will currently fill his former boss's shoes. Whitaker is a Trump loyalist with strong Republican and conservative ties. Before joining Trump's DOJ, he wrote an op-ed in CNN arguing that Mueller would be abusing his powers if he delved too far into Trump's family finances, particularly those unrelated to the election.
Whitaker was also seen in September as a potential replacement for Deputy Attorney General Rod Rosenstein, when rumors abounded that Rosenstein was about to resign. The New York Times looked into Whitaker's record and found that he holds similar criminal justice positions as Sessions, but without all that Russian baggage and seemingly much more loyalty and a better rapport with Trump. Here's how the Times describes Whitaker's take on criminal justice reform issues:
In meetings in the Oval Office, West Wing officials said, Mr. Whitaker has spoken bluntly and authoritatively about prison overhaul, an issue embraced by Mr. Trump's son-in-law and senior adviser, Jared Kushner. Mr. Whitaker has told the president that federal prosecutors would oppose some of the measures under discussion, according to a person familiar with the discussions.

Mr. Whitaker also took cues from Mr. Sessions, who has long understood where the department's mission could align with Mr. Trump's priorities, like on immigration and violent crime, according to a current Justice Department official who spoke on the condition of anonymity because he was not authorized to discuss internal deliberations.

"He has the trust and confidence of any number of people within the Justice Department and within the law enforcement community, but also the White House," Mr. Leo said of Mr. Whitaker.
It's not clear from the Times' reporting whether Whitaker supports Kushner's efforts, but worries about rank-and-file pushback; he could be messenger or representative. Odds are he's the latter, and it's clear he's on board with at least some of the same law-and-order policies Sessions resurrected when he undid the Obama DOJ's Smart on Crime initiative.
We'll have to wait to see who Trump submits as Sessions' permanent replacement. Maybe we should send Kim Kardashian West back up to the White House with a list of names for Trump to consider.