New California Law Bans Bars, Liquor Stores from Selling Marijuana-Infused Drinks
Thanks to a weird loophole, CBD-infused cocktails might remain legal anyway.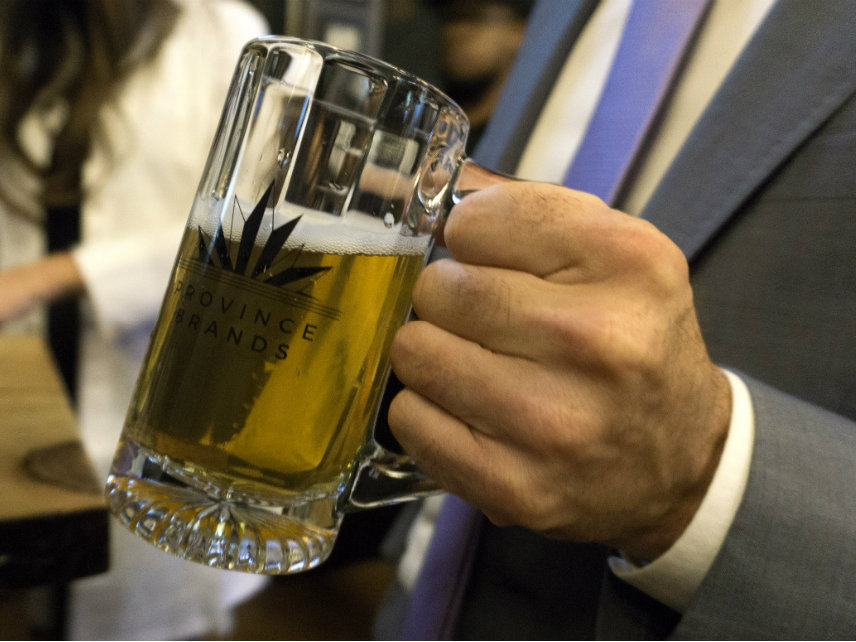 One surefire way to know that cannabis-infused booze is growing in popularity: Governments are starting to regulate it.
Last week, California Gov. Jerry Brown signed a bill prohibiting bars and liquor stores in the state from selling cannabis products that are also alcoholic beverages, including "an infusion of cannabis or cannabinoids derived from industrial hemp into an alcoholic beverage." The bill had sailed through the state legislature, passing the state Assembly with unanimous support and getting a 34–3 vote in the state Senate.
The bill strikes a blow against the innovative pot cocktails that had been springing up in California, where marijuana has been legal for recreational uses since January 1. In April, L.A. Weekly profiled several Los Angeles–area bars where mixologists were experimenting with using cannabidiol (CBD) oil in drinks. Though CBD does not contain tetrahydrocannabinol (THC), the psychoactive component present in marijuana, it has a calming effect and adds a new twist to traditional cocktails.
Those concoctions were ruled illegal by the state's Department of Alcoholic Beverage Control in July. The agency issued new rules banning the sale of alcoholic beverages made with cannabis or cannabis-derived oils, and the bill signed by Brown codifies those existing rules.
The bill was backed by a predictable mix of law enforcement and public health groups, but it faced no significant opposition. The County Health Executives Association of California, which submitted comments to the state Senate about the bill, warned that "combining the relatively unknown effects of cannabis with the known sedative effects of alcohol may have devastatingly unpredictable and harmful impacts on Californians."
California's status as the largest market for legal marijuana means that what happens there will likely send a signal to other states that either have or are considering legal weed. The new law will further entrench the separation of the two products that's already implicit, if not explicit, in state laws—marijuana dispensaries are not licensed to sell alcohol, and bars or liquor stores are not licensed to sell pot.
That's likely to limit experimentation with CBD cocktails and with marijuana-infused beers. As I wrote in a July feature, brewers are increasingly interested in cannabis-derived products for a variety of reasons. Hemp-flavored beers or brews made with hemp seeds can be found at breweries in Colorado, Utah, California, Oregon, and beyond. Even the hip-hop duo Run The Jewels, which has partnered with a series of six breweries around the world to produce beers named after some of the group's songs, is planning to release a CBD-infused pilsner with the German brewery BRLO.
Keith Villa, the man who originally created Blue Moon beer, is now producing a line of THC-infused beers. His beer gets around some of these regulatory hurdles because it is non-alcoholic—it will taste like beer, but you'll have to buy it at a pot shop. Similarly, the California-based Lagunitas Brewing Company has recently launched a series of THC-infused seltzer waters made with hops.
Thanks to a legal loophole, California's nascent hemp cocktails might remain legal even under the new law, as long as they do not contain CBD or THC.
A state Senate analysis of the bill points out that CBD can be derived from industrial hemp—which, despite being grown as cannabis, is actually not classified as a "cannabis" in state law. Although they are often used interchangeably, the terms cannabis, hemp, and marijuana have important biological and legal distinctions. The former term describes the whole plant; there are several different species, but all come from the Cannabis genus. Hemp usually refers to the stalks and stems of the plant, which contain CBD oil and are minimally psychoactive. Marijuana is derived from the plant's leaves and flowers or buds, where higher concentrations of THC are found. The seeds are a bit of a grey area, with federal law classifying them as hemp if they are sterilized, as marijuana if not. Marijuana is completely illegal on the federal level, while hemp can be legally imported, though there are strict limits on growing it.
As it happens, Brown also signed a bill last week that legalizes industrial hemp production in the state—a move that was praised as a "major victory" by Vote Hemp, a group pushing for legalization of industrial hemp at the state and federal levels. The bill clarifies that legal hemp includes extracts and derivatives from non-psychoactive parts of the cannabis plant, and it allows California farmers to grow hemp as well as process hemp seed, oils, and other extracts.
"It is unclear whether these [cocktails additives] are cannabis- or hemp-derived," the Senate analysts wrote in their assessment of the marijuana-alcohol bill, "but policymakers may wish to reconsider whether this broad exemption for all industrial hemp is justified."
As always in California, expect more regulations ahead.
This post was corrected to clarify that non-CBD, hemp cocktails may remain legal under California law.