Patients Will Feel the Pain as FDA Slams Medical Device Industry With Growing Regulatory Burdens
Businesses that founder or just never get launched won't suffer anywhere nearly as much as the people who would have benefited from their innovations.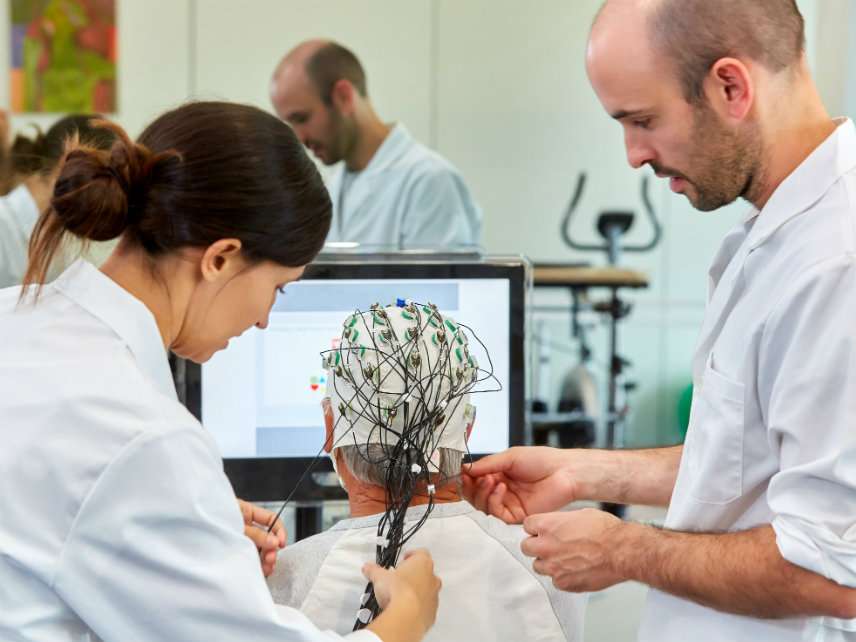 Unlike your doctor under Obamacare, if you like your medical device, you can probably keep it. But getting new devices to market through the Food and Drug Administration's regulatory gauntlet isn't getting any easier. An FDA medical labeling rule change currently in its comment period would add an additional 1.6 million hours to the workload of private sector workers and federal regulators. And that's in an industry that is already hobbled by red tape.
Rules like that don't just stifle innovation and hurt businesses—they harm the people who depend on the sometimes life-saving products those businesses develop and distribute.
Once implemented, the FDA rule changes will lead to an increase of 1,598,480 more hours required to comply, according to a recent notice from the agency. That would bring the estimated annual recordkeeping burden for medical device labeling regulations to about 3.3 million hours for FDA employees and 9 million hours for those in the industry.
That's a lot of paper-shuffling—burdensome paper-shuffling at that. And it's not as if the medical device industry is otherwise red tape-free and has spare time on its hands to deal with bureaucratic demands.
A Pricey Process
"Policymakers should examine whether the lengthy and expensive FDA approval process is necessary," Iris Huang of Rice University's McNair Center for Entrepreneurship and Innovation urged last year.
Medical devices actually have two tracks to winning FDA approval, Huang noted. One is the less demanding 510(k) clearance for devices that are "substantially equivalent" to devices already on the market. "The average total cost to bring a low- to moderate-risk 510(k) product from concept to clearance was $31 million, with $24 million spent on FDA-related activities," notes Huang. For more innovative devices, following the demanding premarket approval (PMA) path cost $94 million, "with $75 million spent on FDA requirements."
Rather than risk a full bureaucratic ordeal that awaits innovation, Huang suggests that many companies likely focus on tweaking existing products, slowing the introduction of advances to the market.
Josh Makower, a medical technology entrepreneur and consulting professor of medicine at Stanford University Medical School, agrees that America's medical device approval process is a barrier to innovation. In 2010, he and his colleagues surveyed 204 companies active in the medical device industry.
"Survey respondents viewed current U.S. regulatory processes for making products available to patients (the premarket process) as unpredictable and characterized by disruptions and delays," he wrote. Businesses complained that the FDA personnel they had to deal with disappeared and were replaced, and that regulators skipped key meetings.
That the regulatory process (if you're going to have one) could be done better is clear from the industry insiders' preference for the much faster and cheaper European process. Streamlined approvals across the Atlantic have resulted in devices being made available to Europeans an average of two years and as much as six years before Americans saw them.
Or maybe even longer.
Thwarting Innovation
"Eight years into our journey, thousands of individuals have used our product in countries where it has been approved," reveals Shantanu Gaur, co-founder of a company that developed a new weight-loss device, in an article published last year in the medical industry publication STAT. "But we have yet to gain approval in the U.S.—a long and expensive process."
Many companies now pursue overseas markets before even attempting what Makower calls the "time-consuming, expensive regulatory processes in their own country." That's if they bother with the U.S. market at all.
"Regulatory submissions for innovative new medical devices have been declining in the U.S. over the last several years," Makower warns. Those lost submissions include established firms that have refocused their attention on incremental changes, as well as potential new firms that might have been, but were deterred by the regulatory gauntlet.
"Startups face particular challenges in navigating the FDA regulatory process," Huang notes. "The total average review time for small companies is 330 days, as opposed to 177 days for large companies." That's unfortunate, given the data showing that small firms are far more likely than large, established companies to introduce innovate devices instead of tweaking existing products.
It could be—and was—worse. The Affordable Care Act imposed a tax on gross sales of medical devices to fund grandiose plans for reshaping healthcare That tax took quite a bite out of the companies it affected.
"In 2012, publicly traded medical device companies cut 10,000 jobs, in part, to brace for the impact of the tax," Boston's WBUR reported. After results like that—and lower-than-anticipated revenues—the tax is currently under an extended moratorium and may be outright repealed.
Its repeal would be a big help to the medical device industry. But if that boon restores some of the jobs lost at medical device companies, how many of the hires will be needed jut to deal with another 1.6 million hours in government-mandated paper-shuffling?
Under the growing bureaucratic burden, the entrepreneurs whose businesses founder or just never get launched won't suffer nearly as much as the people who would have benefited from their innovations.