High School Journalists Fight for Their 1st Amendment Right to Report on Their School's Administration
Student journalists at a Vermont high school had a damning article censored by their interim principal.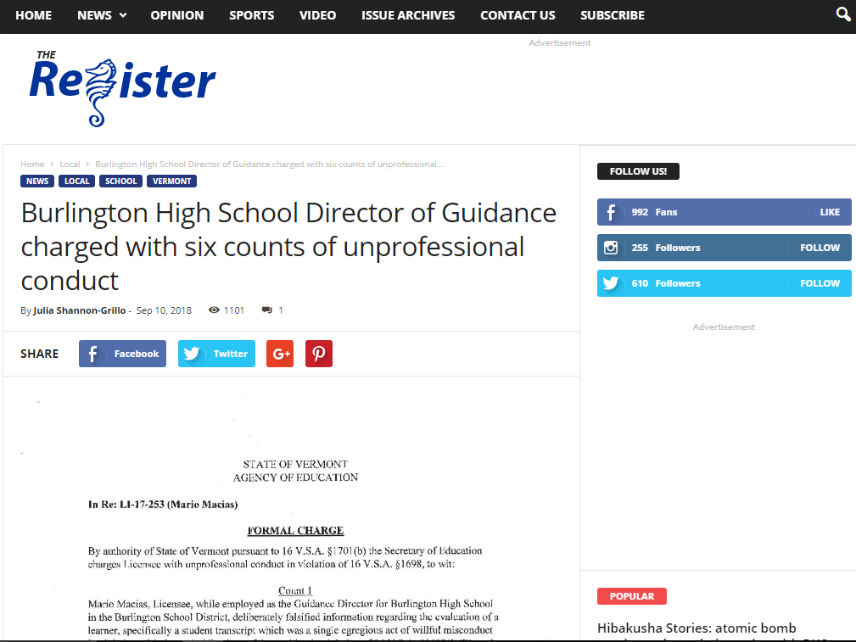 A Vermont high school guidance director was recently charged with six counts of unprofessional conduct. On September 10, student journalists with the Burlington High School Register reported that the charges against Mario Macias, their guidance director, included falsifying information on a student transcript, intimidating employees, and revealing sensitive information of a student's traumatic past in the presence of a third party. They also included a copy of the charges filed against Macias via the Vermont Agency of Education. Though Macias was the apparent wrongdoer in the situation, the school sought to limit the student journalists who broke the story about their administrator.
According to a report in the Burlington Free Press, the co-authors of the story, Halle Newman, Nataleigh Noble, Jenna Peterson, and Julia Shannon-Grillo, reportedly tracked the information based on a tip from another student. Just one day after publishing it to their website, Burlington High School administrators had the story unpublished. Interim Principal Noel Green censored their voices because the students were told, according to Newman, that it "created a hostile working environment for Macias." However, the students maintained that they were merely reporting facts contained in a public document.
The students contacted the Student Press Law Center, which confirmed that the students' actions were legally protected. The Vermont Press Association and the New England First Amendment Coalition also released a joint statement demanding that Green and the administration release and publish the story.
The story appeared on the website following the joint statement and mass reporting about the unpublishing. However, both the students and their adviser were informed that the school would revert to a 2016-2017 school policy that required each story be reviewed by an administrator "48 hours before publication."
However, the Burlington School Board acted quickly to overrule Green in order to remain in compliance with Vermont's New Voices Act. The law was passed in 2017 to protect student journalists' First Amendment right to publish material in public school and college-affiliated media without fear of censorship or retaliation.
"All previously practiced or adopted guidelines regarding publications in the BHS Register are no longer in effect," the board said in a statement. "The Burlington School Board, together with its administration, will exercise its jurisdiction under Vermont's New Voices law, codified at Vermont Statutes, Title 16, Section 1623(i), to adopt a written policy consistent with the provisions of the New Voices law. The New Voices law is intended to ensure free speech and free press protections for public school students in order to encourage students to become educated, informed, and responsible members of society."
Additionall, the board promised that future policies would include the input of student publications and "local First Amendment experts and organizations."